Case Study: Connect® Finance - Robert Morris University
---

Digital Product in Use:
Connect® Finance
---
LMS Integration:
Blackboard
---
Course Name:
FIN 300 - Principles of Finance
---
Course Type:
Lecture
---
Credit Hours:
Four
---
Program in Use:
Fundamentals of Corporate Finance by Stephen A. Ross, Randolph W. Westerfield, and Bradford D. Jordan, 11e
---
Instructor Name:
Lateef Syed, PhD
---
Enrollment:
530 students per section; 2 sections; 400 year (university total)
---
Case Study Term:
Side-by-side comparison Fall 2015 with and without SmartBook
---
"The use of Connect has allowed me to add more material in the curriculum and more opportunities for students to practice and to learn. SmartBook is a great tool that creates a study plan for students based on their performance."
– Dr. Lateef Syed
81% of Finance Students Earn A's and B's Using SmartBook® and Active Learning Increases in Classroom
Visit our Corporate Finance Course Solutions Page to learn more about our combination of high quality content and digital tools.
LEARN MORE
After Dr. Lateef Syed required Connect SmartBook assignments, 81% of his students earned A's and B's compared to only 45% without in a side-by-side comparison. He reports that grade distribution, pass rates and exam scores were positively impacted with the inclusion of SmartBook and is why SmartBook is now an integral part of his class.
Additionally, Syed appreciates that he spends less time reviewing homework and has more time to pursue more concept application and active learning opportunities in the classroom. He spends 15% less time reviewing homework and 20% more of his time integrating concept application and active learning projects into his classroom discussions. Syed says, "With SmartBook, I'm able to use more time in class for discussion, lecture, and practice problems."
Course grade is determined by the following:
40% – Exams administered within Connect
29% – Connect Homework and SmartBook
13% – Quizzes administered within Connect
8% – Paper and/or Projects
5% – Common Exam
5% – Attendance
Syed assigns two SmartBook modules due each week. He uses the data in the SmartBook Most Challenging Learning Objectives report to instantly identify areas of weak understanding and to reinforce challenging concepts during class time. He says, "Connect and SmartBook have helped me achieve course objectives more easily. The pace of the class has improved since I've required SmartBook. Otherwise, there used to be time constraints in extending the discussion for specific topics."
In addition to SmartBook, Syed assigns two interactive question bank assignments covering approximately two chapters per week. He focuses these assignments on problem solving and analysis. "I can select from a variety of questions for the tests and assignments. Connect has many choices," he reports, plus, "The availability of the eBook with Connect helps students to quickly refer to the concept while working on an assignment. This ability to reinforce concepts makes Connect a great learning tool for the students." After students complete the assignments, he allows them to review their results after the due date which helps students identify where they need to improve their understanding of the material.
The Connect Student Performance report also helps Syed identify areas of weak understanding. He says, "The mean and median of the student scores gives me an idea about an overall skill level of the class. I am then able to tailor my teaching methodology to that class." He uses the Assignment Statistics report to gauge the section's performance and how compatible the assignment is with the lectures and in-class problem solving tasks.
Syed appreciates that Connect syncs with Blackboard. "The integration is great because all of the grades are automatically transferred from Connect to Blackboard and that saves me time."
Instructor's implementation goals:
Improve students' grade distribution

Provide a better homework management tool for the students

Find ways to save time on tasks like homework review and grading
Issues for instructor before using Connect and SmartBook:
Students were not performing well in the course

Students were not engaged in the class discussions

Students needed a better homework management tool

Instructor needed a better way to manage homework and grading tasks
Benefits to instructor after using Connect and SmartBook:
More students are earning A's and B's

More students are passing the course

More students are able to monitor their own efforts to learn the material by being directed to areas of the eBook for extra review

SmartBook acts as a TA so the instructor has more time to plan for more in-depth class discussions
Syed's goal in implementing Connect with SmartBook was to see an improvement in grade distribution. After Dr. Lateef Syed implemented Connect Finance with SmartBook, the percentage of students who earned A's and B's grew by 36 percentage points, from 45% to 81% (Figure 1).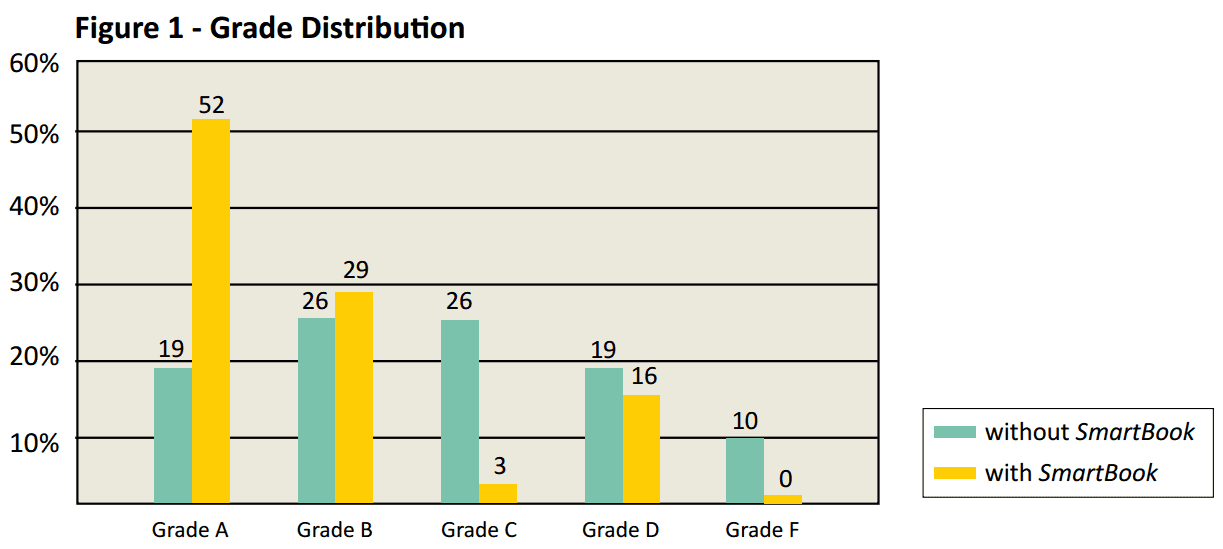 100% of his students passed the course, a 10% improvement prior to SmartBook (Figure 2).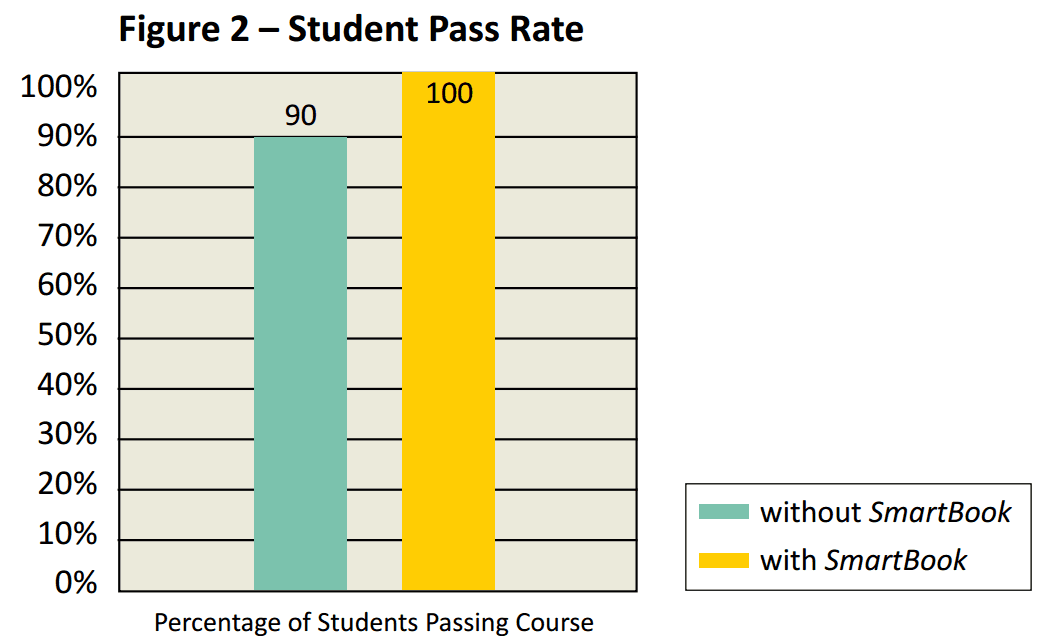 Course Description:
Foundations of Finance is a course that focuses on the mathematical concepts used in financial analysis and understanding of the financial decision making process. The intention of this course is to help students develop skills in understanding the logic that drives financial decisions. Topics include, but are not limited to, financial statement analysis, the time value of money, bond and stock valuation techniques, risk and return, capital budgeting, and methods of business financing.
Institution Profile:
Robert Morris University, Illinois, is ranked by The Chronicle of Higher Education as one of the top 5 among private not-for-profit universities in Illinois. The university has ten locations throughout Illinois and the Chicagoland area, where approximately 2,700 students have the opportunity to earn associate, baccalaureate, and graduate degree programs.
He also saw an average improvement of 4.43 (out of 40) points increase on average test scores, from 30.73 to 35.16 (Figure 3).

Syed spends 15% less time reviewing homework and 20% more of his time integrating concept application and active learning projects into his classroom discussions (Figure 4). He says, "With SmartBook, I was able to use more time in class for discussion, lecture and practice problems."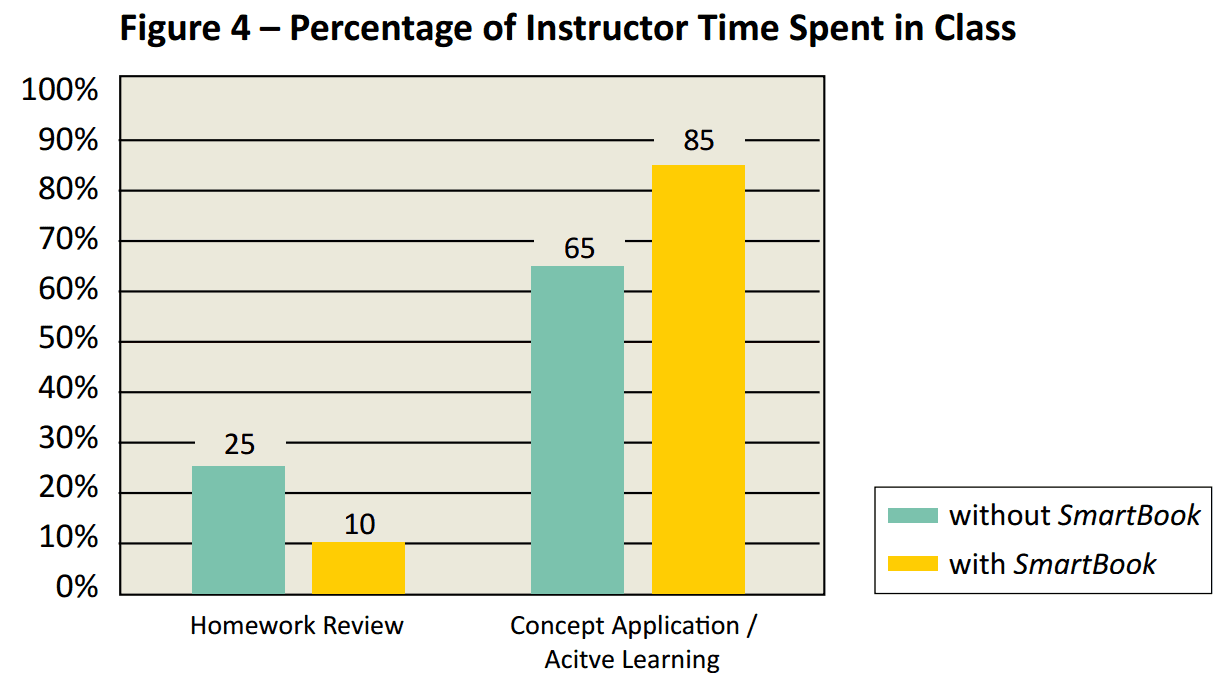 "Connect and SmartBook are great tools for time management. Since SmartBook works like a Teaching Assistant, faculty can cover additional material and have the time to prepare opportunities to help students consider a more in-depth analysis of a particular topic."
Before Syed implemented Connect, his goal was to improve students' grades. Since his students have had an opportunity to study using SmartBook, 81% earn A's and B's, 100% of the students pass the course and test scores have improved by an average of four points. Further, students have a better learning tool that encourages them to study the material, and Syed has a more efficient way to manage homework review and grading tasks allowing for more active learning in the classroom.