Case Study: Connect® Chemistry - University of Dubuque
---

Digital Product in Use:
Connect® Chemistry
---
Program in Use:
Chemistry: Atoms First, Julia Burdge and Jason Overby, McGraw-Hill Education, 2nd Edition
---
Course Name:
General Chemistry
---
Course Type:
Lecture and Lab
---
Credit Hours:
Four
---
Instructor Name:
Adam Hoffman, PhD
---
Enrollment:
3 sections; 20 students/section
---
Despite Influx of New Students, Connect Raises Exam Scores and Slashes Number of F's Received in Half
Due to programmatic changes, General Chemistry classes at the University of Dubuque have grown in size, drawing students less experienced with the subject matter than previous students in the same class. By requiring Connect and SmartBook, Dr. Adam Hoffman has ensured that the class success rate is even higher than previous classes. Passing grades have risen from 93 percent to nearly 96 percent, while exam scores are up four percent. Students come to his lectures better prepared, engage in in-depth discourse, and score better on exams. "Connect has been amazing in its ability to make the learning environment for my class more efficient and more effective. It has allowed me to spend less time grading and more time interacting with students and preparing for lecture," Hoffman says.
Implementation of McGraw-Hill Connect
Course grade is determined by the following:
50% – Lab exercises, quizzes and lab practical final exam
20% – Quizzes administered within Connect
10% – Final exam
10% – Connect homework including LearnSmart Prep
10% – SmartBook
Before Hoffman began using Connect two years ago he administered daily lecture quizzes through Moodle. He realized, however, that he needed a more efficient method to better help students at varying levels understand and succeed in their course work. At the same time he was facing several new challenges. The number of students rose in the past year, many of which had less background in chemistry. "Our General Chemistry class number went from an average in the mid 20's to the upper 50's, and I was unable to give the students useful homework feedback in a timely manner."" Hoffman says. In addition to that, "The influx of new students were not starting the semester with as much chemistry background knowledge as the average general chemistry student. I needed something to help everyone get to the same level."
Hoffman begins his course by assigning LearnSmart Prep. LearnSmart Prep, a learning tool which quickly prepares students for a course by identifying knowledge gaps that might cause problems ahead, helps students during the first week of class by refreshing their skills or in some cases gaining new concept knowledge that is essential for success in the course.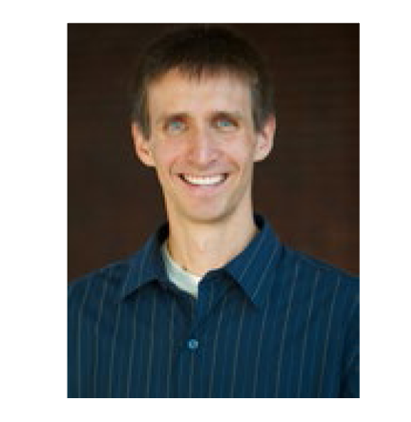 "Connect has drastically reduced my time spent grading and has allowed me to be a more efficient and more effective teacher."
– Dr. Adam Hoffman
Following LearnSmart Prep, Hoffman assigns a total of four assignments in Connect each week covering one chapter. "Every week I assign three SmartBook modules due before lecture to prepare the students for each lecture and to get the students to the same minimum level of knowledge." Each SmartBook assignment is designed to take the average student 20 minutes and covers parts of a given chapter to be covered in the lecture. He then assigns 10-15 Connect homework questions. "I allow multiple tries per question and multiple attempts per assignment as I view homework as a learning tool rather than an assessment tool." The Connect homework is designed to help the students identify what are important concepts as well as assess their skills.
"Connect has allowed me to spend more time preparing for lecture and less time grading homework assignments," Hoffman says. "I use the SmartBook pre-lecture assignment reports to tailor the content that I cover in lecture." He adds, "For example, if during my pre-lecture review of SmartBook analytics I notice that many students did not get a certain concept then I will make sure I stress that in lecture." Before lecture Professor Hoffman first checks the Progress Overview report to see who is doing the assignment and how close to lecture are they doing it. The rest of the SmartBook reports (other than student details, which he uses when students come talk to him about class) are used to see what he needs to stress in lecture and what does not need to be covered as in-depth.
The Connect reports most useful to Hoffman are:
Connect Insight Dashboard – Utilizes this report to show the students that there is a relation between time spent and grade earned.
Assignment Results – Checks in on how the students have done on a specific assignment or to export data to excel.
Student Performance – This feature is very useful when students come into his office with questions about their assignments or to check on their overall progress in class.
Assignment Statistics – Checks on how the class did as a whole for specific assignments.
Item and Category Analysis – Utilizes in lecture and for test review to go over problems that the class is struggling with.
The reduced grading time is not the only benefit for Hoffman. By using Connect he also finds that he can utilize class time more efficiently and effectively. In addition, he says "Connect has changed how I interact with the students." That's because he finds they are coming to him with higher level questions regarding assignments, because Connect homework helps prime them for more detailed and in-depth research and discussion. "The shift in the type of questions asked during office hours was something that I had not anticipated." He finds that Connect has allowed the students to come to lectures at a similar starting point, "and that too has made lecture more beneficial for the class as a whole, and more fun and less stressful for me as I know they are starting with some common base knowledge."
By offering an entirely digital option, Connect saved students money. Hoffman adds, "This switch has also moved more in line with a central mission of our school by better serving the stewardship aspect of the University's mission."
General Chemistry test averages have increased about four percent since Connect's implementation going from 79.9 to 83.4 percent. In addition, final exam averages increased from 76.8 percent to 78.3 (Figure 1). As the class has seen an influx of less prepared students, this number is even more impressive than it seems, since it is compared against the relatively better prepared students of previous years.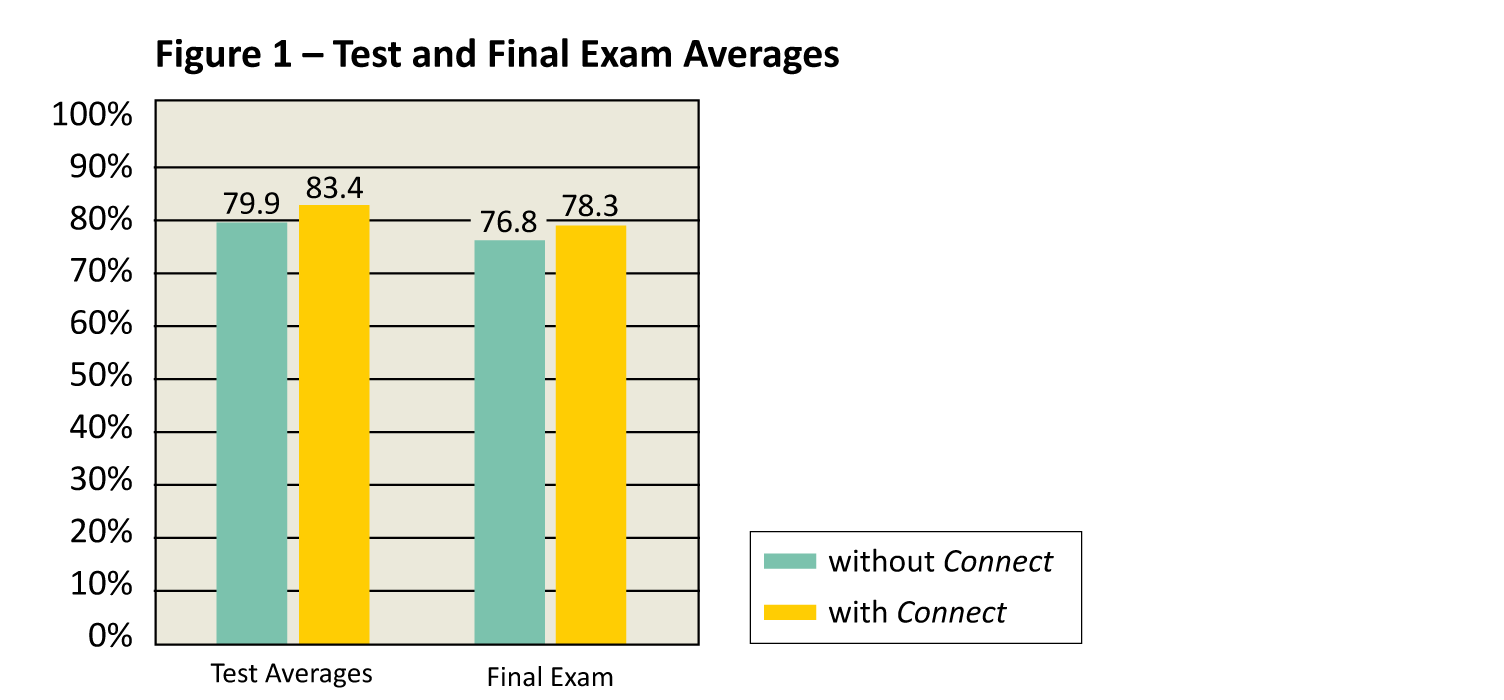 Instructor's implementation goals:
Help an influx of unprepared students gain skills equivalent to more experienced classmates.

Reduce grading time while still giving students helpful feedback on their assignments.
Issues for instructor before using Connect:
The class recently grew in size with many new students who had little or no experience in Chemistry.

He needed a way to help those students come to class with the basic understandings of that week's subject matter.
Benefits to instructor after using Connect:
Despite a less experienced set of students, exam grades increased by four percent.

Grading time has decreased and lecture prep time has increased.

Students come to class, as well as office hours, with more advanced level of questions and discourse.
Course Description:
This class covers the basic building blocks of matter as well as the concept of molecular theory; the behavior of gases, liquids, solids and solutions; and the process of chemical change. It also includes a lab for which topics cover lab safety, measurement, techniques and common methods of analysis. Upon completion of the course students are expected to be able to explain the basic concepts of chemistry. General chemistry is a two-semester sequence at the University of Dubuque.
Institution Profile:
University of Dubuque is a Presbyterian university located in Dubuque, Iowa. The university offers both undergraduate and graduate programs. It has 1,750 students, and is one of Dubuque's Tri-Colleges.
Despite an influx of students who are less prepared than those of earlier years, the number of F's has nearly been cut in half and the number of A's have increased about 3 percent (Figure 2).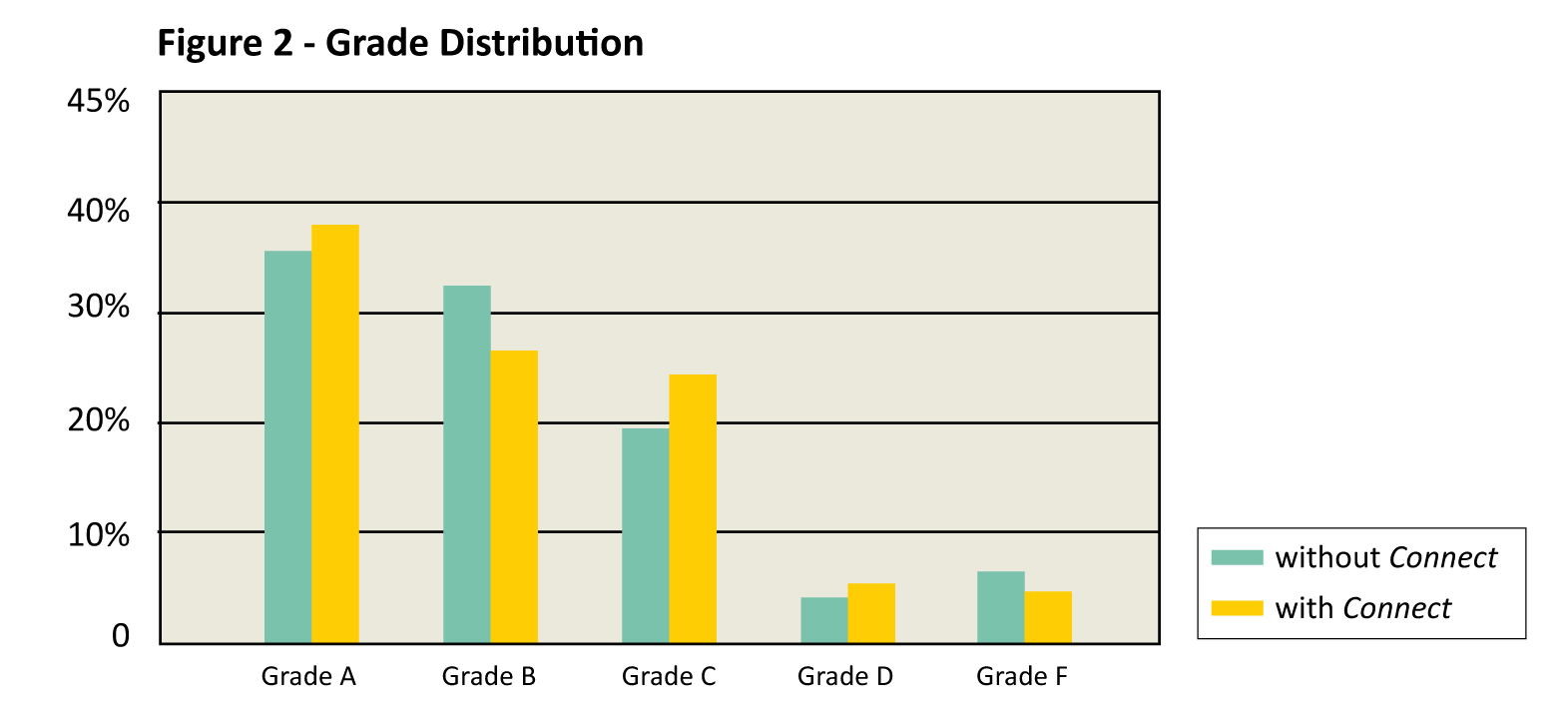 Students passing the class has also increased about three percent since Hoffman started using Connect in his General Chemistry class, a percentage that also impressed him given the large number of less prepared students joining the class (Figure 3).
Because students have to check in on-line before each class period to do the
SmartBook
assignments, he can see that they are more engaged outside of class with the content. Spot surveys of the students have shown that they are preparing for lecture now at a much greater frequency and spending more time than they did before
Connect
.
Connect has significantly impacted the time Hoffman spends on grading, reviewing and administering tests. "This has been a great time savings as it has really cut down on my grading time," he comments. His time spent reviewing hourly homework was cut in half from .5 hours to .25. Time spent on quizzes was only .25 hours before Connect, but was entirely eliminated once Connect was implemented. Grading time dropped from four hours per week without Connect to just 30 minutes with Connect (Figure 4).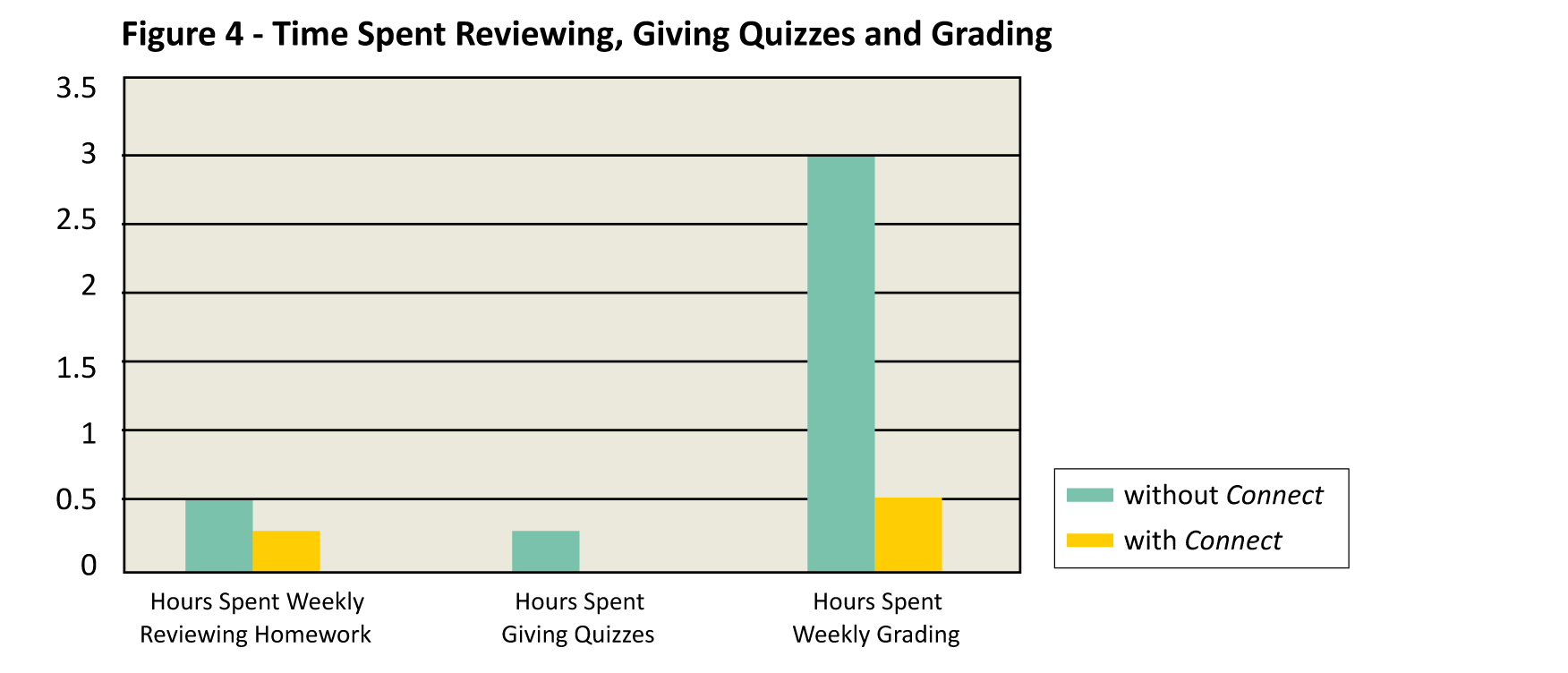 With the decrease in homework grading, Hoffman has more time for lecture preparation as well as active learning time. In fact, lecture preparation previously was typically three hours weekly, but with Connect he dedicates four hours to prepare the classes each week. In addition, active learning time has doubled from one hour to two (Figure 5). "Connect has allowed me to do more example problems in class and less lecturing, allowing for a more interactive classroom" he says.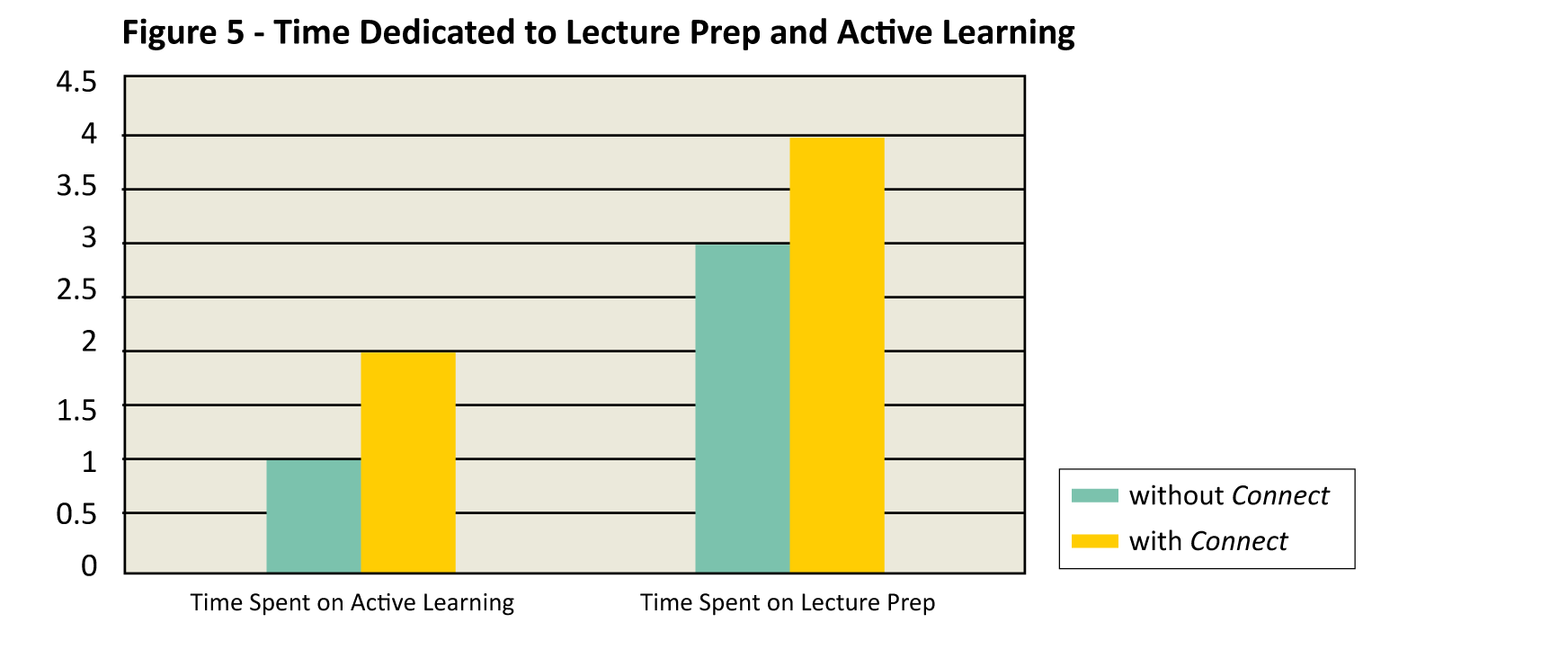 "Connect already has allowed me to make curricular changes including covering more material, switching to a more extensive textbook, and increasing flexibility for our students by allowing for summer sessions."
Connect has allowed Hoffman to serve more students in his class while also making the learning environment more efficient and effective. Hoffman is able to spend less time grading and more time interacting with his students and preparing for lecture. His lecture preparation is now more focused on the content areas that the students are struggling to understand. Hoffman looks forward to expanding his use of Connect.