Case Study: Chemistry - Cameron University
---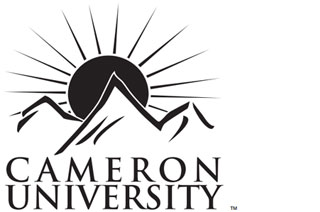 Digital Product in Use:
Connect® Chemistry
---
Course Name:
General Chemistry I
---
Course Type:
Lecture
---
Credit Hours:
Four
---
Textbook in Use:
Chemistry: Atoms First by Burdge and Overby, 2e
---
Instructor Name:
Dr. Gary Buckley
---
Enrollment:
450-500 students/year (university total)
---
Case Study Term:
Spring 2007 - Summer 2015
---
"Using Connect with its adaptive learning capacity provides a good opportunity to deliver a course more tailored to a student's individual needs. With the built-in SmartBook, it allows a student to effectively allocate the necessary time to master the content."
McGraw-Hill Connect and SmartBook improve academic performance for mid-range students as well as lifting pass and retention rates.
---
The most significant benefit Dr. Buckley has found is the rise of grades among students who traditionally might have failed the class, but now earn D's, C's and B's. In fact, there is a correlation between the amount of time students spend in Connect with their grade – those earning B's and C's spent the most time using Connect as a tool to complete homework and master the material. Since requiring Connect the pass rate has increased from 89 to 96 percent while student retention rate has also grown, from 86 to 90 percent. Connect has helped students succeed in the class, while also reducing time Dr. Buckley previously spent grading papers.
Course Grade
The grade is determined by the following:
5% Daily response paper
10% SmartBook assignments
10% Connect homework
20% Quizzes administered within Connect
40% Hour tests
15% Final Exam
Implementation of McGraw-Hill Connect
Dr. Buckley has used Connect in Chemistry courses for two years. Most General Chemistry I students are pre-health majors going into programs such as nursing. The majority of these students come to the class with misgivings about the chemistry course, and their primary goal is to get a "C" at least; a grade level that is required to be accepted into nursing school. "Some students handle the course well and others are stressed to the point of not being able to function or think very well," he says. "It's a bit of a challenge trying to find a balance." He points out that it's important to be able to provide individualized work to students in such a way that they spend quality study time mastering the concepts of the course. SmartBook helps do that, he says. The SmartBook modules provide a dedicated student with opportunity to practice and reinforce concepts and problems solving.
"I used the SmartBook modules to partially flip the material," Dr. Buckley says. The chapter-sized SmartBook modules were broken down into smaller segments of about two chapter sections per assignment. These were assigned to fall slightly ahead of the class discussions. The students have then finished the SmartBook modules for the day's topics before coming to class. This resulted in better questions and discussion during class. The Connect homework was assigned after lecture and spanned about a week's worth of material.
Before each class, Dr. Buckley looks at the assigned SmartBook module to review the content the students were exposed to and to review the Most Challenging Learning Objectives report. With SmartBook he does not have to cover the minute detail of the topic as much as he previously did. Since students have seen the material prior to class, the reports and understanding they demonstrate in the classroom gives Dr. Buckley a sense of what topics need more work and which ones have been adequately covered in the SmartBook assignments. "As a result, you have the ability to custom tailor your lectures," Dr. Buckley says.
By using the SmartBook modules as pre-class work, Dr. Buckley's students sometimes come in frustrated, but typically anticipate what is coming during class. "At the end of each class period I had the students write out the answers to two questions - what did they learn and what one question did they have." Often the second question was framed as a comment - 'I was confused about that part but today cleared it up.' The assigned SmartBook module, he says, helped, since they had already reviewed and interacted with the concepts before coming to class.
Dr. Buckley uses many of the Connect reports to achieve course objectives:
At-Risk Student Report helps Dr. Buckley keep an eye on students falling behind and allows him to contact them early if necessary
Item Analysis Report pinpoints the most troublesome question results. Dr. Buckley uses this report with his class following a homework due date. This helps the students if it was a conceptual issue and helps Dr. Buckley if it was an issue with the problem - a misunderstanding.
Metacognitive Skills Report allows Dr. Buckley to have conversations in his office with students regarding their data. "They don't quite understand why they are struggling, but I am able to guide them to the idea that - either due to rushing or being overconfident - they are somehow thinking they know answers they don't."
Most Challenging Learning Objectives Report helps with determining where he may need to spend more time with the class to help students understand the lesson.
Dr. Buckley uses Connect with Blackboard and says the integration is smooth. Students can go to Blackboard with their usual login, click on a SmartBook module or homework, and be taken directly to Connect, and then return smoothly to Blackboard. The scores are recorded automatically in Blackboard.
For students who find the subject matter challenging but are willing to work, use of Connect allows Dr. Buckley to provide opportunities for students to pass the course. He has found that students near the top of the class generally spend considerably less time in Connect than some at the lower levels. However for those students at a lower level, the availability of the adaptive learning and repetitive homework assignments provides a much needed opportunity for developing required skill sets. That is, Dr. Buckley says, if they choose to spend the requisite time. "In one instance I had a student who spent five times as much time in Connect as the second highest user, but was able to get the grade she needed because the opportunity for adaptive learning was there and she took advantage of it."
Instructor's Implementation Goals:
Prepare students for each lecture.
Provide students with the opportunity to master the material based on their own study time outside of class.
Reduce time spent grading.
Issues for instructor before using Connect:
Often students came to the class intimidated by the material and anxious to simply earn a "C."
Working with the wide disparity of students with high confidence, or very little confidence and knowledge was difficult
Benefits to instructor after using Connect:
Pass rates have risen in the class.
Students who might have failed in the past have used Connect to raise their grades to D's, C's and B's.
Students come to class familiar with the material for the specific lecture.
Grading time drastically reduced.
Based on results from his most recent eight week course, Dr. Buckley found that the maximum time spent by students in Connect occurred with students that receive B's and C's (Figure 1). Several of those with A's apparently had some prior background, and those in the F range spent much less time with Connect tools. "There was a significant amount of time spent by those with D's, which likely helped them get out of the F range." The actual data for 49 students in an eight week summer class in terms of average hours spent in Connect: A's - 49 hours, B's - 65 hours, C's - 63 hours, D's - 48 hours, and F's - 10 hours.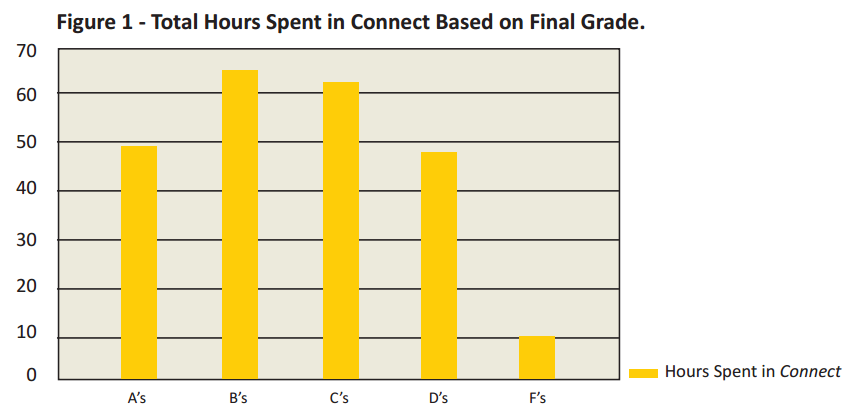 Dr. Buckley recalls an anecdote in which a student came to rely heavily on SmartBook for getting ready for class. "During one rough patch in the term I failed to make a SmartBook assignment available covering a smaller section of the chapter for the upcoming class," he said. "He sent me an email that morning showing his displeasure at not being able to use SmartBook the night before. When I asked him his thoughts on it, he said 'I just love it'." Providing the students the opportunity to do the necessary work has been a huge benefit to the class overall. Whether they do it or not is their choice, he says, but he knows it is always available to every student. "In past times, I would frequently give paper homework, but there was no way to keep up with the demand to meet the needs of some of our students."
Course Description:
General Chemistry I covers principles of general chemistry with emphasis on theory and its application to structure and reactions. Students who take the class should have taken college level algebra and are expected to continue to General Chemistry II.
Institution Profile:
Cameron University, located in southwest Oklahoma, is a state funded university with about 5,500 students. The university offers two-year as well as four year degrees and graduate programs emphasizing liberal arts, science and technology, and professional studies. Founded in 1909 as an agriculture school, its first classes were held in the basement of a bank building while a new campus was being constructed. Today it offers more than 50 degrees and is the only public university in Oklahoma that offers associate, bachelor's and master's degree programs at one site.
Time spent grading is significantly less with Connect (Figure 2). Most of Dr. Buckley's time is now focused on assigned essay questions.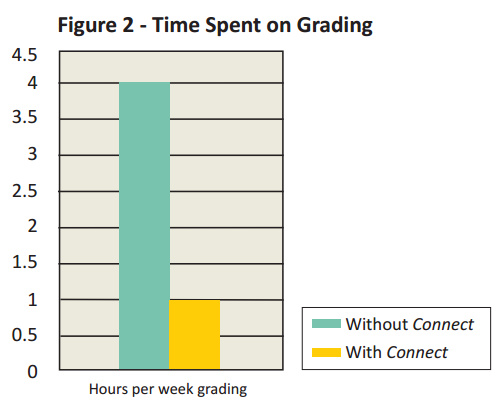 Pass rates for students have gone up from 89.1 percent with paper homework to 96.2 percent with Connect (Figure 3). With another electronic solution, 88.5 percent of the class passed. This, says Dr. Buckley, is consistent with his observation that lower grade regions have improved with the help of Connect. Retention rates have also increased with Connect. While 88.7 percent of students remained in the class with paper homework; only 83 percent remained, with another electronic homework solution; and 89.7 percent remained in class with Connect.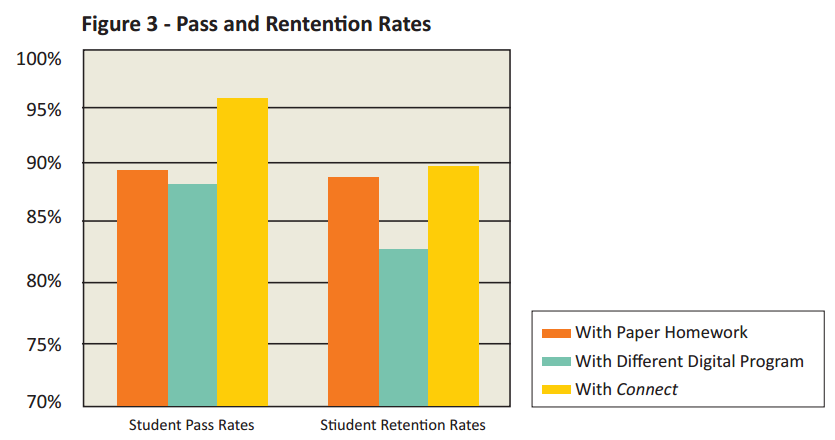 Dr. Buckley attributes Connect to the rise in grades among students who traditionally might have failed the class (Figure 4). "It seems that the percentage of A-B-C's has gone up because there the workload can be more tailored for what the student needs."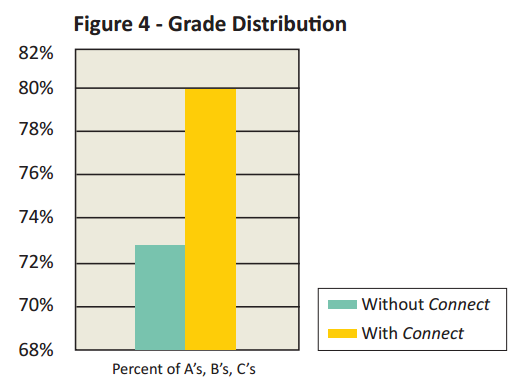 "For students who may struggle in the subject matter but are willing to work, use of Connect allows the instructor to provide ample opportunity for students to succeed."
Dr. Buckley recommends Connect to other faculty members. He also recommends shorter more frequent assignments as he has found it keeps students from procrastinating too long and the students stay on top of material as they go. Using Connect has helped his students be more connected. As a result students who feel most challenged by the material have the same opportunity for success by preparing for lectures and gaining a grasp on the lesson even before it's presented to them in class. Students who might have failed the class were able to raise their grades with diligent use of Connect and Smartbook, Dr. Buckley found, bringing pass rates up about seven percent. Connect has also spared Buckley considerable time that was previously spent grading homework.