East Arkansas Community College
---

Connect® Reduces Time Invested in Mundane Grading Tasks and Provides Access to Student Progress Data so Instructors Can Focus on Improving Lectures and Assisting At-Risk Students
Instructor Rebecca Coleman's goals were to have every student have access to the content material for her course, a way to check on student participation and progress, and reduced grading time so that she could focus on improving her lectures and encouraging students to understand the material they were reading and complete the course.
Connect helps her achieve those goals. "Connect gave me a way to track who had access to the text and provided me with a way to track student progress to see how much time students were spending on assignments and exams."
Connect's automated grading features solves Coleman's biggest issue: the number of hours she spent writing questions and answers for quizzes and exams, triple checking that those answers were correct, and dealing with "weird" responses because students Googled for an answer instead of reading the assigned material. "Before Connect, I spent more time grading written assignments instead of developing the course to where I wanted it to be. Connect allows me to see if a student has been reading the assigned material. Now I have fewer students with weird answers for assignments."
Before Connect, I spent a lot of time setting up assignments, quizzes, exams, and grading. Now I can spend the time preparing for lectures, updating presentations, and assisting students who may need help.
Rebecca Coleman
Implementation
The course grade is determined by the following:
33% — Exams administered with Connect
25% — Quizzes administered within Connect
20% — SmartBook
12% — Discussions
8% — Essay/Presentation
2% — Syllabus Quiz
Coleman requires students to pair Blackboard and Connect. With a direct link to Connect, students are able to sign into Blackboard and go straight to assignments without having to navigate to another site on their own with a separate sign-on. Assignments, quizzes, and exams are linked in weekly folders.
Coleman uses Connect for chapter assignments, quizzes, exams, and some of her own discussion/journal assignments. She allows students an unlimited amount of time for the chapter assignments in Smartbook that usually consist of 10 to 30 questions. "An unlimited amount of time gives students an opportunity to use these assignments as study aides and get the best grade possible. This extra study tool helps with my students who may not be great test takers." She also uses those assignments to see how long students spend on the assignment and how often they are answering the chapter questions. Coleman says, "This gives me good insight on students who may not be doing so well in the class."
Students have one opportunity only to complete timed quizzes and exams. Coleman allows for only the scores to be shown, not the correct or incorrect answers, because she says she always has a student or two who have computer issues. She says, "Connect allows me to adjust time limits for those students who may need accommodations, number of times a student can take a quiz, or due dates. By looking at the progress and time spent on these exams, I can determine if there was an issue or if they just ran out of time. I use the information available to decide if a student can retake a quiz or exam."
Some discussions are also attached to Connect. These assignments usually consist of one essay question and a worksheet related to comparing works of art. "The essay question helps me see if students understand how to talk about works of art. I can leave comments for students as to why an answer is incorrect or praise them for an insightful answer."
Coleman recommends breaking down the semester into weekly or bi-weekly assignments. She says, "I tried to stay a week or two ahead of creating assignments and tried to stay as close to my schedule as possible." She also suggests implementing a set schedule to communicate with students regarding which days students will be contacted and how soon they will be informed about assignments, quizzes, and exams.
For online classes, students are required to login every two weeks per college policy, but Coleman requires online students to login every week. "Having a weekly schedule keeps students from forgetting to log on," she says.
Coleman tries to catch issues with students early and uses reports in Connect, such as Assignment Results, Student Performance, Item Analysis, and At- Risk Report, to help her track her students' progress through the course. In SmartBook, she uses Student Details and Practice Quiz.
Before Connect, Coleman had to rely on the basic information that was available on Blackboard that didn't always give her the insights she needed. "With Connect I can see details of why a student may have an issue, and I am able to direct them to resources for help. If I see that a student is taking a very long time to complete chapter assignments, that student may need to report an accommodation to me or may need to see about receiving an accommodation. Sometimes I may have to adjust the wording on a question or add a question if I see that students are confused."
Connect saves students money, and Coleman believes that students' ability to use their phones to complete assignments has encouraged more students to complete most or all of the assignments. Coleman says, "I deal with a very rural population, so a good number of them rely on their phones for internet access. Because I don't have to spend as much time with assignment setup, I can focus on contacting students or reporting students who are not completing assignments." She adds, "I have students who are in the military and an eBook is easier for them to use than a hardbound textbook."
Results Achieved
Coleman has been pleased by the increase in students' performance and grades since implementing Connect. Without Connect, 29% of the students earned A's, 22% earned B's, 19% earned C's, 9% earned D's, and 20% failed the course. With Connect, 48%—an increase of 19%—earned A's while fewer students—15%, a decrease of 5%—failed the course (Figure 1).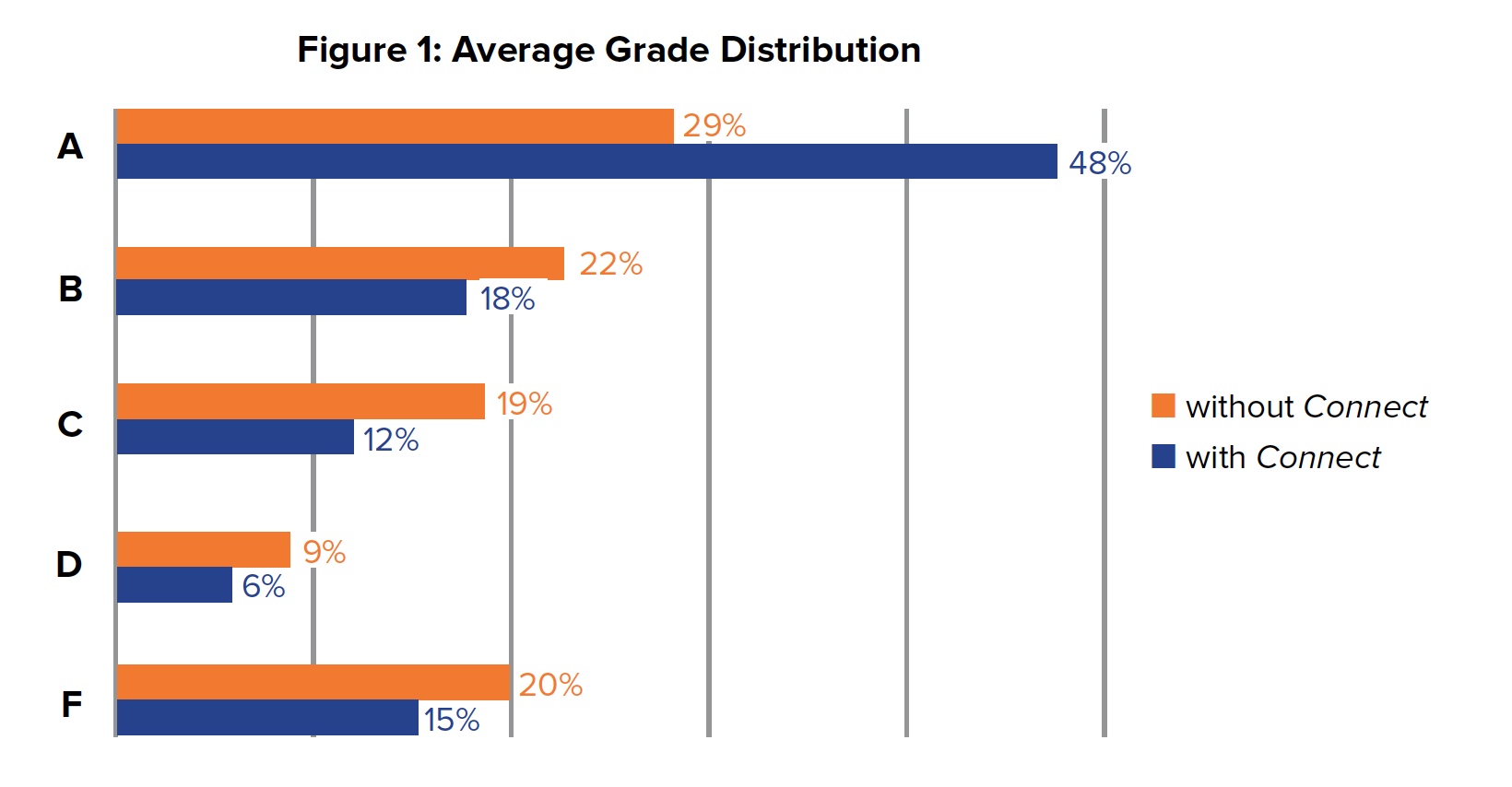 "With Connect, it's easier to recognize and report students who are struggling or not completing assignments," Coleman says. "Without Connect it was easy for me to overlook a student. Now I'm able to create reports or view individual student's progress, and I'm able to see if a student has used a code to access the course materials. When I used just the book, I would find out late in the semester that a student was relying on an old edition or the internet to complete the assignments and that's why the student's grades were low."
Now, Coleman pulls up the student's performance report on Connect and contacts the student and the campus's retention office to establish a plan. Coleman says, "The majority of students stay with the class. I am able to tell them exactly what they need to do to pass the class and how they can use Connect to help them catch up."
Because Coleman is able to intervene and encourage students who may be struggling early in her course, pass rates have increased from 81.5% to 85% (Figure 2). Coleman says, "The majority of students who have F's in the class are because those students are not turning in paperwork in time to drop the class or there are other issues."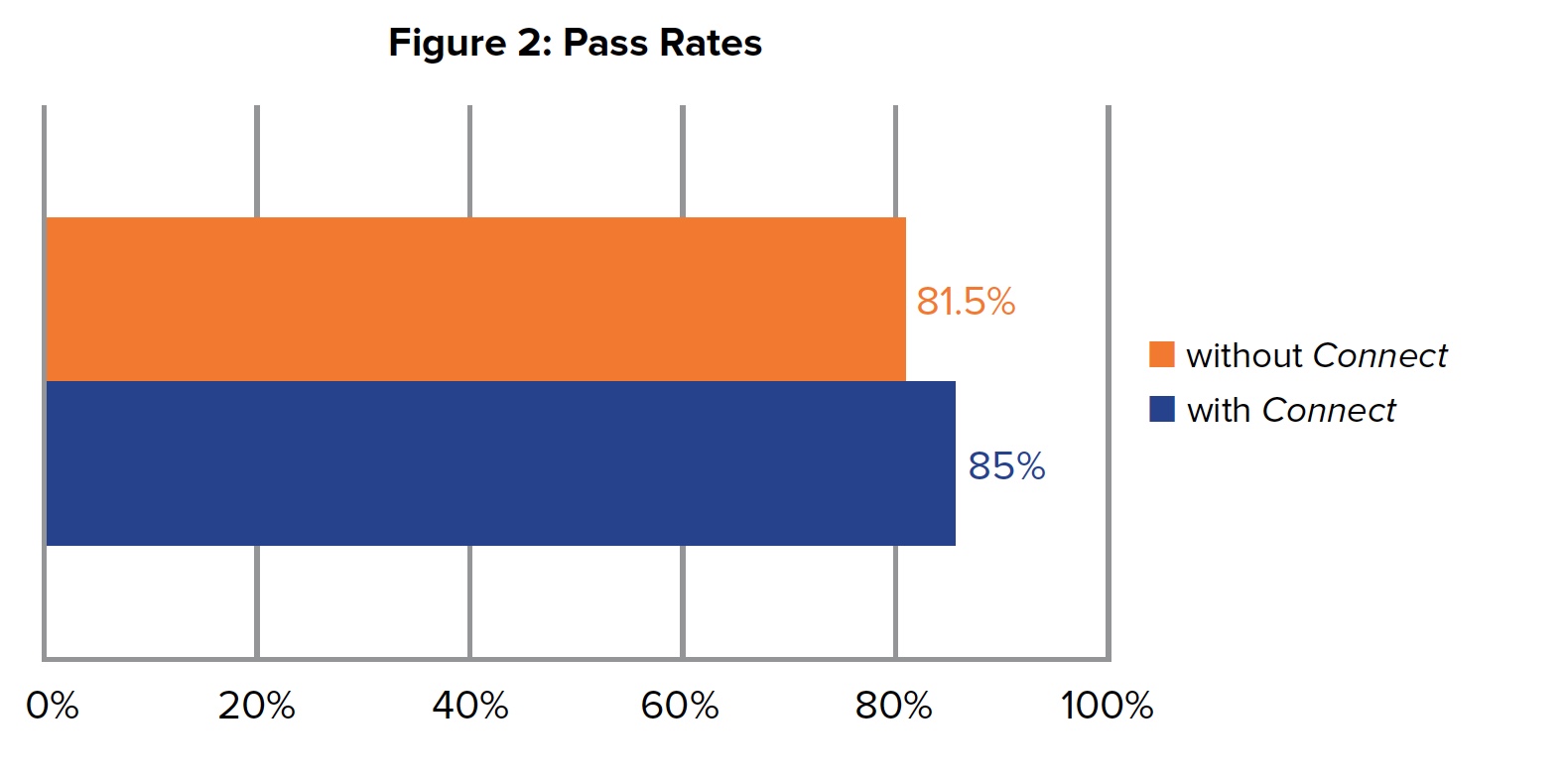 "Finals have improved a lot!" Coleman says. Prior to using Connect, students' average test scores for the final exam was 77.5. With Connect, the average final score for the final is 92 (Figure 3). Midterm scores have also increased. Coleman allows unlimited attempts for chapter assignments, but one chance to complete tests and exams. She says, "I notice students who take advantage of the unlimited attempts and the self-quizzes do better on the exams."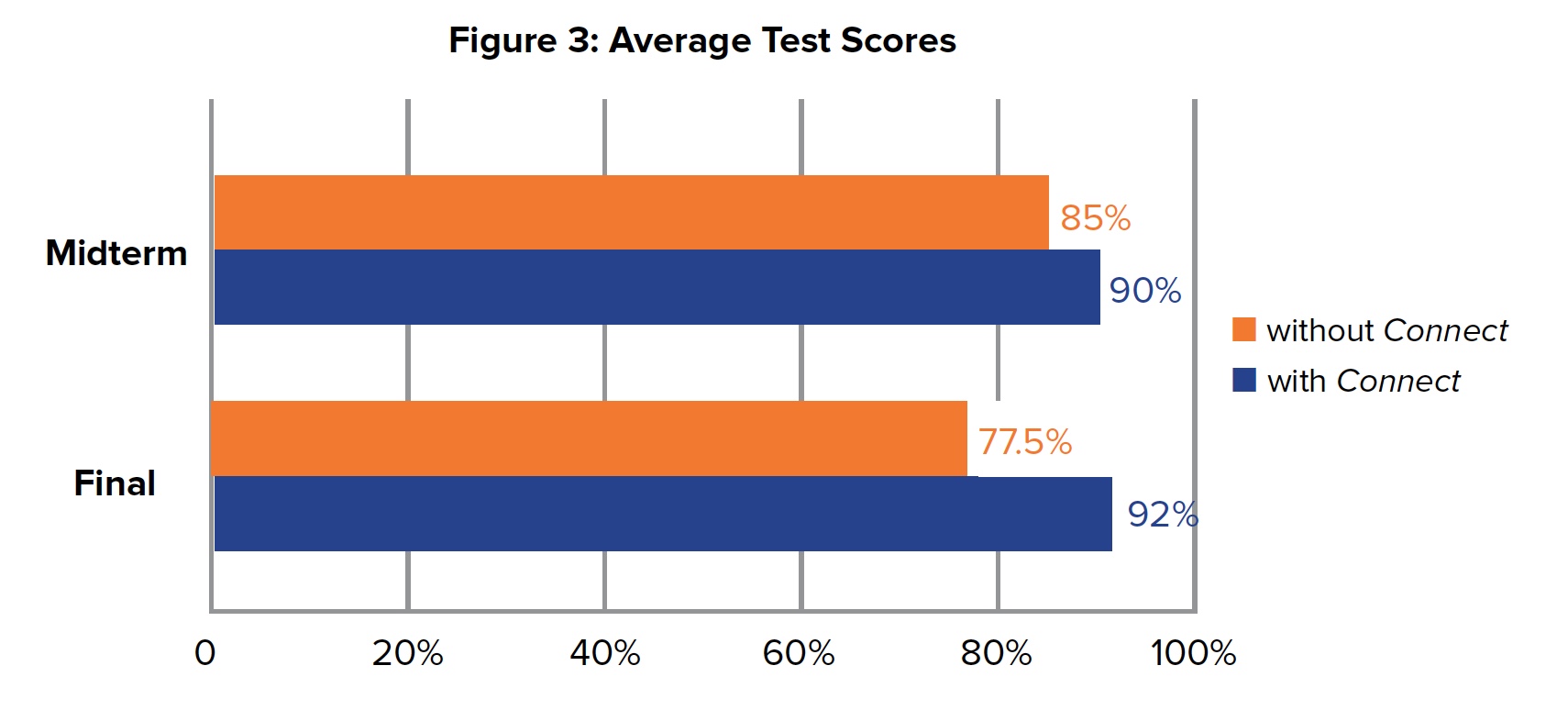 Connect has been a huge factor in reducing the amount of time Coleman has to dedicate to grading. Before Connect, a large portion of the homework involved several pages of written work that would take days or weeks to grade depending on the number of students she had and her schedule. With Connect, Coleman includes assignments that are autograded and replaced some of the written assignments with Connect writing assignments and worksheets that are easier and quicker to grade.
"I used to get weeks behind on grading," Coleman says. "Using Connect, I am able to assign auto-graded assignments, which reduced the time I spend grading and the number of emails I received from students concerned about their grades. Now, if I get behind, it's usually a week or two, and it's only the manually graded assignments."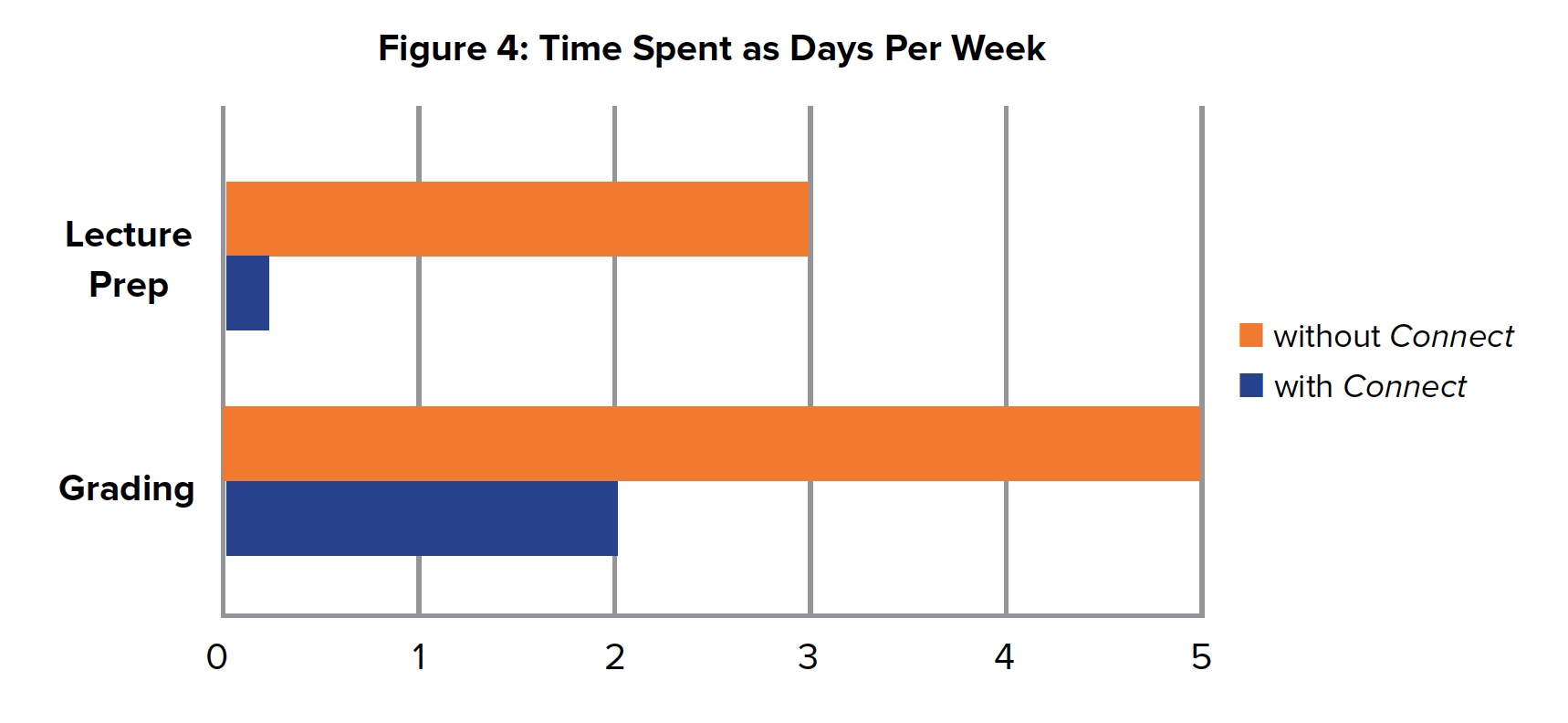 Conclusion
Coleman has seen an increase in students' test scores, grades, and pass rates because Connect gets more students to read the assigned material and complete the homework. Further, Coleman is able to track the students' progress and intervene early in the course if she sees that a student isn't spending an appropriate amount of time devoted to the course material. Connect has also drastically reduced the amount of time Coleman has to dedicate to setting up, double-checking, and grading assignments. Overall, Connect has made a big difference in her students' opportunities to succeed in her course because class materials are always accessible for students who may not have had consistent access to course materials before.
At first I had quite a few students who would only complete certain assignments, avoided the ones they didn't want to complete, or would write just enough to say they put an answer. Since using Connect, I have more students who are actually answering the questions to the best of their ability. This tells me they are reading or listening to the reading.
---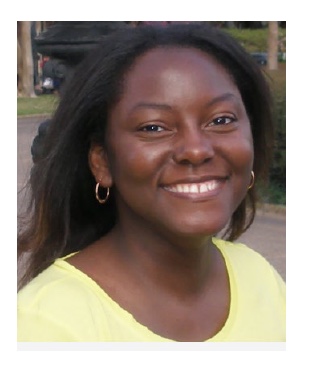 Rebecca Coleman earned her Masters in Studio Arts from Memphis College of Art. She currently teach Art Appreciation and Studio Art classes online and on campus at EACC. In her spare time, when she is not chasing two toddlers around, Rebecca works as a freelance artist.
Digital Product in Use: Connect® Art
LMS: Blackboard
Course Name: ART 1003 Art Appreciati
Course Type: Online
Credit Hours: Three
Program in Use: Living with Art (with Connect), 11th edition, by Mark Getlein
Instructor: Rebecca Coleman, MFA
Enrollment: 50 students per section; 1 section; 200 year (university total)

---
Instructor's implementation goals
Reduce grading time
Devote more time to creating lectures and course materials
Provide each student with access to course materials
Track students' progress through the course
Assess and address individual student needs quickly
Provide easy access to assessment data
Hold students accountable for the assignments
Issues for instructor before using Connect:
Too much time and energy necessary for lecture preparation, test creation, test scoring, and other grading tasks
Require students to read assigned materials instead of skipping the purchase of course materials and relying on Google for answers
Inability to track students' time devoted to course readings, assignments, quizzes, and exams
Unable to identify and intervene when a student may be struggling in the course
Benefits to instructor after using Connect:
Automation reduces grading time drastically
More individualized time for students in need
Fewer "weird" answers because students are reading the course materials and not "Googling" for an answer
Ability to look at class and student performance reports to identify where students may be struggling
Able to assess students' progress in real time and intervene if necessary
Higher average test scores because students are thinking critically and gaining a deeper understanding of content
Improved passing and retention rates
Course Description:
Art Appreciation is an introductory survey of the visual arts. The course explores the purposes and processes in the visual arts including evaluation of selected works, the role of art in various cultures, and the history of art.
Institution Profile:
East Arkansas Community College is in Forrest City, Arkansas, in the Arkansas Delta. Founded in 1971 by a donation from Betty Jo Hodges, approximately 1,400 students presently pursue associate degrees and certificates in ten different fields, including Health Professions and Related Programs; Liberal Arts and Sciences; General Studies and Humanities; and Business, Management, Marketing and Related Support Services.