$55+ Million In Student
Savings & Counting
---
Choice Is Freedom
Teach your course, your way.
---
We offer a wide-range of flexible, affordable options to not only help students,
but offer educators the freedom to choose the right fit.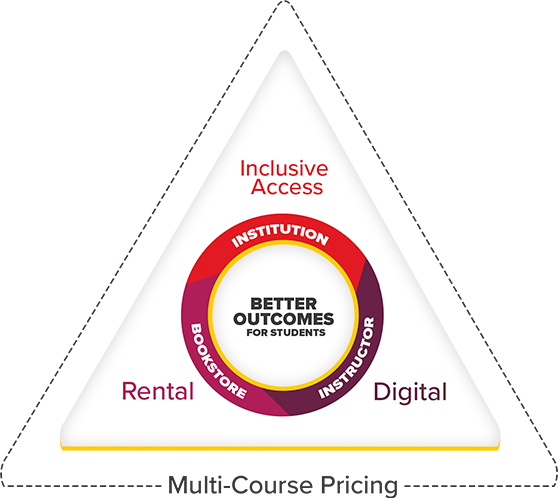 More Choice. You Decide.
We know that a one-size-fits-all approach won't work. Choose what works best for you.
---
Delivering Real Savings
We're committed to student savings and success. Here are some of the ways we are helping you make a difference.
550K+ Inclusive Access Student
Activations with Day 1 Access
Path to Real Value
Beyond lower costs, we're preserving your right to choose!
---
Array of easy-to-use products & services with trusted, high-quality content and backed by advanced technology and learning science.
Great Content
More Options
Print
Digital
Custom & OER
Digital + eBook
Digital + Print
Print Standalone
Enhanced
Mobile
Accessibility
Enhanced Usability
Mobile Applications
Accessible & Inclusive
Gold-standard digital platforms to set students up for short- and long-term success.
Adaptive & Personalized
Supports Mastery
Actionable Insights
Better Engagement
Better Grades
Better Retention
Supports Critical Thinking
Supports College Completion
Supports Workforce Preparedness
Gain access to Support at Every Step, our industry-leading service program.
99.9% System Reliability
Robust Customer & Technical Support
Above-Industry Average Satisfaction Scores
1:1 Training
First Day of Class Support
Curriculum Integration Support
Dedicated and Committed Teams
Professional Development Resources
Industry Insights
Discover What Educators Like You Have to Say
Let's Talk About Affordability
Maintaining academic freedom is important.
We're happy to help you choose the right solution for you and your students.