Assessment Integrity
Our expansive testing network provides individual testing and proctoring arrangements for each institution to ensure integrity.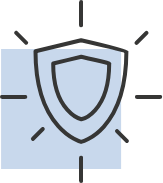 Centers for Off- Campus Proctoring
Over 125 Centers for Testing
We have a network of 125+ proctoring centers available for off-campus or remote proctoring. Testing arrangements are made specific to each institution. Browse our list of testing centers and email the main testing center contact included.
The ProctorU Platform
We partner with Meazure Learning to provide institutions with a trusted method of remote proctoring through the ProctorU Platform. 
Remote proctoring doesn't just help uphold exam integrity—it ensures a level playing field where every student has an equal opportunity to succeed. Further, all ProctorU sessions are reviewed and validated by a professional proctor, meaning you don't have to review hundreds of sessions— only the ones where an incident occurred. 
We offer two ProctorU Platform service lines for you to choose from: Review+ and Live+. 


Respondus
ALEKS PPL integrates Respondus LockDown Browser and Respondus Monitor webcam technology to ensure assessment integrity online.

LockDown Browser prevents students from accessing other applications, copying, printing or visiting other websites during an ALEKS PPL Placement Assessment. Respondus Monitor is a "remote proctoring" companion application for LockDown Browser that uses webcam and video technology to record students and deter cheating when live proctoring is not an option.