United States History & Geography © 2014
Grade Levels: 9-12
McGraw-Hill Networks™: A Social Studies Learning System is a multiple award winning program. Bring the people, issues, and events of yesterday to life for the students of today with the first truly integrated print and digital curriculum grounded in solid pedagogy with a full suite of teaching and learning tools for a flexible, customized learning experience.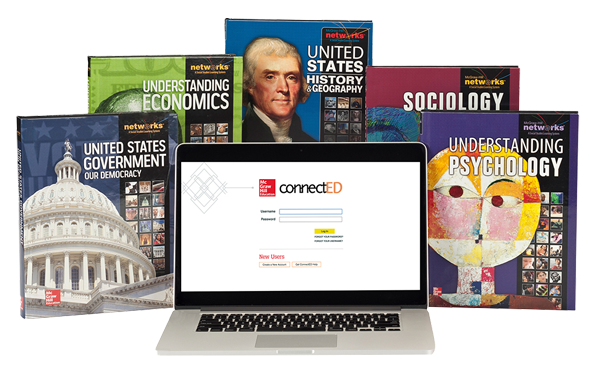 About the Program
Create passion for learning by bringing the stories of our nation to life with engaging video, online interactive student projects and digital resources to sharpen critical thinking and 21st Century Skills
Meets you wherever you are on the digital spectrum and takes you wherever you are going: print, digital, or a combination of both
Incorporates the new NCSS Common Core Standards for History-Social Science and Career and College Readiness to ensure mastery

eAssessment - 2014 SIIA CODiE Finalist
Everything you need to administer tests and track data – completely online! Included as part of your McGraw-Hill program purchase, eAssessment contains a robust test generator, differentiated online administration options, complete CCSS reporting capabilities and easy access from any device.

Program Components
United States History and Geography, Complete Classroom Set, Print (set of 30)
United States History and Geography, Complete Classroom Set, Digital, 6-year subscription (set of 30)

United States History and Geography, Chapter Tests and Lesson Quizzes

United States History and Geography, Complete Classroom Set, Digital, 1-year subscription (set of 30)

United States History and Geography, Complete Classroom Set, Print & Digital, 1-year subscription (set of 30)

United States History and Geography, Complete Classroom Set, Print & Digital, 6-year subscription (set of 30)

United States History and Geography, Teacher Edition

United States History and Geography, Teacher Suite, 1-year subscription

United States History and Geography, Teacher Suite, 6-year subscription
United States History and Geography, Student Edition

United States History and Geography, Student Suite, 1-Year Subscription

United States History and Geography, Student Suite, 6-year subscription
Narrow by
Clear All Filters
Products
To learn about the specific purchase options for this program, please contact our Customer Service team at 800-338-3987
Additional Details & Resources
Networks Digital Overview