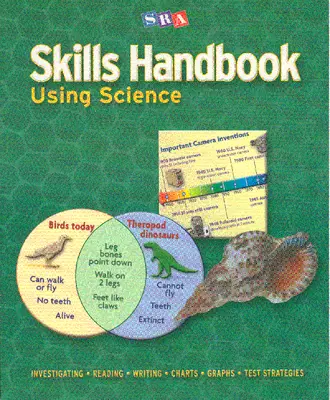 Skills Handbook: Using Science
Skills Handbook Using Science utilizes science content to teach valuable cross-curricular skills in a step-by-step format, and the grade-specific content provides opportunities for reinforcing investigating, reading, thinking, writing, research, chart, graph, and math skills. In each grade level, students explore lessons that are designed to bring science content and applications into a variety of subjects including math, writing, and language arts.

Self- contained lessons and a simplistic instructional design permits students to work independently, and each book includes test-taking strategies that help students develop techniques for analyzing and answering test questions.
Lessons in Skills Handbook: Using Science:
Define a skill and provide the content that will develop that skill
Develop skill concepts so they can be applied to a variety of situations
Offer useful tips to help students work with the skill
Provide practice so students can practice and apply skills to new situations
Guide students in testing situations with test-taking tips
Facilitate mastery of a variety of different skills and strategies