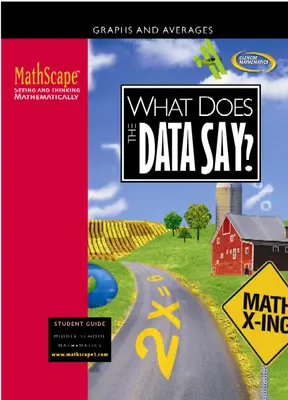 MathScape: Seeing and Thinking Mathematically ©2005
MathScapeTM: Seeing and Thinking Mathematically is a standards-based program that encourages your students to learn mathematics by doing mathematics, by using and connecting mathematical ideas, and by actively increasing their understanding.

MathScape is one of four middle school programs to receive a satisfactory rating from the American Association for the Advancement of Science (AAAS). Using MathScape, you can:
Teach from a textbook that has been extensively researched so that materials are mathematically clear and pedagogically effective. Findings from multiple field tests in diverse settings were incorporated into the final product.
Increase flexibility with two formats: a consolidated hardcover with seven units in each, or 21 individual softcover units.
Guide your students sequentially from concepts and skills to application and problem solving using Phases. Each unit is divided into several Phases with the final Phase providing a variety of assessment opportunities for all levels of students.
Enhance your curriculum coverage with strengthened content on fractions, decimals, and percents; added content on integer concepts and operations, factors, multiples, and rules of divisibility; and new lessons on proportions, graphing linear function, similarity and congruence, and transformation.