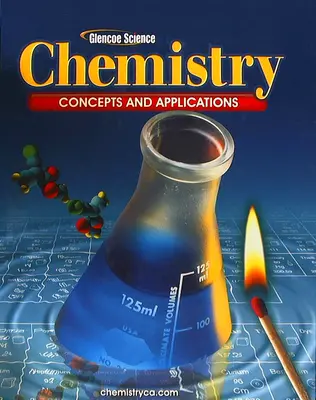 Chemistry: Concepts and Applications © 2005
Chemistry: Concepts and Applications is a conceptual approach to the presentation of chemistry. It has a clear and comprehensive narrative of chemistry concepts with just the right amount of math. Two of many in-text lab options include Launch Labs and Try at Home Labs, the latter of which are unique to Glencoe. The program's media/technology support diverse classroom instruction.

Using Chemistry: Concepts and Applications, you can:
Provide clear chemistry application of key concepts with inquiry-based Launch Labs, safe and "doable" MiniLabs, and classroom-proven ChemLabs. Additional resource options are available for forensics, small-scale and probeware labs.
Engage your students with exciting, colorful introductions to the chapter content, including a Launch Lab, previews like What I Already Know and Reading Chemistry, and a link to Chemistry Online.
Help students prepare for local, state, and national tests with Standardized Test Practice and Test-Taking Tips in the chapter assessment.
Offer a variety of review and practice opportunities with Example Problems, Practice Problems, and Supplemental Practice Problems.
Provide your students with the side-by-side English/Spanish Glossary (Glossary/Glosario)—a unique learning tool for ELL students.
Contents:
Chapter 1 Chemistry: The Science of Matter
Chapter 2 Matter is Made up of Atoms
Chapter 3 Introduction to the Periodic Table
Chapter 4 Formation of compounds
Chapter 5 Types of Compounds
Chapter 6 Chemical Reactions and Equations
Chapter 7 Completing the Model of the Atom
Chapter 8 Periodic Properties of the Elements
Chapter 9 Chemical Bonding
Chapter 10 The Kinetic Theory of Matter
Chapter 11 Behavior of Gases
Chapter 12 Chemical Quantities
Chapter 13 Water and its Solutions
Chapter 14 Acids, Bases, and pH
Chapter 15 Acids and Bases React
Chapter 16 Oxidation-Reduction Reactions
Chapter 17 Electrochemistry
Chapter 18 Organic Chemistry
Chapter 19 The Chemistry of Life
Chapter 20 Chemical Reactions and Energy
Chapter 21 Nuclear Chemistry