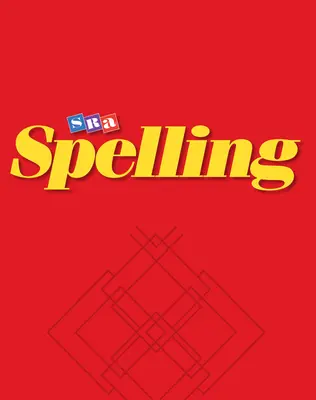 SRA Spelling, 1999 Edition
SRA Spelling provides a systematic and efficient approach that maximizes the impact of your instructional efforts while staying focused squarely on spelling. The spelling program utilizes dependable spelling patterns and not memorization, allowing students to master spelling sooner and retain their knowledge longer. SRA Spelling provides interesting activities to reinforce spelling patterns and rules while helping students recognize and apply their growing knowledge.

This author-driven, research-based spelling program provides a systematic and efficient approach to teaching dependable spelling patterns. Every activity helps students recognize and apply spelling patterns, beginning with pattern sorting and building through spelling words in context, defining word meanings, and much more.
Rich cross-curricular connections reinforce spelling too. Consistent lesson organization permits teachers to "open and teach" efficiently from the texts.
SRA Spelling lessons use a variety of activities to help students recognize and apply spelling patterns:
Phonics
Pattern Sorting
Word Meanings
Word Building
Proofreading and Writing