PreK–12 educators will see school pricing in their cart after logging in.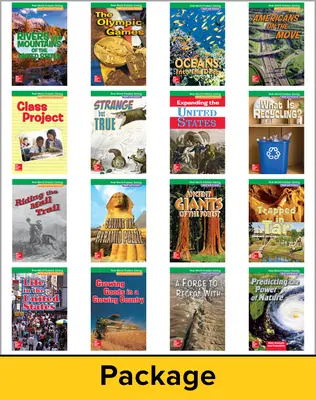 McGraw-Hill My Math, Grade 4, Real-World Problem Solving Readers Deluxe Package (On Level)
MHID: 0021073643 | ISBN 13: 9780021073641
Payment Options: During checkout, you can pay with a P.O. (simply enter the number), Credit Card, or PayPal.
Product Details:
Grade 4, On-Level. Contains 6 readers for each chapter in the Student Edition.
| Title | ISBN 13 | Quantity |
| --- | --- | --- |
| MATH 2009 GR 4 RIDING THE MAIL TRAIL REAL-WORLD ON-LEVEL READERS | 9780021062348 | 6 |
| MATH 2009 GR 4 EXPANDING THE UNITED STATES REAL-WORLD ON-LEVEL READERS | 9780021062324 | 6 |
| MATH 2009 GR 4 WHAT IS RECYCLING REAL-WORLD ON-LEVEL READERS | 9780021062331 | 6 |
| MATH 2009 GR 4 SOLVING THE PYRAMID PUZZLE REAL-WORLD ON-LEVEL READERS | 9780021062355 | 6 |
| MATH 2009 GR 4 ANCIENT GIANTS OF THE FOREST REAL-WORLD ON-LEVEL READERS | 9780021062362 | 6 |
| MATH 2009 GR 4 RIVERS & MOUNTAINS OF THE US REAL-WORLD ON-LEVEL READERS | 9780021059690 | 6 |
| MATH 2009 GR 4 THE OLYMPIC GAMES REAL-WORLD ON-LEVEL READERS | 9780021059713 | 6 |
| MATH 2009 GR 4 OCEANS: IN TO THE DEEP REAL-WORLD ON-LEVEL READERS | 9780021059720 | 6 |
| MATH 2009 GR 4 AMERICANS ON THE MOVE REAL-WORLD ON-LEVEL READERS | 9780021059737 | 6 |
| MATH 2009 GR 4 CLASS PROJECT REAL-WORLD ON-LEVEL READERS | 9780021059744 | 6 |
| MATH 2009 GR 4 STRANGE BUT TRUE REAL-WORLD ON-LEVEL READERS | 9780021059751 | 6 |
| MATH 2009 GR 4 TRAPPED IN TAR REAL-WORLD ON-LEVEL READERS | 9780021062379 | 6 |
| MATH 2009 GR 4 LIFE IN THE UNITED STATES REAL-WORLD ON-LEVEL READERS | 9780021062386 | 6 |
| MATH 2009 GR 4 GROWING GOODS IN A GROWING REAL-WORLD ON-LEVEL READERS | 9780021062393 | 6 |
| MATH 2009 GR 4 A FORCE TO RECKON WITH REAL-WORLD ON-LEVEL READERS | 9780021062416 | 6 |
Title
MATH 2009 GR 4 RIDING THE MAIL TRAIL REAL-WORLD ON-LEVEL READERS
Title
MATH 2009 GR 4 EXPANDING THE UNITED STATES REAL-WORLD ON-LEVEL READERS
Title
MATH 2009 GR 4 WHAT IS RECYCLING REAL-WORLD ON-LEVEL READERS
Title
MATH 2009 GR 4 SOLVING THE PYRAMID PUZZLE REAL-WORLD ON-LEVEL READERS
Title
MATH 2009 GR 4 ANCIENT GIANTS OF THE FOREST REAL-WORLD ON-LEVEL READERS
Title
MATH 2009 GR 4 RIVERS & MOUNTAINS OF THE US REAL-WORLD ON-LEVEL READERS
Title
MATH 2009 GR 4 THE OLYMPIC GAMES REAL-WORLD ON-LEVEL READERS
Title
MATH 2009 GR 4 OCEANS: IN TO THE DEEP REAL-WORLD ON-LEVEL READERS
Title
MATH 2009 GR 4 AMERICANS ON THE MOVE REAL-WORLD ON-LEVEL READERS
Title
MATH 2009 GR 4 CLASS PROJECT REAL-WORLD ON-LEVEL READERS
Title
MATH 2009 GR 4 STRANGE BUT TRUE REAL-WORLD ON-LEVEL READERS
Title
MATH 2009 GR 4 TRAPPED IN TAR REAL-WORLD ON-LEVEL READERS
Title
MATH 2009 GR 4 LIFE IN THE UNITED STATES REAL-WORLD ON-LEVEL READERS
Title
MATH 2009 GR 4 GROWING GOODS IN A GROWING REAL-WORLD ON-LEVEL READERS
Title
MATH 2009 GR 4 A FORCE TO RECKON WITH REAL-WORLD ON-LEVEL READERS