PreK–12 educators will see school pricing in their cart after logging in.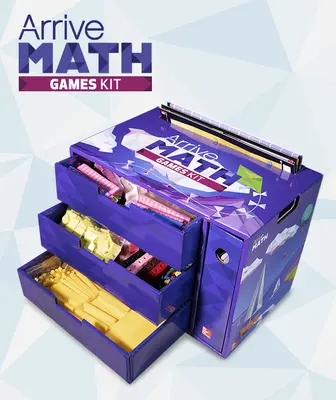 Arrive Math, Classroom Games Kit
MHID: 0076864049 | ISBN 13: 9780076864041
Payment Options: During checkout, you can pay with a P.O. (simply enter the number), Credit Card, or PayPal.
Product Details:
The Arrive Math Games Kit offers 54 unique, out-of-the-box games that span kindergarten through eighth grade, aligning to crucial content standards. Each engaging game features variations that allow a range of accommodations to meet the needs of every student while they practice foundational skills and improve conceptual understanding. The kit contains two sets of all the physical materials and instructions needed to play 54 games from kindergarten to eighth grade, including: instruction cards, playing cards, resource guide, game boards, and manipulatives. 
| Title | ISBN 13 | Quantity |
| --- | --- | --- |
| Everyday Mathematics, Grades 1-5, Base-10 Tens Rods (Package of 50) | N/A | 3 |
| Everyday Mathematics, Grades 1-5, Base-10 Hundreds Flats (Package of 10) | N/A | 3 |
| Everyday Mathematics, Grades 1-5, Base-10 Units Cubes (Package of 100) | N/A | 3 |
| Everyday Mathematics, Grades PK-6, Pattern Blocks (Set of 250) | N/A | 1 |
| Linkercubes/100 | N/A | 1 |
| Transparent Chips / 4-Colors (Set of 100) | N/A | 6 |
| NUMBER WORLDS NUMERAL DIE 1-6 | N/A | 1 |
| NUMBER WORLDS - NUMERAL DIE 7-12 | N/A | 1 |
| NUMBER WORLDS - PAWNS | N/A | 2 |
| NUMBER WORLDS - PLUS/MINUS DIE | N/A | 2 |
| NUMBER WORLDS - SPINNER #1 - #4 | N/A | 1 |
| FRACTION TILES/51 | N/A | 8 |
| Everyday Mathematics 4, Grade K, Spinner - Transparent | N/A | 2 |
| COLOR TILES/800 | N/A | 1 |
| Arrive Math 0-100 Cards | 9780076783243 | 6 |
| Arrive Math Games Resource Guide | 9780076848850 | 1 |
| Arrive Math Game Board, GalaX,Y | 9780076850471 | 1 |
| Arrive Math Game Board, Tour America | 9780076850488 | 1 |
| Arrive Math Game Board, Destination Dragon | 9780076850495 | 1 |
| Arrive Math Game Board, Urban Trek | 9780076850501 | 1 |
| Arrive Math Game Cards | 9780076850518 | 2 |
| Arrive Math Game Board, Creature Cavern | 9780076850525 | 1 |
| Arrive Math Game Instructions | 9780076850624 | 2 |
| Arrive Math Game Board, Climber's Challenge | 9780076850631 | 1 |
| Arrive Math Game Board, Number Line to 100 | 9780076850648 | 1 |
| Arrive Math Games Kit Book Sleeve | N/A | 1 |
| Arrive Math Games Kit Outer Shell | N/A | 1 |
| Arrive Math Games Kit Inner Support | N/A | 1 |
| Arrive Math Games Kit Shelves/Support | N/A | 1 |
| Arrive Math Games Kit Shelf Reinforcement | N/A | 2 |
| Arrive Math Games Kit Upright Support Reinforcement | N/A | 1 |
| Arrive Math Games Kit Filler | N/A | 1 |
| Arrive Math Games Kit Shipping Filler | N/A | 1 |
| Arrive Math Games Kit Shipping Air Cell | N/A | 1 |
| Arrive Math Games Kit Shipper | N/A | 1 |
| Arrive Math Games Kit Drawer | N/A | 3 |
| Arrive Math Games Kit Walkthrough | N/A | 1 |
| Arrive Math Games Kit Shipper Label | N/A | 1 |