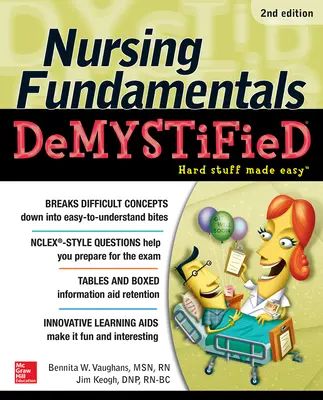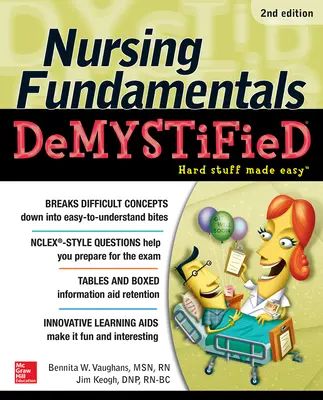 Nursing Fundamentals DeMYSTiFieD, Second Edition
,
2nd Edition
ISBN10: 1259862267 | ISBN13: 9781259862267
Purchase Options:
* The estimated amount of time this product will be on the market is based on a number of factors, including faculty input to instructional design and the prior revision cycle and updates to academic research-which typically results in a revision cycle ranging from every two to four years for this product. Pricing subject to change at any time.
Instructor Details
Nursing success begins with the fundamentals!
Nursing Fundamentals Demystified, Second Edition offers a fast and interesting way for you to understand the foundational concepts and information that will be the cornerstone of your entire nursing education and career. It helps you sort through the mountain of information nursing students face and focus on the essentials – that which you truly must know to be a successful nurse. You'll also learn how apply this information to real-world clinical situations.
In order to make the learning process as effective as possible, you'll find learning aids such as learning objectives, key terms, tables and boxed information which summarize important concepts; nursing alerts which detail critical safety information; spotlights on evidence-based practice; nursing care plans which help you identify key assessment data, nursing diagnoses, and interventions; procedure tips to assist you with the clinical application of content; questions throughout each chapter to help you evaluate your comprehension; and NCLEX®-style questions for exam preparation.
PART I INTRODUCTION TO THE NURSING PROFESSION
CHAPTER 1 Nursing—An Evolving Profession
Overview 4 Historical Review
Theoretical Foundation
Nursing Roles and Education
Legal Perspectives
Ethical Perspective
Cultural Perspective
The Future of Nursing
CHAPTER 2
The Nursing Process
Overview
Assessment
Types of Assessment
Data Collection
Diagnosis
Definition
Diagnostic Process
NANDA's Nursing Diagnosis Taxonomy
Planning
Prioritizing Diagnoses
Expected Outcomes and Outcome Criteria
Nursing Interventions
Nursing Care Plans
Implementation
Evaluation
Evaluation at the Individual Patient Level
Evaluation at the Organizational Level
Conclusion
PART II FUNDAMENTAL PRINCIPLES OF NURSING CARE
CHAPTER 3 Communication and Documentation
Overview 34 Communication
Basic Principles
Nursing and the Communication Process
Documentation
Purpose of Documentation
Principles of Documentation
Methods of Documentation
Reporting
Conclusion
CHAPTER 4
Vital Sign Assessment
Overview
Temperature
Thermoregulation
Temperature Variations
Procedural Tips
Pulse
Pulse Characteristics
Procedural Tips
Respirations
Respiratory Characteristics
Procedural Tips
Blood Pressure
Blood Pressure Variations
Procedural Tips
Vital Sign Documentation
Conclusion
CHAPTER 5
Health Assessment
Overview
Nursing Health History
Components of the Health History
Physical Examination
General Techniques
Preparing for the Examination
Performing the Examination
Conclusion
CHAPTER 6
Medication Administration
Overview
Basic Pharmacological Principles
Pharmacokinetics
Pharmacodynamics
Legal Guidelines for Medication Administration
Medication Administration Principles
Right Patient
Right Medication
Right Dose
Right Route
Right Time
Right Documentation
Nursing Process and Medication Administration
Assessment
Nursing Diagnosis
Planning
Implementation
Evaluation
Conclusion
CHAPTER 7
Safety
Overview
Infection Control
Infection Cycle
Infection Control Strategies
Asepsis
Health Promotion
Injury Prevention and Security
Injury Prevention: General Guidelines
Injury Prevention in the Healthcare Setting
Conclusion
PART III MEETING BASIC HUMAN NEEDS CHAPTER 8
Skin Integrity
Overview
The Structure and Physiology of the Skin
Factors Influencing Skin Function
Age
Nutrition and Hydration
Hygiene
Environment
Health Deviations
The Nursing Process and Skin Integrity
Assessment
Nursing Diagnosis
Planning and Implementation
Health Promotion
Prevention of Skin Impairment in At-Risk Patients
Interventions for Impaired Skin Integrity
Evaluation
Conclusion
CHAPTER 9 Activity and Mobility
Overview
Physiology of Mobility
Factors Influencing Mobility
Effects of Immobility
The Nursing Process and Mobility
Assessment
Nursing Diagnoses
Planning
Implementation
Health Promotion
Restorative Interventions
Evaluation
Conclusion
CHAPTER 10
Sensory and Cognition
Overview
Physiology of Sensory and Cognitive Function
Sensory Reception
Cognitive Processing of Stimuli
Cognitive Components
Factors Influencing Sensory and Cognitive Function
Age
Environment
Lifestyle and Previous Experiences
Culture, Values, and Beliefs
Health Deviations
Medications
Alteration in Sensory and Cognitive Function
Sensory Alterations
Cognitive Alterations
Nursing Process and Sensory and Cognitive Function
Assessment
Nursing Diagnosis
Planning and Implementation
Interventions for Cognitive Impairment
Conclusion
CHAPTER 11
Sleep and Comfort
Overview
Sleep and Rest
Physiology of Sleep
Factors Influencing Sleep and Rest
Effects of Sleep Disturbances
The Nursing Process and Sleep/Rest Disturbances
Pain and Comfort
Physiology of Pain
Types of Pain
Factors Influencing Comfort and Pain
The Nursing Process and Pain
Conclusion
CHAPTER 12
Oxygenation
Overview
Physiology of Oxygenation
Factors Influencing Oxygenation
Physiological Factors
Age and Developmental Stage
Environmental Factors
Diet
Lifestyle
Health Alterations
Alterations in Oxygenation
The Nursing Process and Oxygenation
Assessment
Nursing Diagnoses
Planning
Implementation
Evaluation
Conclusion
CHAPTER 13
Nutrition
Overview
Physiology of Nutrition
Nutrients
Digestive Process
Factors Influencing Nutrition
Age and Developmental Stage
Lifestyle and Culture
Health Alterations and Therapeutic Interventions
The Nursing Process and Nutrition
Assessment
Nursing Diagnoses
Planning and Implementation
Evaluation
Conclusion
CHAPTER 14
Fluid, Electrolyte, and Acid–Base Balance
Overview
Physiology of Fluid, Electrolyte, and Acid–Base Regulation
Fluids
Electrolytes
Acid–Base Balance
Factors Influencing Fluid, Electrolyte, and Acid–Base Balance
Food and Fluid Intake
Drugs
Health Alterations
Age
Alterations in Fluid, Electrolyte, and Acid–Base Balance
Fluid Imbalances
Electrolyte and Acid–Base Imbalances
The Nursing Process and Fluid, Electrolyte, and Acid–Base Balance
Assessment
Nursing Diagnosis
Planning
Nursing Interventions
Evaluation
Conclusion
CHAPTER 15
Urinary Elimination
Overview
Factors Influencing Urinary Elimination
Age and Developmental Stage
Diet and Fluid Intake
Psychosocial Factors
Health Alterations
Medical and Surgical Interventions
Alterations in Urinary Elimination
Urinary Retention 263 Urinary Incontinence
Urinary Tract Infections
Urinary Diversions
The Nursing Process and Urinary Elimination
Nursing Interventions
Conclusion
CHAPTER 16
Bowel Elimination
Overview
Factors Influencing Bowel Elimination
Age and Developmental Stage
Diet and Fluid Intake
Activity and Exercise
Psychosocial Factors
Medical and Surgical Interventions
Alterations in Bowel Elimination
Constipation
Impaction
Diarrhea
Fecal Incontinence
Flatulence
Bowel Diversions
The Nursing Process and Bowel Elimination
Assessment
Nursing Diagnosis
Planning
Implementation
Conclusion
CHAPTER 17
Psychosocial Needs
Overview
Self-concept
Components of Self-concept
Influencing Factors
Alterations in Self-concept
Families, Roles, and Relationships
Influencing Factors
Alterations in Roles and Relationships
Human Sexuality
Basic Concepts
Influencing Factors
Alterations in Sexuality
Spirituality
Influencing Factors
Stress, Loss, Grief, and Coping
Stress and Coping
Loss and Grief
The Nursing Process and Meeting Psychosocial Needs
Assessment
Nursing Diagnoses
Planning
Implementation
Conclusion
Final Exam
Index