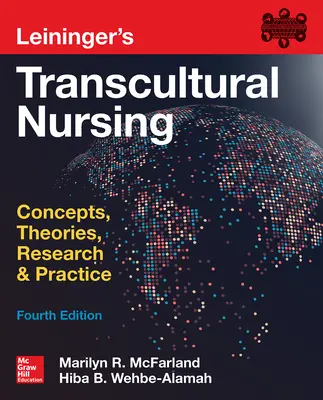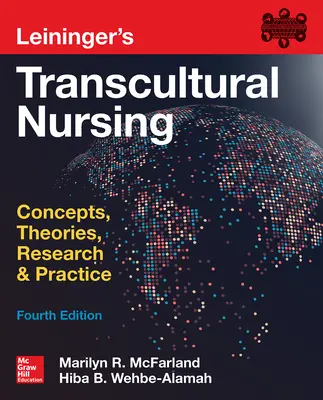 Leininger's Transcultural Nursing: Concepts, Theories, Research & Practice, Fourth Edition
,
4th Edition
ISBN10: 007184113X | ISBN13: 9780071841139
Purchase Options:
* The estimated amount of time this product will be on the market is based on a number of factors, including faculty input to instructional design and the prior revision cycle and updates to academic research-which typically results in a revision cycle ranging from every two to four years for this product. Pricing subject to change at any time.
Instructor Details
The Cornerstone Text on Transcultural Nursing Concepts – Updated with the Latest Advances and Breakthroughs
A Doody's Core Title for 2022!  
Leininger's  Transcultural Nursing: Concepts, Theories, Research & Practices, Fourth Edition offers theoretical and practical guidance about the provision of client-focused care by integrating cultural values, beliefs, and lifeways into an individualized plan of care.
This acclaimed resource presents a global comparative perspective about Western and non-Western cultures and examines the potential future directions for transcultural nursing with insights into rural and urban cultures in the United States including the culture of homeless mothers and children. The book covers important topics such as transcultural nursing, research, and healthcare in Kenya, Southeast Asia, Haiti, Syria, and Taiwan, as well as translational research, globalization, conflict resolution, mental health considerations, Ayurvedic medicine, genetics and genomics in healthcare, integration of care and caring, and an overview of transcultural history, concepts, and principles.
Reflecting the work of experts and scholars in the discipline, the Fourth Edition includes twenty-five new chapters. There are also major updates to the Theory of Culture Care Diversity and Universality, Ethnonursing Research Method, Sunrise Enabler, and other enablers.

SPECIAL FOR FACULTY: Chapter PowerPoints available online at MHProfessional.com, including learning objectives, figures, and chapter summaries to support classroom use.
SECTION I
Transcultural Nursing: EssentialNursing Knowledge
Chapter 1
Transcultural Nursing: History,Focus, and Future Directions
MarilynR. McFarland
Chapter 2
Essential Transcultural NursingCare Concepts, Principles, Guidelines, and Policy Statements
for Culturally Congruent and Competent Health Care Practice, Education, andResearch
HibaB. Wehbe-Alamah
Chapter 3
The Theory of Culture CareDiversity and Universality
MarilynR. McFarland
Chapter 4
The Ethnonursing Research Method:Major Features and Enablers
HibaB. Wehbe-Alamah
Chapter 5
Culture Care Theory: ATrailblazing Theory
PriscillaLimbo Sagar
Chapter 6
The Globalization ofTranscultural Nursing: Contributions to the Achievement of the
Millennium Development and Sustainable
Development Goals
Margaret M. Andrews
Chapter 7
Cultural Assessments andTranscultural Communication for Culturally Congruent
Care
Hiba B. Wehbe-Alamah
Chapter 8
Integrating Generic andProfessional Health Care Practices
HibaB. Wehbe-Alamah
Chapter 9
Genetics, Genomics, andTranscultural Nursing
MargaretA. Murray-Wright
Chapter 10
Transcultural Food Functions,Beliefs, and Practices
Hiba B. Wehbe-Alamah
SECTIONII
Special Topics in TransculturalNursing Using the Culture Care Theory
Chapter 11
Using a Culturally CongruentApproach in Mental Health Care
HeleneB. Vossos and Hiba B. Wehbe-Alamah
Chapter 12
Care, Caring, and NursingPractice
MarilynK. Eipperle
Chapter 13
Providing Culturally CongruentCare to Haitians Using Leininger's Culture Care Theory
RobertH. Kelch and Hiba B. Wehbe-Alamah
Chapter 14
Ayurveda: Relevance in CultureCare
Joanna Maxwell (Basuray) and R.Amadea
Morningstar
Chapter 15
Transcultural Nursing and HealthCare
in Taiwan
LennyChiang-Hanisko
Chapter 16
The Sunrise Enabler's Applicationin Conflict Resolution for Nurse Administrators
and Managers
AnnO. Hubbert
Chapter 17
Enhancing the Role of theTranscultural Nurse in the Global Environment
MaryBrigid Martin and Marilyn A. Ray
SECTIONIII
Culture Care Theory, Research,and Practice in Diverse Cultures and
Settings
Chapter 18
Culture Care Theory andTranslational Science: A Focus for Doctor of Nursing Practice
Scholarship
MarilynR. McFarland
Chapter 19
Engaging in the Sacred Song ofDiversity: The Art of Cultural Immersion
Edith J. Morris
Chapter 20
Culturally Competent ResearchUsing the Culture Care Theory: Malaria Care in Maasailand
Cecily W. Strang and Sandra J. Mixer
Chapter 21
The Lived Experiences of AfricanAmerican Women Receiving Care from Nurse Practitioners in an UrbanNurse-Managed Clinic in the Midwestern United States
Hiba B. Wehbe-Alamah, Marilyn R.McFarland, Janee F. Koc, and Nancy R. Riggs
Chapter 22
Yupiit: Alaska Native People ofSouthwest Alaska
Pamela J. Embler, Mary T. Weiss,and Sandra J. Mixer
Chapter 23
Understanding the Culture CareNeeds of Appalachian Mothers Experiencing
Homelessness
Rebecca C. Lee
Chapter 24
Culture Expressions, Meanings,Beliefs, and Practices of Mexican American Women
During the Postpartum Period: An Ethnonursing Study
Valera A. Hascup
Chapter 25
Culture Care of Syrian Muslims inthe Midwestern United States: An Ethnonursing
Research Study
Hiba B. Wehbe-Alamah