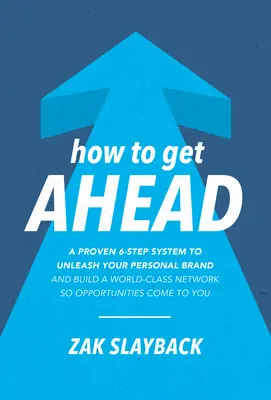 How to Get Ahead: A Proven 6-Step System to Unleash Your Personal Brand and Build a World-Class Network so Opportunities Come to You
1st Edition
By Zak Slayback
ISBN10: 1260441849
ISBN13: 9781260441840
Copyright:
2019
Product Details

+
A powerful, proven 6-step program to turbocharge your career and put your success on autopilot with your personal brand
Read more +
---
Instructors: choose ebook for fast access or receive a print copy.
---
Program Details
Acknowledgments
Introduction: Why Do Most Career Books Suck?
CHAPTER 1 Focus
Find Your Focus, Get a Clear Path to Meaningful
Goals, and Know Exactly What to Do to Get Ahead
Learn a step- by- step system for setting meaningful and useful
professional goals. Learn how to make a plan to achieve those goals
and stop spinning your wheels in your career.
CHAPTER 2 Learn
Shave Years off Your Learning Curve, Learn from
the Best, and Land Great Mentors
Learn exactly how to reach out to the three types of people from whom
you need to learn. Know what to say to them to make them want to
work with you.
CHAPTER 3 Execute
Focus on the Work That Matters, Avoid Burnout,
and Feel Confident About Tackling Any New Project
Learn a reliable way to prevent burnout and get all of your big projects
done without massively changing your habits.
CHAPTER 4 Signal
Unleash a Personal Brand that Grows Your
Network, Brings You Opportunities, and Makes the
Right People Want to Work with You
This chapter is split into two parts. Read the first half to figure out how
to establish a personal brand online. Read the second half to learn
advanced tactics for growing your personal brand.
9781260441840_Slayback_P5.indd 7 5/24/19 7:17 AM
CHAPTER 5 Connect
Build a World- Class Network Without Feeling
Sleazy, Get Busy People to Talk to You, and Have
Fun Doing It
Even if you hate "networking," you can build a world- class network
while having fun. Use email scripts from this chapter to immediately
get started.
CHAPTER 6 Close
Build Your Unfair Advantages, Confidently Pitch
Yourself, and Make It Impossible for Others to Tell
You No
Know exactly which opportunities to pursue and which opportunities
to ignore. Learn how to ethically read people's minds and make them
fight over working with you.
Conclusion: Putting It All Together
Bibliography and Further Reading
Index