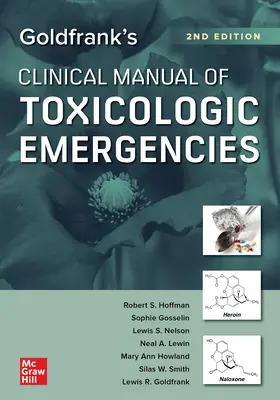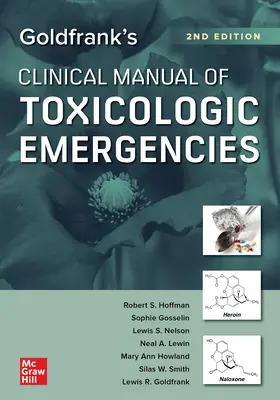 Goldfrank's Clinical Manual of Toxicologic Emergencies, Second Edition
,
2nd Edition
ISBN10: 1260474992 | ISBN13: 9781260474992
Purchase Options:
* The estimated amount of time this product will be on the market is based on a number of factors, including faculty input to instructional design and the prior revision cycle and updates to academic research-which typically results in a revision cycle ranging from every two to four years for this product. Pricing subject to change at any time.
Instructor Details
Derived from the definitive guide to medical toxicology, this hands-on companion provides accurate information for diagnosing and treating poisoned patients on the spot
After more than a decade on the market, Goldfrank's Toxicologic Emergencies has established itself as the go-to reference for medical toxicology—and this companion manual distills the most important information into a portable, easy-to-navigate resource.
Goldfrank's Manual of Toxicologic Emergencies distills critical information into short summaries and synopses, so you can use it to treat patients in clinical settings or for quick review of critical topics. Fully updated to ensure all information is completely current, this new edition is filled with tables, figures, images, and other visuals to make finding the right answers quick and easy. Each chapter is a direct distillation of the corresponding chapter in Goldfrank's Toxicologic Emergencies.
Whether you're a medical toxicologist, pharmacist, physician, nurse practitioner, or student, Goldfrank's Manual of Toxicologic Emergencies provides all the right answers where and when you need them.
Covers the full range of xenobiotics:
Includes pharmaceuticals, recreational drugs, and substances of abuse; food and plant toxins; envenomations; household toxins; pesticides and herbicides; rodenticides; metals; poison gases; and environmental toxins
Systematically reviews toxicokinetics, pathophysiology, clinical manifestations, diagnostic testing, and management for each xenobiotic
Provides "Antidotes in Brief"—at-a-glance guides to specific antidotes and their primary applications
Authoritative answers at your fingertips:
How to manage the poisoned or overdosed patient
What techniques effectively eliminate toxins
Which imaging modalities yield the best results
The table of contents (below) will mirror the main text, both for completeness and ease of cross-referencing.
Historical Principles and Perspectives

Toxicologic Misfortunes and Catastrophes in History

PART A

THE GENERAL APPROACH TO THE PATIENT

Initial Evaluation of the Patient: Vital Signs and Toxic Syndromes

Principles of Managing the Acutely Poisoned or Overdosed Patient

SC1. Principles of Antidote Stocking

Decontamination Principles: Prevention of Gastrointestinal Absorption
SC2. Decontamination Principles: Prevention of Dermal, ophthalmic and inhalational Absorption
A1. Activated Charcoal
A2. Whole-Bowel Irrigation and Other Intestinal Evacuants
Principles and Techniques Applied to Enhance Elimination
Laboratory Principles

Principles of Diagnostic Imaging

Pharmacokinetic and Toxicokinetic Principles

PART B

THE FUNDAMENTAL PRINCIPLES OF MEDICALTOXICOLOGY
SECTION I
BIOCHEMICAL AND MOLECULAR CONCEPTS
Chemical Principles
Biochemical and Metabolic Principles

Fluid, Electrolyte, and Acid–Base Principles
Neurotransmitters and Neuromodulators
Withdrawal Principles
SECTION II
PATHOPHYSIOLOGIC BASIS: ORGAN SYSTEMS
Cardiologic Principles I: Electrophysiologic and Electrocardiographic Principles

Cardiologic Principles II: Hemodynamics
Dermatologic Principles
SC3. Transdermal Toxicology
Gastrointestinal Principles
Genitourinary Principles
Hematologic Principles
Hepatic Principles
Neurologic Principles

Oncologic Principles
Ophthalmic Principles
Otolaryngologic Principles
Psychiatric Principles

SC4. patient violence
Respiratory Principles
Thermoregulatory Principles
SECTION III
SPECIAL POPULATIONS
Reproductive and Perinatal Principles
Pediatric Principles
Geriatric Principles

PART C

THE CLINICAL BASIS OF MEDICAL TOXICOLOGY

SECTION I

A. ANALGESICS AND ANTIINFLAMMATORY MEDICATIONS

Acetaminophen
A3. N-Acetylcysteine
Colchicine, Podophyllin, and the Vinca Alkaloids
Nonsteroidal Antiinflammatory Drugs
Opioids
A4. Opioid antagonists
SC5. Internal Concealment of Xenobiotics
SC6. Harm Reduction for Opioid Overdose
Salicylates
A5. Sodium bicarbonate
B. Food, Diet, and Nutrition
Botulism
A6. botulinum antitoxin
Food Poisoning

Dieting Xenobiotics and Regimens

Athletic Performance Enhancers

Essential Oils

Plantand Animal-Derived Dietary Supplements

Vitamins

Iron
A7. deferoxamine
C. pharmaceuticals
Pharmaceutical Additives

Antidiabetics and Hypoglycemics/Antiglycemics
A8. Dextrose(d-Glucose)
A9. octreotide
Antiepileptics
A10. l-carnitine
Antihistamines and Decongestants

A11. physostigmine salicylate
Chemotherapeutics

Methotrexate,5-Flourouracil, and Capecitabine
A12. folates :leucovorin (Folinic acid) and Folic Acid
A13. glucarpidase(carboxypeptidase g2)
A14. uridine triacetate
SC7. Inadvertent Intrathecal Administration of Xenobiotics
SC8. Extravasation of Chemotherapeutics
Antimigraine Medications

Thyroidand Antithyroid Medications
D. Antimicrobials
Antibacterials, Antifungals, and Antivirals

Antimalarials
Antituberculous Medications
A15. pyridoxine
E. Cardiopulmonary Medications
CASE STUDY 4
Antidysrhythmics
A16. Magnesium Sulfate
Antithrombotics
A17. Protein Complex Concentrate and Novel Antithrombotic Antidotes
A18. Vitamin k1
A19. protamine
β-Adrenergic Antagonists

A20. Glucagon

Calcium Channel Blockers

A21. High-dose insulin (HDI)
Miscellaneous Antihypertensives and Pharmacologically Related Agents

Cardioactive Steroids
A22. digoxin-specific antibody fragments
Methylxanthines and Selective β2-Adrenergic Agonists
F.ANESTHETICS AND RELATED MEDICATIONS
Local Anesthetics

A23. lipid emulsion

Inhalational Anesthetics
Neuromuscular Blockers

A24. dantrolene sodium
G. Psychotropics
Antipsychotics
Cyclic Antidepressants
Serotonin Reuptake Inhibitors and Atypical Antidepressants

Lithium
Monoamine Oxidase Inhibitors

Sedative-Hypnotics

A25. flumazenil
H. SUBSTANCES OF ABUSE
Amphetamines
Cannabinoids
Cocaine

A26. Benzodiazepines

Ethanol

A27. Thiamine hydrochloride

Ethanol Withdrawal
Disulfiram and Disulfiram-like Reactions

Hallucinogens
γ-Hydroxybutyric Acid (γ-Hydroxybutyrate)
Inhalants

Nicotine
Phencyclidine and Ketamine
I. Metals
Aluminum
Antimony
Arsenic

A28. Dimercaprol (british anti-lewisite or bal)

Bismuth
Cadmium
Cesium

Chromium
Cobalt
Copper
Lead

A29. succimer (2,3-dimercaptosuccinic acid)
A30. edetate calcium disodium (CaNa2EDTA)
Manganese
Mercury
Nickel
Selenium

Silver

Thallium

A31. Prussian blue
Zinc
J. HOUSEHOLD PRODUCTS
Antiseptics, Disinfectants, and Sterilants

Camphorand Moth Repellents
Caustics
Hydrofluoric Acid and Fluorides

A32. Calcium
Hydrocarbons
Toxic Alcohols

A33. fomepizole

A34. ethanol

SC9. Diethylene Glycol
K. PESTICIDES
Barium
Fumigants
Herbicides
Insecticides: Organic Phosphorus Compounds and Carbamates
A35. Atropine
A36. Pralidoxime
Insecticides: Organic Chlorines, Pyrethrins/Pyrethroids, Neonicitinoids and Insect Repellents

Phosphorus
Sodium Monofluoroacetate and Fluoroacetamide

Strychnine
L. Natural Toxins and Envenomations
Arthropod

A37. antivenom: spider

A38. antivenom: scorpion

Marine Envenomations
Mushrooms

Plants
Native(US) Venomous Snakes and Lizards

A39. antivenom: snakes (native [US] venomous [crotaline and elapid])

SC10. Exotic Nonnative Snake Envenomations
M. OCCUPATIONAL AND ENVIRONMENTAL TOXINS
CASE STUDY 11
Smoke Inhalation
Simple Asphyxiants and Pulmonary Irritants
Carbon Monoxide

A40. hyperbaric oxygen
Cyanide and Hydrogen Sulfide
A41. hydroxocobalamin
A42. nitrites(sodium amyl) and sodium thiosulfate
Methemoglobin Inducers
A43. methyleneblue
Nanotoxicology
N. DISASTER PREPAREDNESS
Chemical Weapons
Biological Weapons
Radiation

A44. Potassium iodide
A45. Pentetic acid or pentetate (zinc or calcium) trisodium (dtpa)
part D
POPULATION HEALTH
section 1
POISON CENTERS, HEALTH SYSTEMS, AND EPIDEMIOLOGY
Poison Prevention and Education

Poison Centers and Poison Epidemiology

Principles of Occupational Toxicology: Diagnosis and Control

Hazardous Materials Incident Response

Risk Assessment and Risk Communication

Medication Safety and Adverse Drug Events

Drug Development, Adverse Drug Events, and Post-marketing Surveillance

International Perspectives on Medical Toxicology
Principles of Epidemiology and Research Design

Section II

LEGAL ASPECTS OF TOXICOLOGY

Risk Management and Legal Principles

Medicolegal Interpretive Toxicology

SC11. Assessment of Ethanol-Induced Impairment

Postmortem Toxicology

SC12. Organ Procurement from Poisoned Patients