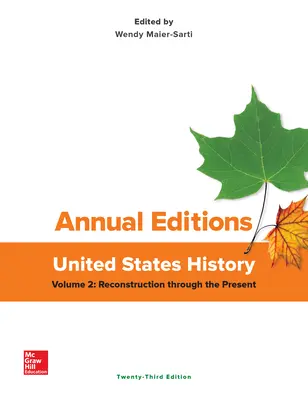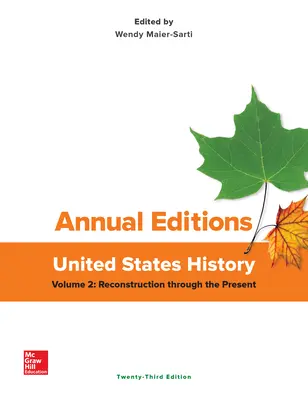 Annual Editions: United States History, Volume 2: Reconstruction Through the Present
,
23rd Edition
ISBN10: 1259431460 | ISBN13: 9781259431463
Purchase Options:
* The estimated amount of time this product will be on the market is based on a number of factors, including faculty input to instructional design and the prior revision cycle and updates to academic research-which typically results in a revision cycle ranging from every two to four years for this product. Pricing subject to change at any time.
Instructor Details
The Annual Editions series is designed to provide convenient inexpensive access to a wide range of current articles from some of the most respected magazines, newspapers and journals published today. Annual Editions are updated on a regular basis through a continuous monitoring of over 300 periodical sources. The articles selected are authored by prominent scholars, researchers, and commentators writing for a general audience. Each Annual Editions volume has a number of features designed to make them especially valuable for classroom use; including a brief overview for each unit, as well as Learning Outcomes, Critical Thinking questions, and Internet References to accompany each article. Go to the McGraw-Hill Create™ Annual Editions Article Collection at http://www.mcgrawhillcreate.com/annualeditions to browse the entire collection. Select individual Annual Editions articles to enhance your course, or access and select the entire Maier-Sarti: Annual Editions: United States History, Volume 2: Reconstruction Through the Present, 23/e book here at http://create.mheducation.com/createonline/index.html#qlink=search%2Ftext%3Disbn:1259431460 for an easy, pre-built teaching resource. Visit http://create.mheducation.com for more information on other McGraw-Hill titles and special collections.

UNIT 1: Reconstruction and the Gilded Age
1. The American Civil War, Emancipation, and Reconstruction on the World Stage, Edward L. Ayers, OAH Magazine of History, 2006.
The Civil War, Emancipation, and Reconstruction were seminal events in American history. The author argues that the war and its aftermath "has carried a different meaning for every generation of Americans" and "embodied struggles that would confront people on every continent."
2. The Nez Perce Flight for Justice, W. David Edmunds, American Heritage, 2008.
Despite a long history of cooperation with whites, in 1877 the Nez Perce Indians led by Chief Joseph were thrown off their historic lands in Oregon. Driven from place to place over a distance of 1,000 miles, the exhausted band finally was defeated in September of that year. "I am tired. My heart is sick and sad," Joseph stated. "From where the sun now stands I will fight no more forever."
3. The Life and Times of Hetty the Hoarder, the Witch of Wall Street, Theresa Oneill, Mental Floss, 2013.
Hetty Green was one of the wealthiest and influential Americans of her time, yet her name is seldom, if ever mentioned in the same narrative as a Carnegie or Vanderbilt, let alone as an entry in a textbook index. A ruthless businesswoman who had more in common with John Rockefeller than not, as she "was a financier … [who] oversaw tremendous real estate deals, bought and sold railroads, and made loans. She was particularly adept at prospering during the downfall of others; buying falling stocks, foreclosing properties, and even holding entire banks, entire cities, at her mercy through enormous loans." Yet, because of her many eccentricities, she has been portrayed as an uncaring, unnatural "witch" who was incapable of caring for anyone save her dog Dewey. In capturing gender precepts of the age, we can look to Hetty herself, who said that I am not a hard woman, but because I do not have a secretary to announce every kind act I perform I am called close and mean and stingy."
4. Mark Twain's Satanic Existentialist: The Mysterious Stranger, Bennett Kravitz, European Journal of American Culture, 2014.
During the Gilded Age, there was great stratification between all socioeconomic classes. Culturally, it appeared that societal expectations were rampant with optimism but how realistic was this? Who better than Mark Twain to challenge these expectations and demand that Americans look for more beyond any prescribed limitations. Kravitz argues that we should look at "Twain's The Mysterious Stranger in the context of American optimism at the onset of the twentieth century. While often considered one of the most pessimistic of Twain's novels, The Mysterious Stranger is portrayed as Twain's engagement with the philosophy of existentialism. Specifically, the article examines the ways that the text engages the existential premises of Jean Paul Sartre. Rather than abandoning his American optimism, Twain essentially destroys the visible world of endless warfare and religious obstruction to allow Americans to reclaim their Emersonian optimism by suggesting that we all 'Dream other dreams and better.'"
5. Sex Radical: Victoria Woodhull and the Marriage Contract, 1870—1876, P.D. Rich, Original Work, 2014.
Victoria Woodhull challenged traditional women's private and public cultural as well as societal roles. One issue that she felt especially strong about was marriage, referring to it as a practice that destroyed women's liberty, limited their sexual expression and left them extremely vulnerable. "Arguably one of the most widely heard women in America," Woodhull, in a very public way, exposed what she felt was the hypocrisy of marriage, often citing the Constitution as proof for her arguments. Her "speeches included gender equality, individual sovereignty, sexual freedom, the marriage contract, marital rape, prostitution and the care of children. Her controversial ideas on marriage and childrearing, set her apart from the other feminist leaders of her day."
6. The Temple of Peace: The Hague Peace Conferences, Andrew Carnegie and the Building of the Peace Palace (1898—1913), Randall Lesaffer, Original Work, 2013.
Andrew Carnegie, the great American industrialist, donated over a million dollars to enable the construction of the Temple of Peace, a global conference center designed to be not only the epicenter of Carnegie's League of Peace, but a space that would be the site of the "new world court, the Permanent Court of International Justice" which was a decision that sealed the city's future as the "legal capital of the world." It opened, prophetically, on the eve of World War One.
UNIT 2: The Emergence of Modern America
7. Plenty Horses' Vengeance, Sam G. Carr, Wild West, 2007.
Plenty Horses sought vengeance against U.S. soldiers in the tragic aftermath of the Battle of Wounded Knee. He killed a soldier, was arrested and indicted for murder. At his trial, Plenty Horses argued that the killing was justified because "If they [the United States] are going to punish every man who shot another when not engaged in actual fighting, then why not arrest the soldiers who killed poor old Big Foot? He was lying before his tepee dying of fever, unable to raise his hand, and yet a dozen bullets were fired into his body. And look at the six Indians found long after the battle--one man and the rest women and children, all shot down within eight miles of Pine Ridge by scouts or soldiers. Why not investigate that?"
8. What Happened at Haymarket?, John J. Miller, National Review, 2013.
On May 1, 1886, a group of workers, mostly German speaking immigrants assembled in Haymarket Square, Chicago, to peacefully appeal for an eight-hour workday. Someone threw a bomb into the crowd, police panicked, opened fire, and killed a handful of protesters and several of their own policemen. Eight political radicals were rounded up and eventually found guilty. Seven received death sentences, one committed suicide, four were executed and three pardoned. Examining the transcripts of the trial and building a diorama of the crime scene in his basement, historian Timothy Messer-Kruse has written several journal articles and books challenging the conventional wisdom of the Haymarket Square incident arguing several of the arrested "anarchists" may have been responsible for the root.
9. Theodore Roosevelt, The Spanish-American War, and the Emergence of the United States as a Great Power, William N. Tilchin, Theodore Roosevelt Association Journal, 2010.
Professor William N. Tilchin argues that the accidental rise to the presidency of Theodore Roosevelt after the assassination of William McKinley gave American foreign policy a strategic vision previously non-existent. The strategic vision included building a canal through Panama connecting the two oceans and fortified by the United States; proclaiming U.S. hegemony in the Caribbean through the pronouncement of the Roosevelt Corollary to the Monroe Doctrine; building a strong navy to compete with the world's powers; and establishing strong friendships with England and France.
10. America's Second—Best Idea, Bill Croke, The American Spectator, 2009.
Bill Croke discusses the documentarian work of Ken Burns, who might be considered "the American's historian." In this analysis, and in examining Burn's latest work on the history of conservation in the United States, Croke provides an overview of the "birth of the modern American conservation movement" and examines activists from John Muir to Theodore Roosevelt, both of whom understood that the preservation of public space was vital to American heritage. These public spaces "are timeless compliments to the American character. Yellowstone and Yosemite and others are the national landmarks of American exceptionalism, and the fact that we preserved them says a lot about us."
11. "A Machine of Practical Utility", Tom D. Crouch, American Heritage, 2010.
Experiments conducted on December 17, 1903 by the Wright brothers at Kitty Hawk, North Carolina generally are regarded as the first powered and controlled flights in history. The longest flight made that day, however, lasted only 59 seconds. Not until 1905, Crouch shows, did they become certain that "they had invented an aircraft that could be flown reliably over significant distances under a pilot's complete control."
12. Socialists vs. Socialites: The Class and Ideological Dispute during the Shirtwaist Makers' Strike of 1909, Victoria Banda, Northwest Passages Journal, 2014.
In 1909, 20,000 women who worked in the New York garment industry went on strike, a movement almost entirely led by females. These workers were protesting unfair wages, unsafe working conditions, and unbearable terms of employment. Banda looks at how upper class women along with the Socialist Party of New York helped bring about a resolution for the workers, only a few months after the strike began.
UNIT 3: From Progressive to the 1920s
13. The $5 Day, Robert H. Casey, American Heritage, 2010.
In January 1914, executives of the Ford Motor Company announced that they were going to double the minimum wage for an eight hour working day to $5. Henry Ford became something of a hero to workers, who flocked to his plant to enjoy higher pay. Author Casey explores some of the unanticipated consequences of this bold move.
14. Meuse-Argonne: America's Bloodiest Single Battle Occurred in the Forests and Fields of Eastern France during World War I, Edward G. Lengel, American Heritage, 2010.
October, 1918 shifted the balance of power in favor of the allies and led to the eventual victory in the war. By following the battle experiences of Lieutenant Samuel Woodfill and thirteen-year-old private Ernest L. Wrentmore, the author provides a microcosmic history of warfare as the inexperienced American soldiers adjust to the first modern warfare with its use of mustard gas and sub-machine guns that could fire up to 100 rounds per minutes.
15. To Make the World Safe for Democracy, John Lukacs, American Heritage, 2010.
On April 2, 1917 President Woodrow Wilson appeared before Congress to ask for a declaration of war against Germany. "The world," he stated, "must be made safe for democracy." The allies won the war, but Wilson failed to attain the kind of settlement he wanted at the Paris Peace Conference and the United States Senate repudiated his plan for a League of Nations. Twenty years later, Americans faced the horrifying prospect of another world war.
16. Even Lindbergh Got Lost, Roger Connor, Air & Space Magazine, 2013.
A year after making aviation history flying from New York to Paris, Charles Lindbergh got lost flying his plane, the Spirit of St. Louis, between Cuba and Florida. Connor reveals that Lindbergh did not know how to navigate until after his famous flight that crossed the Atlantic. At the time, pilots relied on naval navigational techniques. Lindbergh later met Philip Van Horm Weems and formed a friendship and partnership that would forever change how aviators navigate the skies.
17. Enemy of Men: The Vamps, Ice Princesses, and Flappers of the Silent Screens, Kristine Somerville, Missouri Review, 2014.
Hollywood was in its relative infancy when actors typically women were first typecast as magical, or even mythical creatures like vampires and demons. Other constructs took on the modern imaging of the day, such as the real-life flappers seen at the end of the 1910s. Images of women reflected societal challenges and growth, alongside the advances in women's rights and recognition. Somerville explains how "new disruption in gender roles found expression in cinema. Images of dangerous femininity became a familiar motif, as did male subjugation. In fact, as far as the studios were concerned, stories of evil women trying to debase weak men were big moneymakers [whereas] unlike the vamp, the flapper didn't undermine men; she conquered them simply to have a good time."
UNIT 4: From the Great Depression to World War II
18. Becoming Mexican American: Ethnicity, Culture, and Identity in Chicano Los Angeles, 1900—1945, Natalia Molina, Aztlan: A Journal of Chicano Studies, 2014.
Natalia Molina explores the impact of this seminal work on the 20th anniversary of its release. Los Angeles in the early 20th century was home to Mexican immigrants who helped shape the landscape of the city; the second and subsequent generations implemented "the unique formation of a Mexican American identity marked by cultural adaptation, diversity, and experimentation" that defines the metropolis to this very day.
19. A New Deal for the American People, Roger Biles, Northern Illinois University Press, 1991.
Critics of the New Deal on the right claimed that FDR created a socialist or fascist state, or, at best, an anti-free market business environment. Critics on the left believe Roosevelt caved in to the interests of big business and did little to help the lower-middle class, poor, and minorities with their economic problems. History Professor Roger Biles contends that, in spite of its minimal reforms and non-revolutionary programs, the New Deal created a limited welfare state that implemented economic stabilizers to avert another depression.
20. Food Policy During the Depression and the Second World War: FDR's New Deal Legislation and Eleanor Roosevelt's Bully Pulpit, William Aspray, George Royer, and Melissa G. Ocepek, Formal and Informal Approaches to Food Policy, 2014.
Eleanor Roosevelt, the champion of the dispossessed, "played an active informal role in using the bully pulpit of the White House to promote food, nutrition, and physical fitness" during the Great Depression and then later during the emergence of the Second World War. The authors, in their succinct examination of New Deal food policies, demonstrate how Mrs. Roosevelt sough rapprochement with everyone from farmers to mothers during a time of food shortages and surpluses, price hikes, and low morale. Further, they argue that Mrs. Roosevelt was the single most influential First Lady in terms of food policy until Mrs. Obama.
21. The Roosevelt Years and the Rise of the American Welfare State, Alix Meyer, Cercles, 2014.
Historian Alix Meyer explores what welfare in the United States was before the New Deal, and how New Deal policies such as the Social Security Act and subsequent programs helped shape the modern American welfare state. Franklin D. Roosevelt was determined to use whatever means necessary to help the country rebuild from the Great Depression. Meyer's essay explains how devastated the nation's economy was and outlined Roosevelt's response as frenetic, at best, as the "First Hundred Days of the Roosevelt years were thus marked by an exceptional surge in legislative activity that promised to thoroughly transform the federal government's role and give it the tools to ensure the Nation's welfare."
22. Flight of the Wasp, Victoria Pope, American Heritage, 2009.
The Women Air Force Service Pilots served as a home front Army auxiliary during World War II. They flew cargo, transported new planes from factories, and towed aerial targets. Always controversial in an age when the ability of women to perform such functions was controversial, the group was disbanded in 1944. An initially skeptical General Harold Arnold, Chief of the Army Air Forces, said of their performance: "It is on the record that women can fly as well as men." Unfortunately, it was not until the 1970s that they were officially recognized as veterans.
23. 'We Build, We Fight' They Also Served Who Drove Cranes and Cats: A Seabee on Iwo Jima, Jack Cornwell, World War II, 2014.
Jack Cornwell, who documented his war service in letters to his wife, was a crane operator in the 62nd Seabees serving in the Pacific theatre, when, "on February 24, 1945, elements of the 62nd Naval Construction Battalion landed on Iwo Jima. The invasion, begun five days before, sought to convert an enemy airbase into emergency landing strips for B-29 bombers raiding Japan."
UNIT 5: From the Cold War to 2010
24. Mad Women, Not Mad Men, Julia Baird, Newsweek, 2010.
In the 1950s and early 1960s, women were depicted culturally as weak, soft, dependent, and controllable. Women who expressed depression, sadness, anger or rage at situations such as the state of their marriage or professional life were "often treated with drugs, alcohol, psychotherapy, and, at its extreme, electroconvulsive therapy . . . women's anger, or rebellion, was frequently misdiagnosed as sickness." Baird conflates the women of the television show Mad Men with what real-life women faced during this period. Mad Men explores myriad societal issues, from marital rape to civil rights. Three of the leading characters are women: Joan, Peggy, and Betty. Each of these women face issues that their real-life counterparts did (rape, abuse, gender discrimination, being vilified for being sexually active, doctors reporting on personal treatments of their spouses). Overshadowing the narrative is the spectre of Marilyn Monroe—an ethereal alpha and omega for the 1950s and early 1960s—whose death, Baird argued, signaled the end of an era and the birth of modern feminism.
25. The Real Cuban Missile Crisis: Everything You Think You Know Is Wrong, Benjamin Schwarz, The Atlantic, 2013.
Benjamin Schwarz argues that the new evidence from the memoirs of participants in later years and the declassification in 1997 of the "Ex Comm" committees tapes reveal that Kennedy fabricated a crisis for reasons of politics and prestige. In actuality, Kennedy secretly negotiated a swap for the dismantling of the Jupiter missiles in Turkey for the intermediate range missiles in Cuba.
26. The Forgotten Radical History of the March on Washington, William P. Jones, Dissent, 2013.
Historian William P. Jones argues that the "March on Washington" in August, 1963 was organized by groups such as the Negro American Labor Council and the Student Non-Violent Coordinating Committee (SNCC) in order to highlight "the economic subordination of the Negro" and advance a "broad and fundamental program for further economic justice." The first speakers such as A. Philip Randolph, John Lewis, and others advocated radical economic reforms. But Martin Luther King toned down his demands for economic equality in favor of a non-segregated society where Blacks and Whites were politically and socially equal.
27. Women's Rights on the Right: The History and Stakes of Modern Pro-Life Feminism, Mary Ziegler, Berkeley Journal of Gender, Law, & Justice, 2013.
Mary Ziegler explains the confluence between pro-life movements and modern feminism.
28. Soft Power: Reagan the Dove, Vladislav M. Zubok, The New Republic, 2004.
Ronald Reagan, once considered by many to be a bungling incompetent, now occupies a much higher place in the ranks of twentieth century presidents. This transformation has come about, Zubok argues, not because of his embrace of militant policies such as Star Wars but because he sought the path of peace with the Soviet Union when the opportunity arose.
29. A Wimp He Wasn't, John Solomon, Newsweek, 2011.
Most historians and political scientists considered George Herbert Walker Bush, an average or below average President and a bit of a wimp. But recent research uncovered by John Solomon, showed Vice President Bush attempted to force the Salvadorian military to stop killing its civilian opponents. The President also didn't excessively celebrate the fall of the wall in Berlin, so the Russian leader was able to allow a new government takeover in East Germany. Ironically, the wimp label followed Bush during his career even though he had been a decorated Naval pilot during World War II.
30. Repealing "Don't Ask Don't Tell": The Impact of Stereotypes on Attitudes toward Homosexuals in the Military, Mandi Bates Bailey, Keith Lee, and Lee R. Williams, American Review of Politics, 2013.
This entry "investigates the impact of negative stereotypes of homosexuals resulting in biased evaluations of gays in the military and the media's ability to prime evaluations of homosexuals in military service through the presentation of a homosexual target," tracing executive branch decisions towards gays and lesbians from President Harry S. Truman to Barack Obama.
31. Bush a Fond Presence in Africa for Work during and since His Presidency, Peter Baker, The New York Times, 2014.
President George W. Bush has done more than any other president to address HIV and AIDS yet receives little public attention. The media has covered his work, but there remains little national or global awareness of his activism outside of the African continent. The hatred for this president that became part of a populist, national/international trend has led to an erroneous assessment of his presidency. Peter Baker argues that we must reevaluate President Bush because "while in office, Mr. Bush started the Millennium Challenge Corporation to direct aid to African states that tried to reform corrupt and undemocratic governments. He also initiated the President's Emergency Plan for AIDS Relief, or Pepfar, which invested tens of billions of dollars in fighting H.I.V., and later tackled malaria and tuberculosis . . . by the time he left office, millions were receiving retroviral drugs keeping them alive, and polls showed approval of the United States at 65 percent in Tanzania, and in the 70s and 80s in other African countries. During a final trip as president in early 2008, Mr. Bush was warmly greeted by huge crowds of the sort he never saw at home anymore."
32. Good Health for America?, Martin Gorsky, History Today, 2010.
Written shortly before passage of President Obama's health care bill, Gorsky provides a brief history of why previous attempts failed. "The key point," according to Gorsky, "is that the political institutions of the United States tend to impede deep and contentious reforms."
UNIT 6: New Directions for American History
33. Michelle Obama 'Got Back': (Re)Defining (Counter) Stereotypes of Black Females, Margaret M. Quinlan, B.R. Bates, and Jennifer B. Webb, Women and Language, 2012.
Michelle Obama is one of the most scrutinized First Ladies since Jacqueline Kennedy. The authors analyze how Mrs. Obama is presented in the media, and whether her image has been distorted into harmful racial stereotypes, or if imaging of her has redefined how Black women are presented. They cite that "given the potential for Michelle Obama to introduce a new concept of Black womanhood, thereby reshaping how the public understands the role of the First Lady, it is important to understand what older concepts of Black womanhood are also at play in the media and on blogs."
34. "We Are the Walking Dead": Race, Time, and Survival in Zombie Narrative, Gerry Canavan, Extrapolation, 2010.
Zombies are everywhere, especially with the advent of one of the most watched shows in television history, The Walking Dead. Gerry Canavan traces the rise—and rise—the zombie narrative, arguing "zombies present the 'human face' of capitalist monstrosity," while demonstrating that in times of economic, cultural, and/or social unrest, apocalyptic narratives resonate.
35. Global Warming: Who Loses—and Who Wins?, Gregg Easterbrook, The Atlantic, 2007.
Global warming, Easterbrook argues, could cause a "broad-based disruption of the global economy unparalleled by any even other than World War II." He points out that this phenomenon probably will do more harm to those nations already mired in poverty and might actually benefit more affluent ones. He also discusses what must be done to stave off disaster.
36. It's Hard to Make It In America: How the United States Stopped Being the Land of Opportunity, Lane Kenworthy, Foreign Affairs, 2012.
According to the author the opportunity gap between children from poor families as opposed to those from middle class and upper-class families had narrowed considerably from the mid-nineteenth century until 1970. Since the 1970s, inequality of opportunity for children from the lower classes has widened considerably compared with those from the middle and upper classes. But most Western European democracies have more economic mobility and less of an income gap between classes. Kenworthy suggests that more federal money spent on early education, earned income tax credits for certain families, and shifting affirmative action programs from race and gender to family background might provide more economic opportunities for the middle and lower classes.