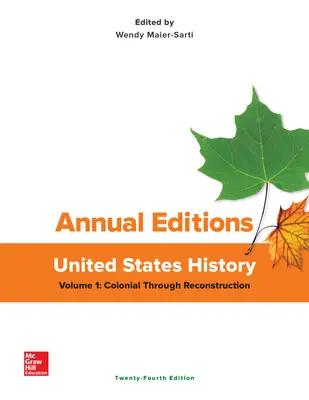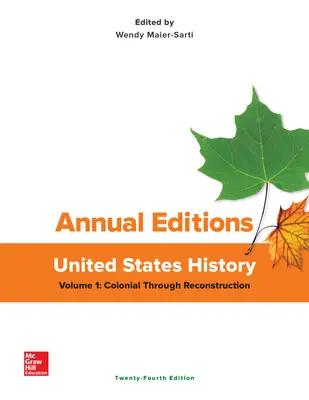 Annual Editions: United States History, Volume 1: Colonial through Reconstruction
,
24th Edition
ISBN10: 1259657248 | ISBN13: 9781259657245
Purchase Options:
* The estimated amount of time this product will be on the market is based on a number of factors, including faculty input to instructional design and the prior revision cycle and updates to academic research-which typically results in a revision cycle ranging from every two to four years for this product. Pricing subject to change at any time.
Instructor Details
The Annual Editions series is designed to provide convenient inexpensive access to a wide range of current articles from some of the most respected magazines, newspapers and journals published today. Annual Editions are updated on a regular basis through a continuous monitoring of over 300 periodical sources. The articles selected are authored by prominent scholars, researchers, and commentators writing for a general audience. Each Annual Editions volume has a number of features designed to make them especially valuable for classroom use; including a brief overview for each unit, as well as Learning Outcomes, Critical Thinking questions, and Internet References to accompany each article. Go to the McGraw-Hill Create® Annual Editions Article Collection at http://www.mcgrawhillcreate.com/annualeditions to browse the entire collection. Select individual Annual Editions articles to enhance your course, or access and select the entire Maier-Sarti: Annual Editions: United States History, Volume 2: Reconstruction Through the Present, 23/e book here at http://create.mheducation.com/createonline/index.html#qlink=search%2Ftext%3Disbn:1259657248 for an easy, pre-built teaching resource. Visit http://create.mheducation.com for more information on other McGraw-Hill titles and special collections.
UNIT: The New Land
1. Climate and Culture Change in Prehistoric and Early Historic Eastern North America, David G. Anderson, Archaeology of Eastern North America, 2001.
What was America like when humans first emerged? How did environmental changes affect population growth? What cultural adaptations took place as the prehistoric age ended and human settlement expanded? In a fascinating study, the author examines the impact of climate and culture change from "the time of presumed initial human entry near the end of the last ice age, and run up through the early historic contact period" and "concludes with some observations about the relevance of these studies for the modern world."
2. History Lessons: Institutions, Factors Endowments, and Paths of Development in the New World, Kenneth L. Sokoloff and Stanley L. Engerman, The Journal of Economic Perspectives, 2000.
North American exploration and colonization was a gradual process because settlement here was not seen as an absolute, immediate necessity; rather it was part of an overall global conquest, and because, "as Europeans established colonies in the New World of North and South America during the sixteenth, seventeenth, and eighteenth centuries, most knowledgeable observers regarded the North American mainland to be of relatively marginal economic interest, when compared with the extraordinary opportunities available in the Caribbean and Latin America. Voltaire, for example, considered the conflict in North America between the French and the British during the Seven Years' War (1756–63) to be madness and characterized the two countries as "fighting over a few acres of snow." Nevertheless, as Kenneth Sokoloff and Stanley Engerman explain, soon "the "discovery" and exploration of the Americas by Europeans [would become] part of a grand, long-term effort to exploit the economic opportunities in underpopulated or under-defended territories around the world."
3. Representing the Portrayal of Pilgrims in Elementary History Textbooks and the Myth of the Founding of the American Nation, Cecelia L. Parks, Papers and Publications: Interdisciplinary Journal of Undergraduate Research, 2012.
In 1620, the Pilgrims landed in Massachusetts, and with their settlement, their lives became woven into a legend embedded into the American psyche that has seen the Pilgrims eating a shared meal coupled with the idea that the American holiday of Thanksgiving, having originated at this time, as a sometimes accepted pedagogical truism. The author dispels myths about just who the Pilgrims really were. An analysis is presented to show just how textbooks created a legend not entirely based in reality, through the examination of "three elements of the Pilgrims' story, the First Thanksgiving, Pilgrim-Native American relations, and the Pilgrims' American ideals, representing Pilgrims as hard-working people who came to America to find religious freedom and found a society based on democratic ideals." Further, the author argues that while "such accounts suggest that Pilgrims lived harmoniously with Native Americans, celebrating the First Thanksgiving with them" they were not entirely correct, as "while this portrayal of Pilgrims appeals to America's Western European heritage, it disregards the violence, cultural hierarchy, and oppression more characteristic of such settler-native exchanges."
4. Indentured Servants and the Pursuits of Happiness, Crandall Shifflett, Virginia Tech, 2000.
Who were the indentured servants who came to North America for a better way of life? The author argues that these individuals-who were primarily male-"played a substantial role in the formation of the charter culture." Over 120,000 indentured servants came to North America, and many suffered abuse, isolation, and marginalization. Women were especially affected by their indentured status.
5. Immigration--and the Curse of the Black Legend, Tony Horwitz, The New York Times, 2006.
In an article that links the past to the present, Tony Horwitz discusses how the United States of America has forgotten about its Spanish roots, and "explains why we've written the Spanish out of our national narrative."
6. Historical Fiction and Maryse Condé's I, Tituba, Black Witch of Salem, Zubeda Jalalzai, African American Review, 2009.
Laypeople and scholars alike remain fascinated with the Salem Witch Trials. Could something new still be learned despite so many interpretations and much analysis - including novels, films, reenactments and more - of these trials? The answer is a resounding yes, especially when persons seldom fully studied are rediscovered due to new research, fictional interpretations, or explicated historical constructions. Zubeda Jalalzai offers a fresh look at how archival, fictionalized, actualized, and imagined constructions of Tituba intersect, using Maryse Condé's, novel I, Tituba, Black Witch of Salem, as a foundation.
7. John Lawson's Indian Town on Hatteras Island, North Carolina, Baylus C. Brooks, North Carolina Historical Review, 2014.
Baylus C. Brooks presents a study on the "natives of North Carolina and remote locations like Hatteras Island in the sixteenth through eighteenth centuries" as documented by "John Lawson - Yorkshire native, early Carolina explorer, native ethnographer, and noted historian—demonstrated his respect for the Hatteras Indians and became the first European to rediscover them and their town when he traveled through the area between 1701 and 1709."
UNIT: Revolutionary America
8. Suicide Pact, William Hogeland, American History, 2013.
America's founding fathers took a great risk when they signed the Declaration of Independence. They committed treason and in doing so, had they been captured, would have been sentenced to death. Pennsylvania's Benjamin Rush noted that what they were signing was "what was believed by many at that time to be our own death warrants." They knew that not only would they be punished but their families would be affected as well; businesses, homes, livestock—everything could be lost. Some of these men would lose everything, like New Jersey's Richard Stockton. What they did to start the United States on its eventual path towards independence from Great Britain took incredible fortitude and strength, and great personal courage. Sadly, as William Hogeland notes, "amid all the Fourth of July hoopla since then, the personal courage of the signers has been largely forgotten."
9. Madam Sacho and the American Revolution, Sarah M.S. Pearsall, Humanities, 2015.
During the American Revolution, many Native American communities were destroyed and countless were killed. One woman escaped this fate. Her name was Madam Sacho. Madam Sacho's name would not be known to us today had a major general—in direct defiance of General George Washington's orders (who some Native Americans called "Town Destroyer")—not taken pity on this elderly woman and spared her the treatment perpetrated against others in her community. Sacho, a member of the Haudenosaunee nation who saw women as "the real authority," was discovered by John Sullivan and his men, who had expected anyone but Madam Sacho. When they found her, "Some soldiers wanted to kill her immediately, but, as one soldier recorded, "the common dictates of humanity, a veneration for old age, and a regard for the female world of any age or denomination induced our General to spare her." Perhaps ageism caused Sullivan not to take her prisoner, or even kill her; he defied direct orders by offering her food and shelter as well as by not taking her prisoner. Author Sarah Pearsall suggests that "heroics of an ordinary woman caught in devastation, as well as something about one of the most important political players in early America, the Haudeno-saunee," may be a reason for this defiance. It also tells us something about the circumstances in which U.S. policy toward Native Americans was forged. Finally, it illuminates the agonizing decisions of that most famous American Revolutionary soldier of all: General George Washington."
10. One Revolution Two Wars, Thomas B. Allen, Military History, 2011.
A popular view of the Revolutionary War is simple: It pitted American patriots fighting against the hated British Redcoats. But many American "Loyalists" remained faithful to the king and "provided the British with food, spies, and recruits." Allen tells the story of this vicious civil war.
11. Faith of the Founding Fathers, Joe Wolverton II, J.D., The New American, 2011.
What religion did the founding fathers practice? Was religiosity central to their daily lives? Why was freedom of religion so important that they added this right to the Constitution? Joe Wolverton asserts that "despite their various personal dogmas, our Founding Fathers universally recognized the benefit to society of a citizenry that was moral and committed to genuinely conform[ing] their behavior to the constraints of their convictions. None of them was particularly evangelical, though all expressed a personal devotion to the teachings of Jesus Christ. Whether Puritan, Anglican, Presbyterian, or otherwise, the men who crafted our Constitution zealously protected the right of all men to worship as they pleased."
12. A Day to Remember: July 4, 1776, Charles Phillips, American History, 2006.
The second Continental Congress actually declared American independence on July 2, 1776. Two days later it approved the Declaration of Independence, which was a kind of early-day "press release." Author Charles Phillips analyzes how Thomas Jefferson's draft statement emerged in its final form.
13. Building a Nation from Thirteen States: The Constitutional Convention and Preemption, Edward J. Larson, Pepperdine Law Review, 2005.
The Constitutional Convention was filled with passionate discussion around the power of the states versus the power of the federal government. Those favoring power of the state prevailed in the discussion and that approach to government was held until the Progressive movement. Discover why the Founding Fathers were so passionate about their position of state's rights.
14. The Founding Fathers, George W. Carey and Greg Weiner, Modern Age, 2014.
The development of the government of the United States at the Philadelphia Constitutional Convention was an ongoing, gradual process that took quite some time to establish. There was no "ah-ha" moment;, rather, the founding fathers had to continue to work together to build a consensus; this process was arduous, often quite painstaking, but there was much to be gained and even more to be lost had they not come to a mutual understanding of the task at hand. They might not have always agreed, but they understood the consequences of mistakes and lack of unity. Thus, the "Convention was less a reform caucus than a conserving one." Moreover, "the sheer magnitude of the task before the delegates—that of uniting independent and largely sovereign states under one government—would probably have been impossible lacking a consensus on the basic principles of governance."
15. Franklin Saves the Peace, Thomas Fleming, American Heritage, 2010.
Despite the American/French victory over the British at Yorktown in 1781, the success of the American Revolution was far from assured. The Continental Congress had gone bankrupt and seemed headed for dissolution. Fleming argues that Benjamin Franklin's brilliant tactics in getting the British to negotiate a peace treaty and in getting the French to extend yet another loan really saved the day.
UNIT: National Consolidation and Expansion
16. Madison's Radical Agenda, Joseph J. Ellis, American Heritage, 2010.
James Madison went to the Constitutional Convention in Philadelphia in 1787 determined to forge a far more powerful national government than that under the existing Articles of Confederation. He was fortunate in having George Washington on his side on most issues. He had to make a number of compromises on what was known as the Virginia Plan, but mostly carried the day.
17. Interview: Carol Berkin, The Bill of Rights That Nobody Wanted, Richard Ernsberger, Jr., American History, 2015.
Why were so many founders against the Bill of Rights? Richard Ernsberger Jr. interviews Carol Berkin, a scholar of the Bill of Rights. In this article, Berkin reveals that James Madison, at first, stood alone in demanding that a bill of rights be added to the Constitution to protect the rights of the people; "few of his contemporaries fully realized that Madison was struggling with one of the central problems in a republic: how to protect the liberties of minorities against the tyranny, not of the government, but of the majority of its citizens."
18. Wall Street's First Collapse, Thomas Fleming, American Heritage, 2009.
"Wall Street's first bubble swelled and burst in the Spring of 1792," writes Thomas Fleming, "exerting a profound effect on American politics and society." The collapse involved more than financial losses, serious though they were; it involved a fundamental clash between the philosophies of Thomas Jefferson and Alexander Hamilton over the direction this nation should take.
19. Abolitionist or Terrorist?, Douglas R. Egerton, The New York Times, 2014.
Who was Denmark Vesey and why was he—and is he still—such a controversial figure? Vesey was a former slave who purchased his own freedom and became an abolitionist activist. His actions, as Douglas Egerton argues, were constructed by the times, as Vesey understood that "the only path to freedom was to sharpen a sword." As such, Vesey's activism does not deserve to be portrayed in a negative fashion.
20. A Unique Northern Plains Ceramic Vessel in the Museum's Lewis and Clark Collection, Mark D. Mitchell, Expedition, 2012.
Lewis and Clark's expedition discovered much more than land. Indeed, objects obtained from Mandans and Hidatsas tribes demonstrated how one ethnographic object captured some generational cultural history from a time when so many Native Americans died from smallpox.
21. Dolley Madison Saves the Day, Thomas Fleming, HarperCollins Publishers, 2009.
The United States was in poor military condition when it entered the War of 1812. Morale was low and a series of defeats led many people to despair. Not so in Dolley Madison's White House. Although born a Quaker, she said "I have always been an advocate of fighting when assailed." Her conduct during the war, particularly in rescuing national treasures before the British captured the White House, made her a symbol of patriotism.
22. Fashioning Slavery: Slaves and Clothing in the United States South, 1830-1865, Katie Knowles, Costume Society of America, 2012.
Few slave owners provided slaves with adequate food, shelter, or clothing. This essay examines the importance of clothing, its use by slaves, as well as how clothing altered status and life.
23. Circumcision of the Female Intellect: 19th Century Women Who Opposed Scholarly Education, Marbeth Holmes, Forum on Public Policy, 2009.
In the years following the first war of independence, some, such as Judith Sargent Murray, believed that equality, or, at the very least, some measure thereof would be gained for women, especially in the area of education. With the advent of the concept of Republican Motherhood, literacy at even a basic level for women was seen as necessary for survival of the new republic. Moreover, it was understood that women, with their intimate connection with domesticity as rearers of children, would pass along these ideas to children (whether to their own or towards those they came in contact with), thus ensuring the new republic would thrive. Yet, it was women who led opposition to the very idea of educating girls and women. Women saw education as a challenge to domesticity and the preservation of their private sphere, ignoring the very precept of Republican Motherhood that suggested that the private sphere not only be upheld, but that education must be a vital part of the preservation of this sphere. In addition, Christian challenges to the scholarly education of women saw the precept emerge that argued women who devoted themselves to their intellect rather than religious life would ultimately fall victim to all kinds of evils, from losing their husband, children, to perhaps even damnation.
24. Education and Access to Christian Thought in the Writing of Harriet Beecher Stowe and Anna Julia Cooper, JoJo Magno, Forum on Public Policy, 2009.
American women writers of the 19th century used literature, religious texts, and basic Christian constructs to challenge the positions held by a majority of white males concerning race, slavery, segregation, and gender superiority.
25. Mexico's Irish Army, Ron Soodalter, Military History, 2014.
The Mexican-American War was a brutal battle with many casualties; some inflicted with deliberate precision—including branding of the face to whipping men to death—in the name of "retribution" for men caught deserting military service. The Irish, like many other immigrant groups, saw men sign up for military service with the US Army. A group of Irish nationals left army service and instead fought on the side of Mexico. Notably, "John Riley, Irish immigrant, former U.S. Army private had led these men and some 200 other defectors into battle against the United States under the green flag of the Batallón de San Patricio (Saint Patrick's Battalion). They had, in the words of one contemporary, 'fought like devils' in the service of Mexico." Riley and his men were captured by US forces, and, "despite protests and petitions imploring mercy, Maj. Gen. Winfield Scott had decreed that they and dozens of their captured comrades suffer the full weight of the Army's retribution."
26. John Brown's Raid on Harpers Ferry, Richard Cavendish, History Today, 2009.
John Brown's raid on Harpers Ferry in October 1859 was intended to touch off massive slave uprisings throughout the South. It never stood a chance of success and was quickly put down. Brown's execution, however, "gave him immortality as an abolitionist martyr whose 'soul is marching on.'"
27. Frances Watkins (Harper), Harriet Tubman and the Rhetoric of Single Blessedness, Andreá N. Williams, Meridians: Feminism, Race, Transnationalism, 2014.
Women who became activists, whether in the progressive movement or abolition often opted (and sometimes not by choice, as in the case of the widowed or divorced) for singlehood as that status allowed them relative personal unfettered freedom to work towards change. African American women who became abolition activists saw their single status both derided and praised: "in nineteenth-century antislavery literature and history, unwed black female activists alternately are stigmatized for being single and lauded as self-sacrificing heroines whose singleness facilitated their public service." Thus, Andreá Williams argues, "In the 1850s and 1860s, several black female activists such as Harriet Tubman, Frances Ellen Watkins (Harper), Harriet Jacobs, and Sojourner Truth rendered their service to the antislavery cause while living as single women, whether widowed, separated, or never married. This fact should be taken as more than coincidental. From a logistical standpoint, being unwed allowed the women to travel, write, lecture, and contribute financially to organized reform apart from managing marriages, though some of them maintained households for extended family. Yet in other regards, these women's public visibility left them open to particular instances of critique for deviating from feminine ideals of marriage and maternity."
28. Blindness in Walnut Grove: How Did Mary Ingalls Lose Her Sight?, Sarah S. Allexan, et al., Pediatrics, 2013.
Countless children have read the Little House on the Prairie books by Laura Ingalls Wilder. Central to the stories was Laura's older sister Mary, who, after an illness, became blind. The authors explain what illnesses affected children in the mid-1800s, and hypothesize what caused Mary's blindness.
UNIT: The Civil War and Reconstruction
29. Uncle Tom's Cabin: Global Best Seller, Anti-slave Narrative, Imperialist Agenda, Kenneth DiMaggio, Common Ground Publishing, 2014.
Harriet Beecher Stowe wrote one of the best-selling books of all time, which "delivers a strong, unforgettable argument against the institution of slavery that defined almost half of the states in the mid-nineteenth century U.S., [and] it also anticipates the victory that the anti-slavery states will soon achieve."
30. Lincoln at War: The Emancipation Proclamation, John Yoo, Vermont Law Review, 2013.
Analysis of the Emancipation Proclamation "is sometimes neglected [in] that the Proclamation was a startling demonstration of the constitutional powers of the Presidency. Lincoln decided that military necessity justified emancipation." The Emancipation Proclamation reflects and represents the many complexities of Lincoln's presidency, his approach to saving the Union, and his strategy concerning applications of executive power.
31. Dakota Land in 1862, a Genocide Forgotten: How Civilizational Transformation Can Get Lost in the Fading Rate of History, Michael Andregg, Comparative Civilizations Review, 2008.
Michael Andregg demonstrates how war ushered in mass genocide against Native Americans in Dakota land, and critiques how these events have been forgotten in most mainstream scholarship, arguing that "many North Americans chose to forget how a vast land was taken from others and thousands of highly literate people quietly, almost unconsciously, sanitized their records and textbooks as Indians were killed like vermin, pests, or dangerous animals in the wild west of America for years—for generations actually, if you look further west."
32. Clara Judd and the Laws of War, Stephanie McCurry, America's Civil War, 2013.
Stephanie McCurry explains how Clara Judd, arrested for spying for the Confederacy, was emblematic of how "women posed a clear military danger" to Union troops. Her trial took place at the same time that Francis Lieber was developing a new code of laws to deal with enemy combatants. Judd's case paralleled the developing of Lieber's legal codes, which saw a "permanent narrowing [of] the protections automatically extended to women noncombatants."
33. Union Success in the Civil War and Lessons for Strategic Leaders, John Erath, Joint Force Quarterly, 2015.
Union army successes set precedent for military strategy for the many wars that followed in the 20th and 21st centuries, because "by orchestrating a complete national strategy, Lincoln and his top general, Grant, provided the template for American success in war—a template that 21st century strategic leaders would be well advised to follow."
34. The Great Interpreter, Michael Stokes Paulsen and Luke Paulsen, First Things: A Monthly Journal of Religion & Public Life, 2015.
The Civil War tested the Constitution, but it was the war's outcomes that decided, the authors argue, that saw "the Civil War [as] the most important event in the history of American constitutional interpretation" further asserting that "President Abraham Lincoln was the Constitution's most important interpreter—its preserver, protector, and defender."
35. Southern Women and Their New Normal, Stephanie McCurry, America's Civil War, 2015.
At the end of the Civil War, the life of the average Southern woman changed dramatically. Some clung to the "lost cause" whereas many others went from a life of wealth and privilege to total and abject poverty.
36. Grant's Secret Weapon: HIMSELF, Jim Stickney, America's Civil War, 2015.
How did Ulysses S. Grant become known as "The Greatest Commander of the Greatest Army in the World"? Jim Stickney explores the character of a man from who so many expected so little; a kind, optimistic, trusting, and decent man, who became one of the most brilliant military strategists in American history.
37. A Graceful Exit, Jay Winik, American Heritage, 2010.
By early April 1865 Robert E. Lee's exhausted and beaten armies no longer could continue conventional warfare. The dilemma facing Lee was whether to surrender formally or to disband his forces and have them regroup as guerrilla bands. Had Lee chosen the latter course, fighting might have continued for years with disastrous results for all. Lee stated later "I surrendered as much to Lincoln's goodness as I did to Grant's armies."
38. We've Been Here Before: Scratching the Six-Year Itch, Richard Brookhiser, American History, 2015.
The rapid rise of the Radical Republicans and their domination over federal politics was linked with Reconstruction; once that ended, what fate eventually befell the Radicals and why?
39. The Sand Creek Phenomenon: The Complexity and Difficulty of Undertaking a Comparative Study of Genocide vis-à-vis the Northern American West, Brenden Rensink, Genocide Studies and Prevention, 2009.
The tragedy of the treatment of Native Americans is especially highlighted in this contribution that demonstrates how the "1864 Sand Creek Massacre of Cheyennes and Arapahos in southeastern Colorado by the Colorado Militia illustrates the difficulties of producing objective research on such morally charged historical events. Specific attention is dedicated to understanding the potential value of integrating Native American history into the broader field of genocide studies and to explaining why comparative scholarship has yet to be undertaken in any substantial way."