Creating High-Quality Content for Instructors and Students
For more than 120 years, McGraw Hill Higher Education has developed and produced high-quality course materials for instructors and students. Authors, contributors, and subject matter experts have partnered with our McGraw Hill team of product developers, portfolio managers, and production staff to embark on the creation and delivery of engaging, efficient, and effective digital learning experiences and validated assessments for undergraduate courses in higher education. Product developers oversee content quality by developing, concepting, and shaping intellectual property for print and digital delivery while serving as the point person for coordinating the efforts of authors, contributors/SMEs, and production & digital platform teams.

Whether you are creating long-form reading experiences, adaptive content, formative assessments, or immersive digital activities, you will collaborate closely with our skilled team in every step of the content journey.
Steps to Create Content
1. Research & Planning
2. Launch
3. Development
4. Production
5. Live
6. Maintenance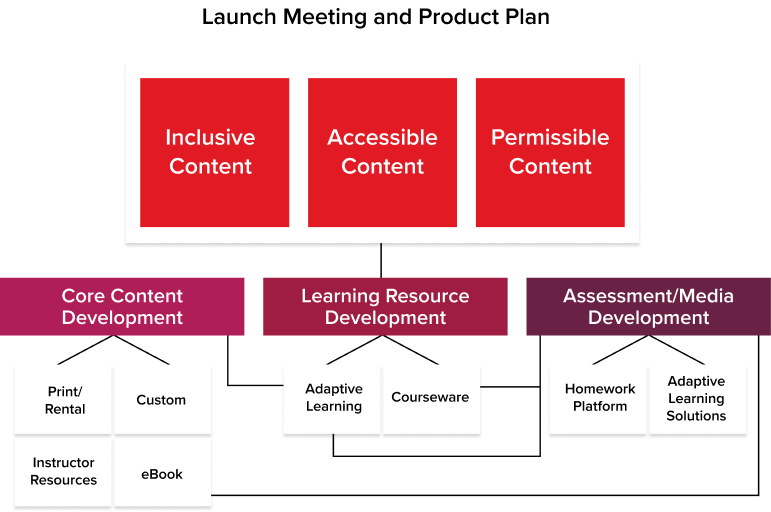 What's Involved?
Once on the team, your partnership with McGraw Hill in developing first-class content will be a remarkable and rewarding journey. The accompanying graphic is a high-level view of the content process---from your initial launch meeting with team members, onward to development of content, and finally to print and digital output and delivery on a variety of platforms. There will be many stages in between, but in working with team members and their expertise in specific areas such as development, design, copyediting, proofreading, quality control, etc., you will be directly contributing to student success!
Reflecting the Diverse World Around Us
We believe in unlocking the potential of every learner at every stage of life. To accomplish that, we are dedicated to creating products that reflect, and are accessible to, all the diverse, global customers we serve. Within McGraw Hill, we foster a culture of belonging, and we work with partners who share our commitment to equity, inclusion, and diversity in all forms. In McGraw Hill Higher Education this includes, but is not limited to the following:
Refreshing and implementing inclusive content guidelines around:

Generalizations & Stereotypes
Gender
Abilities/Disabilities
Race/Ethnicity
Sexual Orientation
Diversity of Names
Age

Enhancing best practices in assessment creation to eliminate cultural, cognitive, and affective bias
Maintaining and continually updating a robust photo library of diverse images that reflect our student populations