Not Just a Boring Worksheet: New Interactive Case Studies for Abnormal Psychology
How do you teach your students about the diagnostic process? Do you have them read a case study? Do you show them a quick video in class?
Do you ever get the sense that they're not really engaged in the case studies you give them?
With the new McGraw-Hill Interactive Case Studies, your students are involved in the diagnostic process, developing empathy and critical thinking skills as they work their way through 12 differential diagnoses.
What did our student reviewers have to say about the Interactive Case Studies?
"You get to apply what you know, or think you know. It helped me piece together the whole puzzle." – Student at the University of Georgia
"It's very interactive. You have to think about what you're doing." – Student at Prairie View A&M University
"It felt like a game… more interesting than reading the text." – Student at University of Nebraska – Omaha
"Cool activity… I would choose it over boring homework." – Student at San Jose State University
Our instructor reviewers were on board, too, agreeing that students would learn much more from the case studies and enjoy them much more than a worksheet.
Let's take a peek at the Interactive Case Studies!
At the beginning of the case, students are introduced to the practitioner they will be working with. The practitioner guides the student throughout the case, providing background, conducting the client interview, and discussing possible diagnoses based on the presenting case.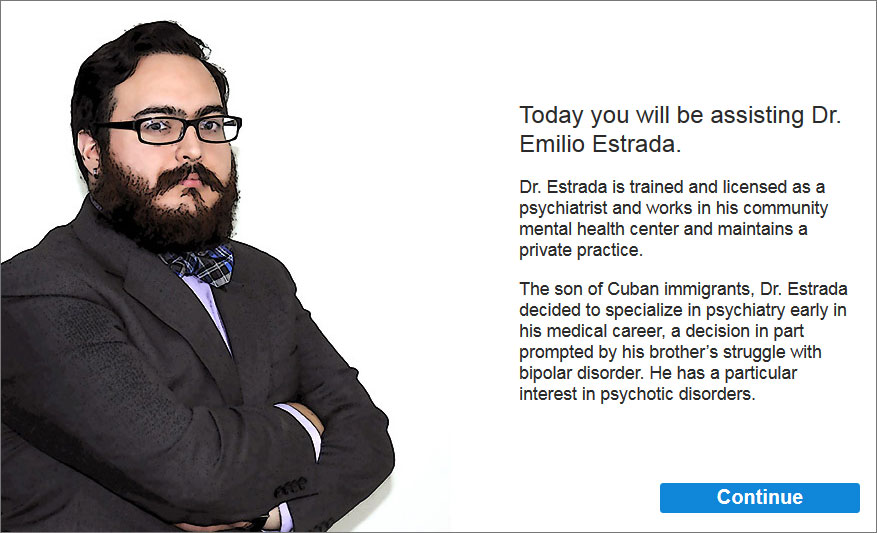 As students observe the client interview, they are presented with a series of glowing objects, which – when clicked – provide background information about the client that cannot necessarily be obtained from the interview. Examples include medical records and interviews with family.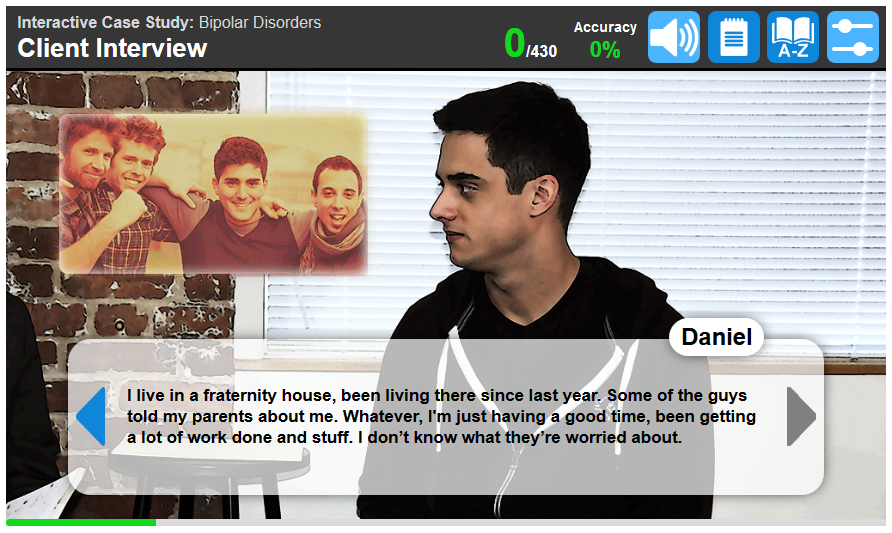 At three checkpoints during the case, students are asked to decide which information from the interview is more relevant to making a diagnosis, and which information is less relevant.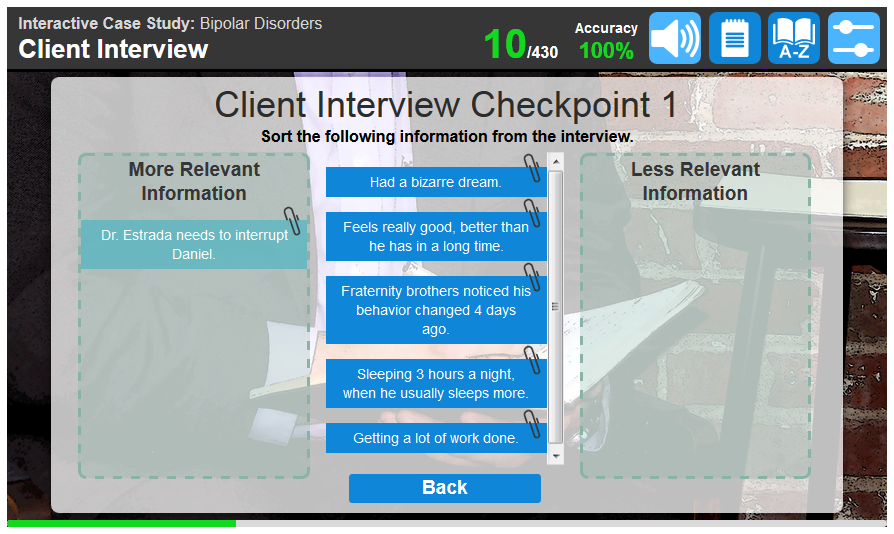 Throughout the case, students have access to an interactive continuum to see the range of behavior for the particular disorder, from functional to dysfunctional. The continuum indicates the behaviors students should pay attention to, while also conveying the idea that behavior is on a continuum and that a diagnosis is never black and white.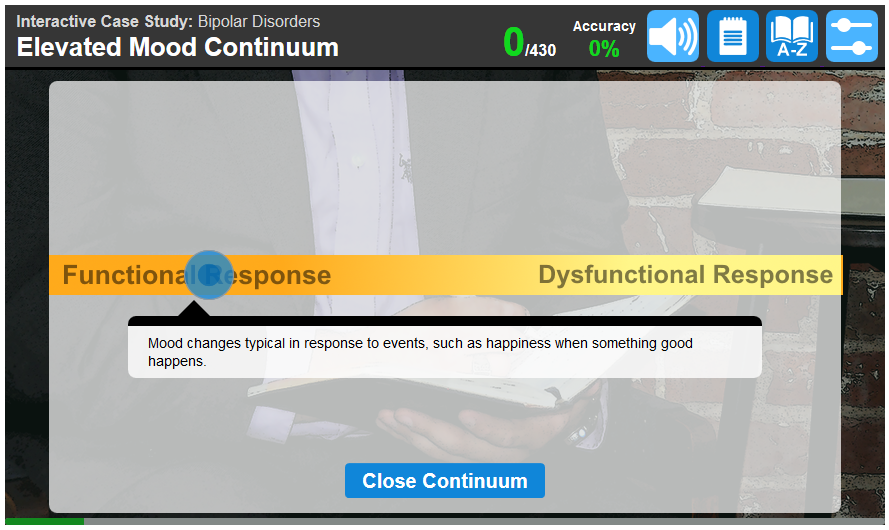 At the conclusion of the interview, students are asked to match the information in their notebook (which is populated at each of the three checkpoints) to the symptoms of the disorder.
After performing this exercise, students are asked to select whether they believe the client has one of two presented disorders (or no disorder). The practitioner then makes a diagnosis, provides feedback to the student, and offers an overview of their treatment plan for the client.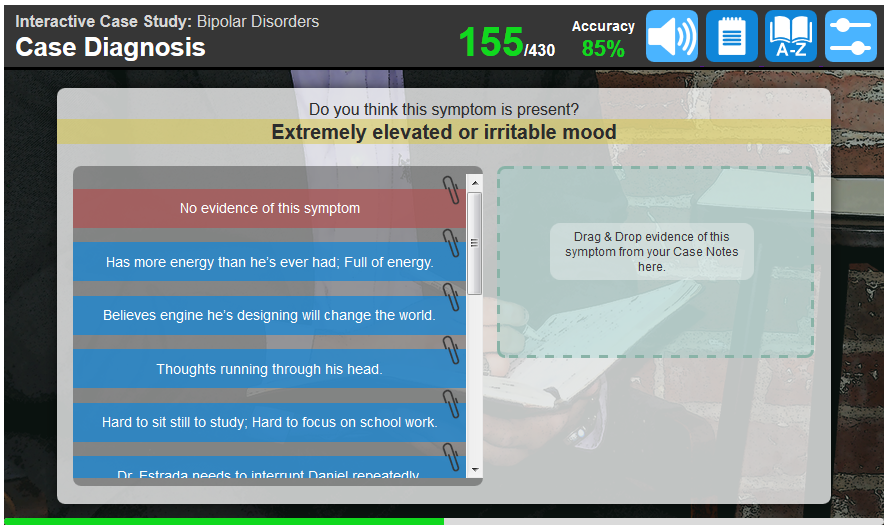 The Interactive Case Studies are live for fall classes, and are assignable and assessable within Connect.
Which disorders are covered by the Interactive Case Studies?
There are 12 case studies, covering the following disorders and groups of disorders:
Trauma- and Stressor-Related Disorders
Psychotic Disorders
Bipolar Disorder
Depressive Disorders
Anxiety Disorders
Obsessive-Compulsive Disorders
Eating Disorders
Substance-Related Disorders
Conduct and Impulse Control Disorders
Somatic Symptom Disorders
Gender Dysphoria and Transvestic Disorder
Attention Deficit/Hyperactivity Disorder