Evolving the Way College Students Buy Textbooks
Published June 30, 2018
---
New options are shifting the traditional purchase model for course materials and helping students save money.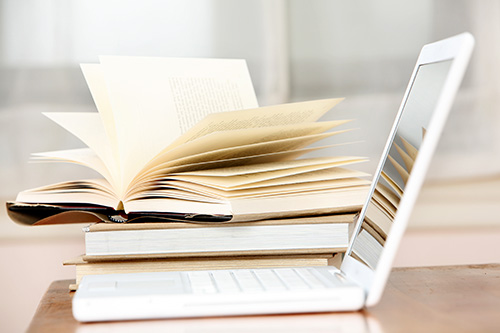 Creating real value in higher education learning materials takes more than just lowering costs. It means focusing on improving outcomes by catering instruction and content to each individual's skill level and learning preferences. It's also about giving students more choices and flexibility in how they acquire and use new course materials.
In today's complex digital learning ecosystem, making learning content more accessible and affordable can't be done in isolation. That's why we've teamed-up with university organizations, textbook distributors, and technology service providers to launch initiatives that can help reduce students' costs and maximize their investments when they go to acquire course materials at the start of each semester.
Three of the many ways we're accomplishing this are through inclusive access programs, a new textbook rental option, and by offering loose leaf print textbooks.
Inclusive Access
When colleges launch inclusive access programs, students are automatically delivered their digital course materials on the first day of class (usually through their learning management system) so that they can start using them immediately. Our learning science research has shown that students who have access to course materials starting on the first day of class perform up to 20 percent better than those who delay getting their materials by 1-2 weeks.
The number of institutions McGraw-Hill serves through inclusive access programs has increased significantly in the last two years and now tops 500. Our inclusive access programs offer a scaled delivery model that can save students up to 70 percent on the cost of digital materials across all of their courses.
In addition, we've teamed-up with organizations including Copia Interactive, Redshelf, Unizin, VitalSource, and the University of Missouri System to bring inclusive access programs to millions of college students. These agreements give students ready-access to personalized instruction through our market-leading McGraw-Hill Connect© and ALEKS adaptive learning platforms.
Textbook Rentals
To give students more flexible and affordable options for textbooks, we've launched a textbook rental program for all new print bound books, starting with our copyright 2019 titles available now. The program includes personalized digital courseware, and our future programs will be rentable as well. Students will be able to rent our materials through distributors including Barnes & Noble, Chegg, and Follett -- and at nearly 1,485 U.S. campus bookstores. "By shifting the way we deliver hard-bound textbooks, we're providing another important option to access McGraw-Hill's high-quality content and curriculum at a lower price," said Bill Okun, President of Higher Education at McGraw-Hill. Through our rental program, students can save up to 70 percent on the cost of new textbooks.
Loose Leaf Textbooks
While digital-first learning solutions are proven effective and less costly than print, some students still want to have access to traditional textbooks. To give these students a lower cost option for printed materials, we've made nearly all of our bound paper books also available in loose leaf format. Students who purchase digital course materials can acquire an unbound printed version at a significantly reduced cost vs. purchasing new fully bound materials. This lets students select the course material format that works best for their individual learning preferences and budget.
These are just some of the options we're now offering to make higher education learning materials more available and effective. Learn about our full suite of affordability programs and alternatives for college learning materials at: www.mheducation.com/realvalue.