Behind the Cube: Our Unique Paths at McGraw Hill
Published November 29, 2021
---
At McGraw Hill, helping students learn, grow, and unlock their full potential is a team effort. Whether we work in customer service, marketing, sales, engineering or elsewhere in the company, we all have a unique path that helps us make an impact at McGraw Hill.
In this month's "Behind the Cube," meet Silvia and Kim—two McGraw Hill employees who have very different paths.
Silvia held roles in publishing and theatre before coming to McGraw Hill two months ago. Kim has been on the McGraw Hill team for more than 15 years, exploring a variety of roles in sales and marketing.
Meet Silvia Tisano
Education Consultant
International
Sydney, Australia
Time at McGraw Hill: 2 months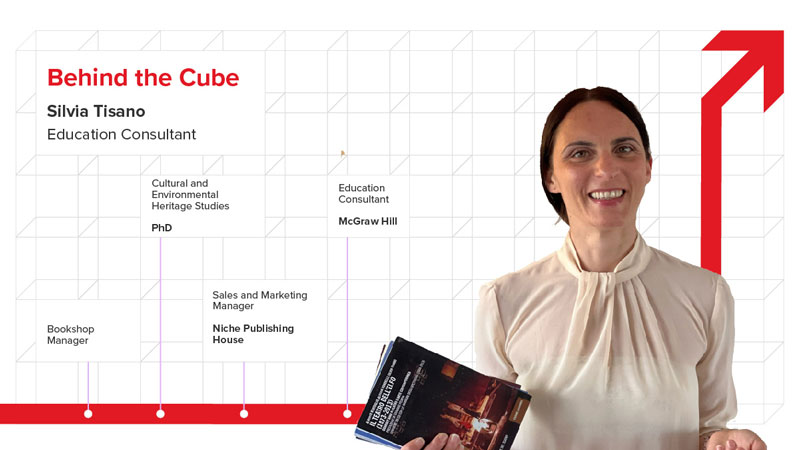 Questions and Answers:
Tell us a bit about you and your role at McGraw Hill.

I relocated to Sydney from Milan in 2018 because the heart does things for reasons that reason cannot understand. I always had a passion for drama and for research, so I received a master's degree in Multimedia, Drama and Dramatics. When I won a prize for the best thesis in the Performing Arts Field, I was excited and honored at the same time. After a period as a Theatrical Consultant for Fondazione Arnoldo e Alberto Mondadori, I was asked to start an incredible adventure: being the manager of the first bookshop focused on performing arts publications, in the Italian National Theatre Piccolo Teatro di Milano. At the same time, I successfully completed my PhD and for a few years, I continued delivering lectures, mainly in History of Theatre. Thanks to my passion and to fortunate collaborations, I also published some of my papers while trying to understand where I could carve my path.

When I found out McGraw Hill was looking for an Education Consultant, I saw an opportunity I could not miss. In my role I help academics find the best resources to ensure a learning journey that changes their life and their students' lives. I work as close as possible to my team as I believe in the value of different perspectives and of different expertise, and there's always something to learn from others.

You've had a unique career path before coming to McGraw Hill! What led you to McGraw Hill and how have your past experiences helped you in your current role?

The past two years helped me understand how important it is to chase what we like, especially in a work environment. I love researching, I have a strong passion for learning, and I have not had a TV for a long time (meaning I have always preferred books to screens). Being an Education Consultant sums all this up! My experience in the academic field makes me feel close to lecturers' needs, but at the same time my past role in the Sales and Marketing area of a niche publishing house, let me breathe the air of the publishing industry. I also think my past experiences have all helped me in training my resilience and my perseverance, my empathy and my adaptability—all qualities that are helpful in this role.

What does a typical workday look like for you?

No two days are the same at McGraw Hill! But in general, I spend my days reaching out to our customers, having Zoom meetings with other departments and studying our products. I always try to have a virtual coffee with a colleague, as I can't forget that behind our keyboards, and screens, we are still humans. And, as Aristotle said, "Man is by nature a social animal." Even while we are working remotely, I would add.

What are some of your favorite hobbies or activities outside of work?

I have a great passion for live performances: concerts, dramas, opera, contemporary dance… anything live, really. I love going to Art Galleries and Museums. There's an ancestral connection to art pieces that helps me find balance. But it is not all about feeding the brain, as Mens sana in corpore sano is still a valid theory to me. I practice yoga, I enjoy long walks (better if by the ocean) and I like cooking, especially with my family.

What advice would you give a job seeker looking to change career paths or industries?

My advice would be to listen to yourself, to feed your passions and to follow your instinct. Try to understand what makes you happy, discuss with your loved ones about your dreams and be ready to fail. Good lessons come from failures. Don't give up. Try to find the courage to change your path and to get out to your comfort zone.
Meet Kim Schroeder-Freund
Marketing Manager
Higher Ed
Dubuque, Iowa
Time at McGraw Hill: 15 years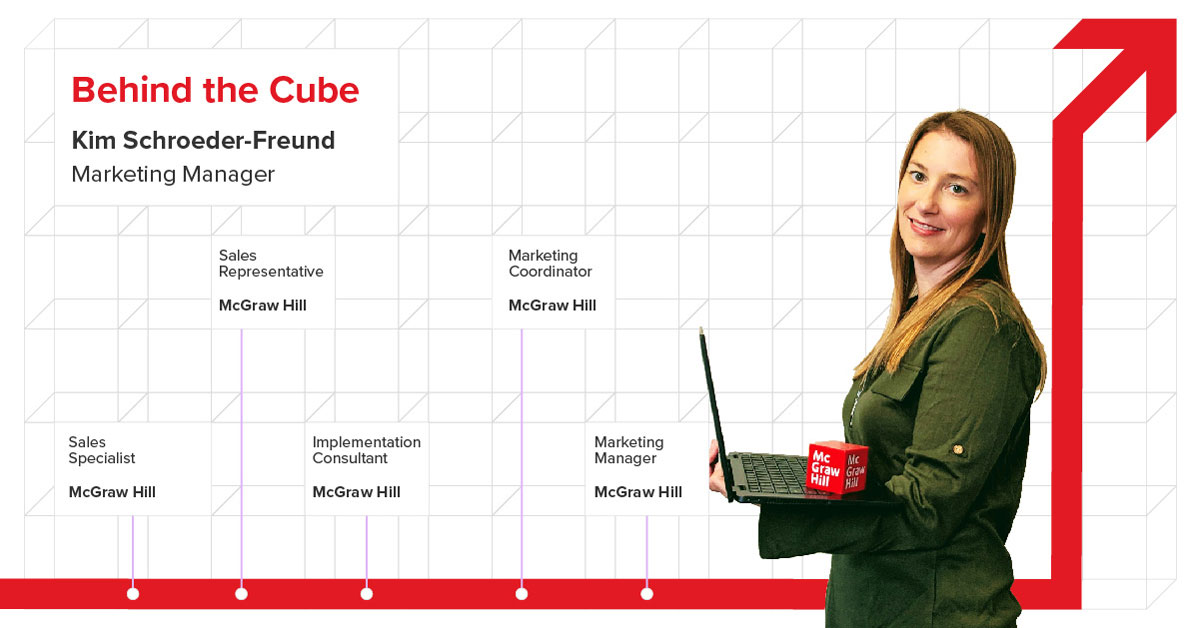 Questions and Answers:
Tell us a bit about you and your role at McGraw Hill.

I have been working with the Humanities, Social Sciences, and Languages Marketing Team for four years now. My current role is Marketing Manager, and I work with the disciplines of Sociology, Anthropology, Criminal Justice, Education, Humanities, Philosophy & Religion, and Film & Theater. As Marketing Manager, I plan and execute our go-to-market plan for the products in the disciplines that I work with, and partner closely with our Learning Technology Representatives (LTRs) to drive sales and usage of our digital products. I also conduct both internal-facing presentations as well as customer-facing presentations and trainings.

How has McGraw Hill helped you grow and follow your career path?

Throughout my 15 years at McGraw Hill, I've been lucky enough to have several managers and mentors that have allowed me to stretch and expand within my roles. They were supportive of my ideas, encouraged me to try new things, and allowed me to take on new and challenging responsibilities, all of which helped me to grow as a professional and prepared me for my current role.

What does a typical workday look like for you?

Each day is different—and I love that! My typical day includes activities such as planning and writing marketing copy, email campaigns, internal messages, or planning for new marketing or sales tools. It might also include strategy calls with LTRs or fellow marketers. Best of all, it might include calls or presentations with customers where I get to talk with them about their courses and how we can help them.

What are some of your favorite hobbies or activities outside of work?

Outside of work, I love to be outside. During the summer months, I enjoy hiking, camping, or kayaking frequently with my family. I love exploring a new camping location or trying out a new hiking path. During the winter months I enjoy skiing with my family (I'm new to the sport) or can be found working on the occasional sewing or crochet project. I have an afghan that's currently on my to-do list to complete this winter.

What would you tell a job seeker about working at McGraw Hill to encourage them to apply?

The culture at McGraw Hill is one that encourages inclusion, diversity, and growth. Individual and unique voices are heard and appreciated, and new ideas are welcomed. Throughout the years I've been lucky enough to be on several teams within McGraw Hill, and on each team witnessed a community of people that encouraged each other, mentored each other, and cheered everyone's successes. I also love how McGraw Hill supports employees' community involvement by providing support through charitable donation matching, and by helping to connect employees with community service opportunities. The mission of serving our communities, helping educators, and enabling all students to succeed is apparent on a regular basis, and I love being a part of it.