"Old School" Textbooks Out, Personalized Digital Learning In
Published August 27, 2015
---
NEW YORK, Aug. 27, 2015 /PRNewswire/ -- As students return to schools and universities, a new survey from McGraw-Hill has found that parents of K-12 and college-age students overwhelmingly support digital learning as a means to enhance the classroom learning experience for their children.
When asked about digital learning, a resounding 91% of K-12 parents said they welcomed the introduction of a more personalized digital experience as an alternative to traditional textbooks.
"Parents are tuned into the transformations taking place in the classroom and understand the benefits of personalized, digital learning for their children," explained Peter Cohen, group president of U.S. education for McGraw-Hill. "Our software incorporates personalization through adaptive learning technology, in which the program adapts based on a student's knowledge and the type of learner he or she is to improve individual outcomes."
Parents with children in higher education were also surveyed and they too were found to be strong advocates for the increased use of technology in the classroom. Key findings included: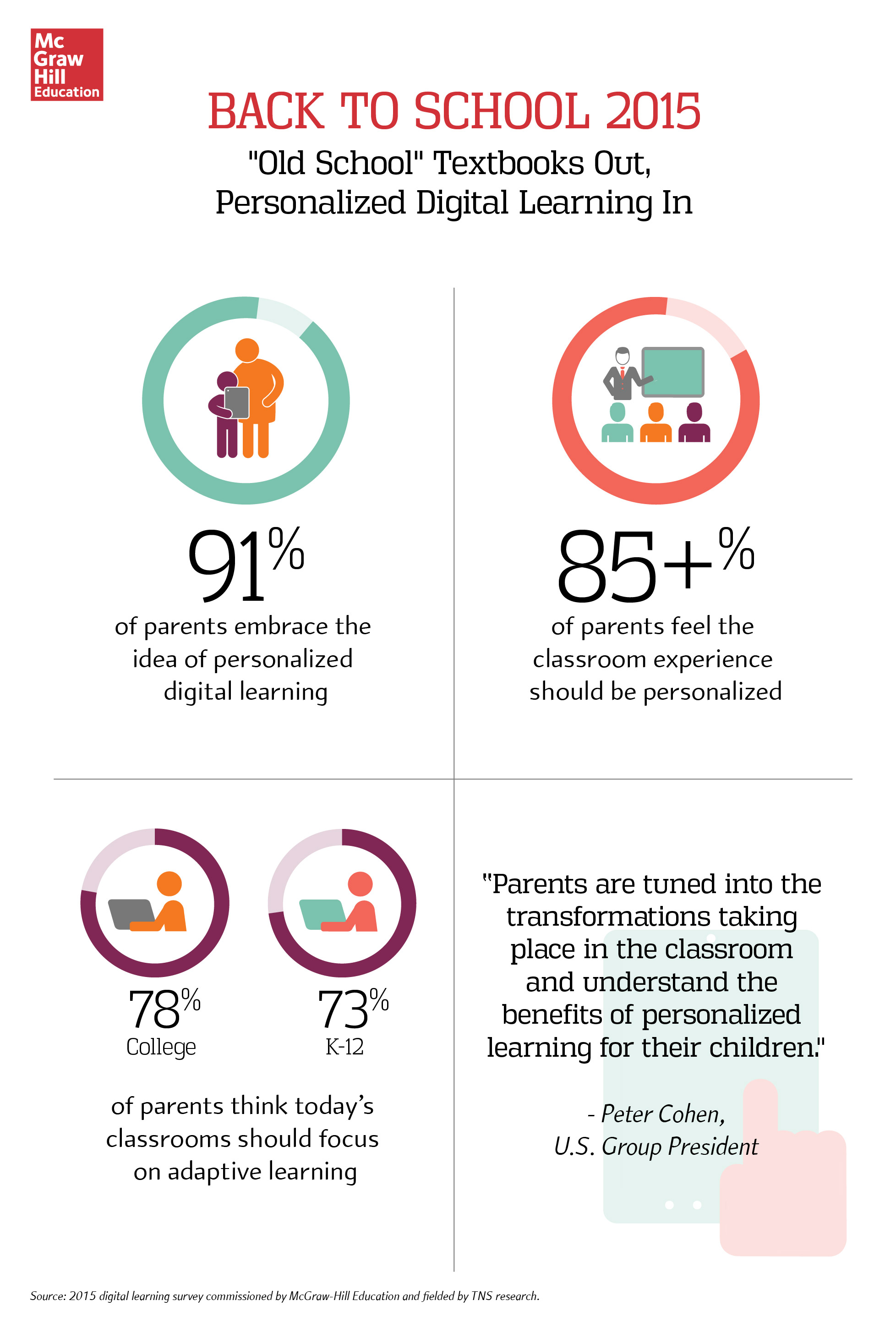 87% of K-12 and 85% of college parents believe classroom lessons should be personalized to meet each individual student's needs
78% of college and 73% of K-12 parents believe today's classrooms should focus on adaptive learning rather than "old school" textbooks
88% of Americans surveyed expect ALL K-12 classrooms to be plugged-in by 2025
The research released today, commissioned by McGraw-Hill and conducted by TNS, a leading global research firm, fielded a survey to 2,500 American adults over 18 years of age from Aug. 13-16 to gauge perceptions and sentiment around educational technology.
McGraw-Hill has a long tradition in the learning sector and in recent years has focused on developing personalized learning programs for students through adaptive technology, which actively tailors learning to the individual and acts as a tutor for the student.
The company has developed a range of adaptive products for K-20 students, which include ALEKS®, LearnSmart® and SmartBook®, together with nearly 1,100 courses available with adaptive technology.
To make it easier for students to try one of McGraw-Hill's adaptive courses, the company is now offering college students who purchase a digital offering the option of adding a loose leaf print version of their course content for as low as $15. David Levin, president and CEO of McGraw-Hill, recently wrote about the benefits of going digital in the Huffington Post.
Students and instructors interested in using McGraw-Hill's technology can click here.
"There has never been a more exciting time to be a student – with amazing opportunities to create their own path to success," added Cohen. "Through learning science, we harness technology and data insights both inside and outside the classroom to ignite the spark between teaching and learning."
About McGraw-Hill
McGraw-Hill is a learning science company that delivers personalized learning experiences that help students, parents, educators and professionals improve results. McGraw-Hill has offices across North America, India, China, Europe, the Middle East and South America, and makes its learning solutions available in nearly 60 languages. Visit us at mheducation.com or find us on Facebook or Twitter.
Contact:
Visit our News & Media Center for current contact information.
SOURCE McGraw-Hill