Winners announced for The Harold W. McGraw, Jr. Prize in Education
Published March 3, 2016
---
Prestigious award founded in 1988 honors Anant Agarwal, Alberto Carvalho, and Sakena Yacoobi
NEW YORK – March 3, 2016 – Today the winners were announced for the 2016 Harold W. McGraw, Jr. Prize in Education, which honors innovation and has become one of the most prestigious educational awards since its founding in 1988. The Prize recognizes outstanding individuals who have dedicated themselves to improving education through new approaches and whose accomplishments are making a difference today. Honorees receive an award of $50,000 and a bronze sculpture.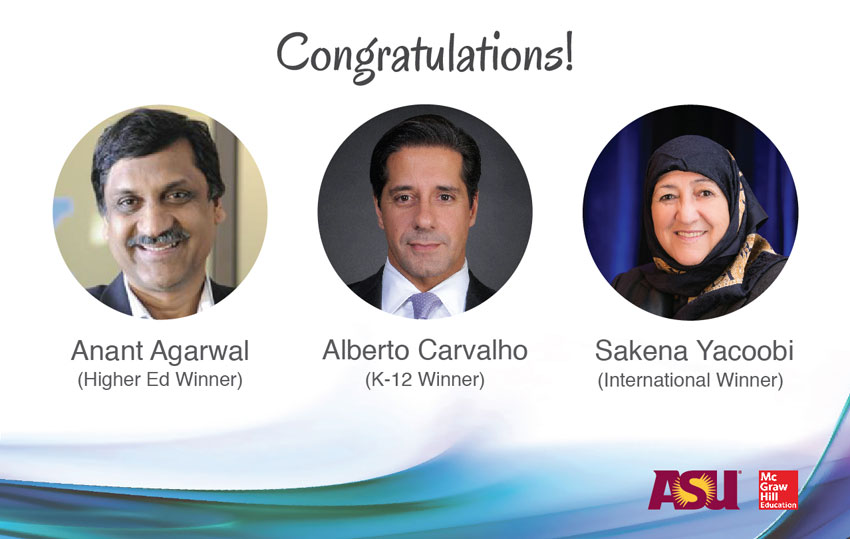 The 2016 winners are:
Anant Agarwal, CEO of edX and MIT Professor, will receive the U.S. Higher Education prize as an outstanding leader in the development of the Massive Open Online Course (MOOC) movement, which has helped make possible the education of millions of students around the world.

Alberto M. Carvalho, Superintendent of the Miami-Dade school district, will receive the U.S. K-12 prize for his exemplary leadership in raising standards and improving graduation rates in a complex urban district, which is an outstanding model for others.

Sakena Yacoobi, CEO of the Afghan Institute of Learning, will receive the International Education prize for the transformational effect her work has had on communities in Afghanistan, particularly in education for girls and women, and how she has inspired others to follow suit.
The Prize dinner and ceremony will be held at the ASU GSV Education Innovation Summit in San Diego on April 19.
"These three winners are extraordinary educational leaders who will inspire the next generation of learners around the world," said Harold (Terry) McGraw III, former chairman and CEO of The McGraw-Hill Companies. "We are proud to have them join the other illustrious recipients of the McGraw Prize in Education."
"Anant, Alberto, and Sakena have changed the lives of millions of students," said David Levin, president and CEO of McGraw-Hill Education. "Their accomplishments and innovation should be lauded and shared with others who are working to make a difference around the world."
"ASU is proud to be a part of this partnership that honors outstanding innovators in education," said Dr. Michael Crow, president of Arizona State University. "From increasing access to education to incorporating technology in the classroom, this year's winners have tackled some of the biggest challenges facing educators around the globe. Each of them provides an example of success from which we all can learn."
The Prize has undergone significant changes this year as part of a new alliance between McGraw-Hill Education and ASU. This year, for the first time, the public had the opportunity to submit nominations by visiting McGrawPrize.com. Over 200 public nominations were submitted and considered alongside other outstanding individuals identified by the Prize's dedicated research group.
The winners were chosen by Terry McGraw, David Levin and Michael Crow from a list of three finalists in each category who had been selected by a group of notable jurors, including former McGraw Prize winners.
The jurors were:
(*indicates past McGraw Prize winner)
K-12 Education:
Yvonne Chan* – Founder and Principal, Vaughn Next Century Learning Center

Mark Edwards* – Superintendent, Mooresville, NC School District

Nancy Grasmick* – Co-Director, Kennedy Krieger Institute; Presidential Scholar, Towson University

Gerry House* – President, Institute for Student Achievement

Linda Roberts – National Consultant, Senior Adviser, and Board Director
Higher Education:
Richard DeMillo – Executive Director, Center for 21st Century Universities, Georgia Tech

Robert Feldman – Deputy Chancellor, University of Massachusetts Amherst

Freeman Hrabowski* – President, The University of Maryland, Baltimore County

Diana Natalicio* – President, The University of Texas at El Paso

Jeff Selingo – Author, Columnist, and Speaker

Philip Uri Treisman – Executive Director, The Charles A. Dana Center, The University of Texas at Austin
International Education:
Valeria Brabata – Program Director for Latin America & the Caribbean, Global Fund for Women

Edward Byrne – President and Principal, King's College London

Sir Malcolm Grant – Chairman of NHS England; Chancellor, University of York

Ian Jacobs – President and Vice-Chancellor, University of New South Wales

Mike Keppell – Pro Vice-Chancellor of Learning Transformations, Swinburne University of Technology

David Noel Ramirez Padilla – Rector, Tecnologico de Monterrey

Andreas Schleicher* – Director for the Directorate of Education and Skills, the Organisation for Economic Co-operation and Development (OECD)

Pramath Raj Sinha – Founder and Trustee, Ashoka University, India
For updates on the Prize and news from past winners, follow the conversation at #McGrawPrize.
More information about the three winners is below:
Anant Agarwal, the CEO of edX and MIT Professor, is an educational visionary. As a driving force behind the development of the MOOC (Massive Open Online Course) movement, his efforts have made possible the education of literally millions of students around the world. He is committed to the democratization of learning. Through dozens of partnerships, edX, under Agarwal's leadership, has significantly increased access to education across the globe. You can see Agarwal's TED talk here or learn more about edX at www.edx.org.
Alberto M. Carvalho was named National Superintendent of the Year in 2014. In 2008, he took over the nation's fourth largest school district – Miami-Dade. Carvalho has shepherded this large district with remarkable success in what has become known as "The Miami Miracle" – narrowing the achievement gap, significantly improving graduation rates and returning the district to fiscal health. Miami-Dade now offers new programs to its 355,000 students each year including Carvalho's brainchild, iPrepAcademy, to make sure that "one size fits none." Carvalho is dedicated not only to ensuring student success in the classroom, but to finding solutions to the community violence that has been claiming student lives in Miami-Dade. Arriving in the U.S. at age 17 and speaking no English, Carvalho was the first person in his family to graduate from high school. You can see Carvalho's speech at the White House here.
Sakena Yacoobi is the CEO of the Afghan Institute of Learning (AIL), which she founded in 1995 in response to the lack of education and healthcare that the Afghan people were facing after decades of war and strife. Since its founding, AIL has either directly or indirectly affected the lives of more than 12 million people. Under Yacoobi's leadership, AIL continues as an innovative organization working at the grassroots level helping communities and individuals. She is also co-founder and Vice President of Creating Hope International (CHI) and has established private facilities in Afghanistan: four schools, a hospital and a radio station. You can see Yacoobi's TED talk here.
About McGraw-Hill Education
McGraw-Hill Education is a learning science company that delivers personalized learning experiences that help students, parents, educators and professionals improve results. McGraw-Hill Education has offices across North America, India, China, Europe, the Middle East and South America, and makes its learning solutions available in nearly 60 languages. Visit us at mheducation.com or find us on Facebook or Twitter.
About Arizona State University
Arizona State University has developed a new model for the American Research University, creating an institution that is committed to excellence, access, and impact. ASU measures itself by those it includes, not by those it excludes. ASU pursues research that contributes to the public good, and ASU assumes major responsibility for the economic, social, and cultural vitality of the communities that surround it. Under the direction of its president Dr. Michael Crow, ASU has emerged as one of the most progressive global education institutions worldwide. Learn more about this top-ranked research university.
Contacts:
Daniel Sieger
McGraw-Hill Education
(646) 766-2001
dan.sieger@mheducation.com
Carrie Lingenfelter
EdPlus at Arizona State University
(480) 884-1541
carrie.lingenfelter@asu.edu