Behind the Cube: Nicole Harris, Sr Director, Equity & Inclusion
Published February 19, 2021
---
At McGraw Hill, helping students learn, grow, and unlock their full potential is a team effort. Whether we work in product development, marketing, sales, engineering or elsewhere in the company, each of us makes an impact.
In our "Behind the Cube" series, we introduce employees who embody our mission, passion and values. For this month's edition, meet Nicole Harris, Sr Director of Equity & Inclusion in our PreK-12 department.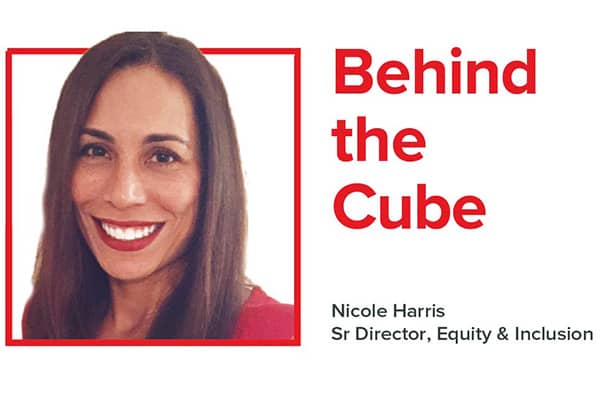 Time working at McGraw Hill: 10 years
Division/Department: PreK-12
Based in/Location: Orlando, Florida
Questions and Answers:
Tell us a bit about you and your role at McGraw Hill.

I am a proud mother of two, Houston and Holland, and I reside in Orlando, FL, with my children, husband KB, and dog, Hershey. Prior to coming to McGraw Hill, I worked in education as a teacher, instructional coach and K-12 Response to Intervention (RTI) coordinator. I worked for schools in Virginia, California, and most recently, Illinois, where I was fortunate to work with then McGraw Hill Sales Rep Julie Hill, who is now our VP of Open Territory West. Julie suggested I interview at McGraw Hill and 10 years later, I am still here. Time flies when you're having fun.

During my time at McGraw Hill, I have been a Regional and National Curriculum Specialist, Professional Learning Director, and Director of our ASG Math Sales & Implementation Team. Currently, I lead our National Educational Equity Team, also known as NEET.

Can you tell us about the National Educational Equity Team, and why you're passionate about this subject?

NEET's mission is to increase market share in our largest school systems across the country, provide equitably rich curriculum resources and professional development offerings and last, but certainly not least, support students, educators and communities to improve outcomes for all students. We know many districts are tackling immense issues, such as closing the achievement gap and increasing teacher capacity, all while enhancing best practices for educators and performance for students, in both in-person and virtual learning environments. Just as we have our vision for success, so do they.

Whether it is increasing graduation rates or improving students' lives through equity and social justice, if we align our goals to help all students achieve their full potential and prepare them to become the future innovators, problem-solvers and leaders of tomorrow, we all succeed.

What does a typical workday look like for you, and how has your work changed due to COVID-19?

Like most people these days, a typical workday for me is comprised of Zoom after Zoom after Zoom. I lead and participate in multiple meetings a day with district leaders (Superintendents, Assistant Superintendents, Curriculum Directors, Equity & Inclusion Directors, Principals, Board Members, teachers, etc.) and McGraw Hill stakeholders (sales, marketing, product/curriculum & our digital innovation teams) to discuss ways to continue our growth and pursuit of educational equity.

Interestingly enough, my direct experience in this work has primarily been during COVID-19. I started leading NEET in mid-January 2020 and was just beginning to dig into our initiatives when COVID-19 took over. Although our team has been unable to engage with our district partners or colleagues in person, we have connected and scaled our educational equity work through Zooms, district conversations, virtual conferences, book studies, and conducting professional learning sessions. The past 11 months have allowed us some non-travel time to really dig in deep and scale our work of diversity, equity and inclusion. We have created initiatives, training opportunities and processes to advance our work of educational equity.

I am looking forward to getting back to in-person connections and being in my work vehicle, airplanes and rental cars, to meet with educators across the country and support educational equity for those that we serve.

What are some of your favorite hobbies or activities outside of work?

I enjoy working out, attending my son's basketball games and my daughter's tennis tournaments. I enjoy eating out (more than cooking) and learning more about wine. I also enjoy taking my dog, Hershey, on walks with my husband.

What would you tell a potential candidate about working at McGraw Hill to encourage them to apply?

When I think about what I love most about working at McGraw Hill, three things immediately jump out at me. First, the people. Working with so many amazing colleagues across the country, many of whom I am close with, even outside of work, makes life here at McGraw Hill that much more rewarding.

The second awesome aspect of working here is the important work I am able to do for students and teachers within school districts across the country. Leading the National Educational Equity Team provides me the opportunity to collaborate with multiple divisions within McGraw Hill to better serve our school district partners. It is so exciting to continue our journey to provide equitably rich and socially aware resources to improve students' lives and educational experiences.

Lastly, I don't consider my role as just having a job, but a fulfilling career. With the support of great leadership, strong teams and the drive to succeed, I have been able to advance from Curriculum Specialist to leading one of our essential groups within the company. I have taken on McGraw Hill's vision of fostering and promoting advancement, and I take pride in nurturing current McGraw Hill talent to become our future leaders of tomorrow.
Are you curious about career opportunities at McGraw Hill?
Related Links: