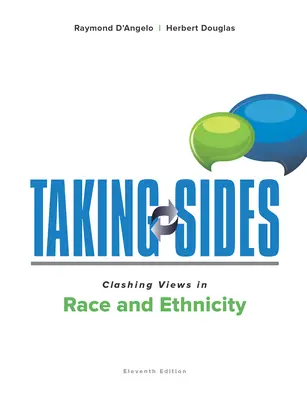 Taking Sides: Clashing Views in Race and Ethnicity
11th Edition
By Raymond D'Angelo and Herbert Douglas
ISBN10: 1259677672
ISBN13: 9781259677670
Copyright:
2017
---
Instructors: choose ebook for fast access or receive a print copy.
---
Program Details
UNIT 1: American Identity and Immigration
Issue: Do We Need a Common Identity?
Yes: Patrick J. Buchanan, from "Nation or Notion?" State of Emergency (2006)
No: Michael Walzer, from "What Does It Mean to Be an 'American'?" Social Research (1990)
Patrick J. Buchanan, a syndicated conservative columnist and author of The Death of the West: How Dying Populations and Immigrant Invasions Imperil Our Country and Civilizations (St. Martin's Griffin, 2002), argues that America needs one common identity. He views attempts to change America's historic identity as fraudulent. Michael Walzer, professor at the Institute for Advanced Study, makes the pluralist argument that America cannot avoid its multicultural identity. He explores the ways in which citizenship and nationality are compatible with the preservation of one's ethnic identity, culture, and community.
Issue: Are Multiculturalism and Assimilation Inevitable Components of the Emerging American Identity?
Yes: Stephen Steinberg, from "The Melting Pot and the Color Line," Reinventing the Melting Pot (2004)
No: Lawrence Auster, from "How the Multicultural Ideology Captured America," The Social Contract (2004)
Stephen Steinberg is a Distinguished Professor of Urban Studies at Queens College and the Graduate Center of the City University of New York. He extends and expands the idea of assimilation emerging from the Chicago sociologist Robert Park and argues that inevitable, sometime in the future, assimilation will occur in American society. Lawrence Auster is a conservative writer and blogger. He has written extensively on issues pertaining to national identity and ethnic diversity, including The Path to National Suicide: An Essay on Immigration and Multiculturalism (American Immigration Control Foundation, 1990). He sees that multiculturalism and diversity have gained popularity as an ideology based on a set of false propositions. For Auster, diversity and multiculturalism are real attacks on European culture.
Issue: Does Immigration Contribute to a Better America?
Yes: Philippe Legrain, from "The Case for Immigration: The Secret to Economic Vibrancy," The International Economy (2007)
No: Peter Brimelow, from "Immigration: Dissolving the People," Random House (1995)
Philippe Legrain is a journalist, economist, and author of Immigrants: Your Country Needs Them and Open World: The Truth about Globalisation. He makes the case that immigration contributes to a better America as well as a better world. His economic argument primarily emphasizes that the flow of immigrants within the global system brings both talent and labor to areas of need. Peter Brimelow, senior editor at Forbes and National Review magazines, argues that the United States is being overrun by a growing tide of aliens who are changing the character and composition of the nation in manners that are threatening and destructive to its well-being and prospects for future advancement.
Issue: Do Recent Immigration Trends Challenge Existing Ideas of America's White Identity?
Yes: Charles A. Gallagher, from "Racial Redistricting: Expanding the Boundaries of Whiteness," State University of New York Press (2004)
No: Ellis Cose, from "What's White, Anyway?" Newsweek (2000)
Charles A. Gallagher, author and sociology professor at Georgia State University, argues that America is currently undergoing a "racial redistricting" in which the boundaries of whiteness are expanding to include lighter-skinned people of color (i.e., Asians and some Latinos). Ellis Cose, an African American journalist, argues that the traditional boundaries that determine race and skin color are not what they once were. Although he does not specifically cite ethnicity, Cose furthers the claim that American identity today is an expanding category. The boundaries of whiteness have expanded and are no longer hard and fast.
UNIT 2: Rethinking the Color Line
Issue: Is the Obama Presidency Moving America Toward a Post-Racial Society?
Yes: Alvin Poussaint, from "Obama, Cosby, King, and the Mountaintop," CNN.com (2008)
No: Melissa V. Harris-Perry, from "Black by Choice," The Nation (2010)
Alvin Poussaint is a professor of psychiatry at the Harvard Medical School with a focus on child psychiatry. He argues that the election of Barack Obama may indicate that America is approaching the mountaintop that King preached about. Melissa V. Harris-Perry is a professor of politics at Tulane University. She is the author of Barbershops, Bibles, and BET: Everyday Talk and Black Political Thought (Princeton University Press, 2004). Harris-Lacewell uses President Barack Obama's selection of black as his race in filling out the census to argue that we are not ready for a post-racial society.
Issue: Is the Claim of White Skin Privilege a Myth?
Yes: Paul Kivel, from "White Benefits, Middle-Class Privilege," New Society Publishers (1995)
No: Tim Wise, from "The Absurdity (and Consistency) of White Denial: What Kind of Card Is Race?" CounterPunch (2006)
Paul Kivel, a teacher, writer, and antiviolence/antiracist activist, asserts that many benefits accrue to whites solely on the basis of skin color. These benefits range from economic to political advantages and so often include better residential choice, police protection, and education opportunities. Tim Wise, an author of two books on race, argues that whites do not acknowledge privilege. Instead, whites are often convinced that the race card is "played" by blacks to gain their own privilege, something that whites cannot do. Hence, whites simply do not see discrimination and do not attach privilege to their skin color.
Issue: Is the Emphasis on a Color-Blind Society an Answer to Racism?
Yes: Ward Connerly, from "Don't Box Me In," National Review (2001)
No: Eduardo Bonilla-Silva, from Racism without Racists: Color-Blind Racism and the Persistence of Racial Inequality in the United States, Rowman & Littlefield (2003)
Ward Connerly is a strong critic of all attempts at racial classification and believes that in order to achieve a racially egalitarian, unified American society, the government and private citizens must stop assigning people to categories delineated by race. To achieve this goal, Mr. Connerly is supporting the enactment of a "Racial Privacy Initiative." Eduardo Bonilla-Silva argues that "regardless of whites' sincere fictions, racial considerations shade almost everything in America" and, therefore, color-blind ideology is a cover for the racism and inequality that persist within contemporary American society.
Issue: Is Racial Profiling Defensible Public Policy?
Yes: Scott Johnson, from "Better Unsafe Than (Occasionally) Sorry?" The American Enterprise (2003)
No: Wade J. Henderson and Karen McGill Lawson, from "Restoring a National Consensus: The Need to End Racial Profiling in America," The Leadership Conference (2011)
Scott Johnson, conservative journalist and an attorney and fellow at the Clermont Institute, argues in favor of racial profiling. He claims that racial profiling does not exist "on the nation's highways and streets." In the report, "Restoring a National Consensus," Wade Henderson and Karen McGill Lawson argue that racial profiling is an unjust and ineffective method of law enforcement that makes us less, not more, safe and secure. However, profiling is pervasive and used by law enforcement at the federal, state, and local levels.
UNIT 3: Race Still Matters
Issue 9. Is Racism a Permanent Feature of American Society?
Yes: Linda Greenhouse, from "The End of Racism and other Fables," The New York Times (2000)
No: Russell Nieli, from "Postracialism': Do We Want It?" Princeton Alumni Weekly (2010)
Linda Greenhouse writes on the Supreme Court for the New York Times. A Pulitzer Prize winner in 1998, she also teaches at Yale Law School. Greenhouse is author of The U.S. Supreme Court: A Very Short Introduction and Becoming Justice Blackmun. In her review of Derrick Bell's Faces at the Bottom of the Well: The Permanence of Racism, Greenhouse points out that Bell believes that the prospects for achieving racial equality in the United States are "illusory" for blacks. Russell Nieli, a lecturer in politics at Princeton, works for the Executive Precept Program sponsored by Princeton's James Madison Program. He has written on affirmative action and the origins of an urban black underclass. Niele argues that American society is moving toward a meritocracy, which is post-racist (not post-racial). For him, race, ethnicity, and religious identity are less determinant than they were in earlier American history.
Issue: Is Criticism of President Obama Motivated by Racism?
Yes: Paul Rosenberg, from "It Is All Still About Race: Obama Hatred, the South and the Truth About GOB Wins," Salon (2014)
No: Peter Beinart, from "Reminder: Not All Republican Opposition to Obama Is Racist," The Atlantic (2014)
Paul Rosenberg is a writer for the website Salon, which focuses on politics and social issues from a liberal perspective. He believes that negative thinking and stereotypes of blacks within America are both historical and embedded, especially within the American South. It is within this racial context that he views the opposition to President Obama emanating from Republicans, especially those of the white South. To Rosenberg, racism is the driving force behind the rigid opposition that Obama has faced throughout his presidency. Peter Beinart, former editor of The New Republic, is a journalist and political commentator. He does not deny that race and racism impact American politics. However, Beinart argues that liberals need to acknowledge that Obama is not the first president to be attacked and disrespected. Thus, according to Beinart, vigorous opposition to a president and his or her policies might be but is not necessarily motivated by racism.
Issue: Are Native American Mascots Racist Symbols?
Yes: Sonia K. Katyal, from "The Fight over the Redskins Trademark and Other Racialized Symbols," Findlaw.com (2009)
No: Arthur J. Remillard, from "Holy War on the Football Field: Religion and the Florida State University Indian Mascot Controversy," Horsehide, Pigskin, Oval Tracks And Apple Pie: Essays on Sport And American Culture (2005)
Sonia K. Katyal, professor of law and author of Property Outlaws, discusses the use of Native American mascots in professional sports, with an emphasis on the Washington Redskins and the negative impact of the use of such symbols on Native American peoples and culture. Arthur Remillard, professor of religious studies, recognizes the concern that the use of Native American mascots within non-Native institutions generates. However, he argues that the use of such symbols can be viewed as contributing to respect for Native American culture and its inherent strengths among the American population.
UNIT 4: The Supreme Court
Issue: Is Affirmative Action an Effective Way to Reverse Racial Inequality?
Yes: Chauncey DeVega, from "White America's Toxic Ignorance: Abigail Fisher, Antonin Scalia and the Real Privilege That Goes Unspoken," Salon (2015)
No: Richard Sander and Stuart Taylor, Jr., from "The Painful Truth About Affirmative Action," The Atlantic (2012)
Chauncey DeVega, a political essayist and cultural critic, presents a significant review of the history of racial discrimination and exclusion that African Americans have experienced throughout the history of the nation. Given this history and the prevalence of white skin privilege throughout history, DeVega views affirmative action as a modest attempt to foster equal opportunity. According to DeVega, opposition to affirmative action is often informed by ignorance and racism. Richard Sander, a UCLA law professor and economist, and Stuart Taylor Jr., contributing editor for National Journal and a contributing editor at Newsweek, are concerned that affirmative action in college admissions has evolved into a program of racial preferences that do harm to both minority students and the colleges which they attend. Sander and Taylor are also concerned that colleges are not responding to the need to reform such programs.
Issue: Is Stand Your Ground Legislation Race Neutral?
Yes: Patrik Jonsson, from "Racial Bias and 'Stand Your Ground' Laws: What the Data Show," The Christian Science Monitor (2013)
No: Sabrina Strings, from "Protecting What's White: A New Look at Stand Your Ground Laws," The Feminist Wire (2014)
Patrik Jonsson, a staff writer for The Christian Science Monitor who writes about race and gun rights, argues that 'stand your ground' laws are not racially biased. He believes that such legislation is a response to the increasing concern with self-defense that has been generated by events such as 9/11 and the high rate of crime. Sabrina Strings, a sociologist at the University of California who teaches in the School of Public Health and Sociology, believes that 'stand your ground' laws are not racially neutral and are primarily directed at African Americans. To Strings, 'stand your ground' laws are reflective of an historical tendency to protect whites and their property from a perceived threat from African Americans, especially black males.
Issue: Should Children of Undocumented Immigrants Have a Birthright to U.S. Citizenship?
Yes: Eric Foner, from "Birthright Citizenship Sets America Apart," The Cap Times (2010)
No: George F. Will, from "An Argument to Be Made about Immigrant Babies and Citizenship," The Washington Post (2010)
Distinguished professor of history at Columbia University, Eric Foner examines the legal and constitutional basis for granting birthright citizenship and argues that this right illuminates the strength of American society. Conservative newspaper columnist and commentator, George F. Will is troubled by the facile tendency to grant birthright citizenship to the children of undocumented immigrants. He views this practice as reflecting a misinterpretation of the Bill of Rights and the Fourteenth Amendment. He vigorously opposes this policy.
Issue: Is There a Need for a Permanent Voting Rights Act?
Yes: Linda Greenhouse, from "The More Things Change…," The New York Times (2013)
No: Abigail Thernstrom, from "Redistricting, Race, and the Voting Rights Act," National Affairs (2010)
Linda Greenhouse writes about the Supreme Court for the New York Times. She expresses concern about the Court's attempts to invalidate Section 5 of the Voting Rights Act. She leaves us with the implication that this development is due to the ascendency of conservatism in American politics and the continuing impact of race in legal and political decision-making. Abigail Thernstrom, a political scientist, is a senior fellow at the Manhattan Institute in New York. She has written extensively on race and voting rights. She argues that it is time to end race-driven districting and that certain sections, especially Section 5, of the Voting Rights Act of 1965 are no longer needed.
UNIT 5: Geography of Race
Issue: Is Environmental Racism a Reality?
Yes: Errol Schweizer, from "Environmental Justice: An Interview with Robert Bullard," Earth First! Journal (1999)
No: David Friedman, from "The 'Environmental Racism' Hoax," The American Enterprise (1998)
Errol Schweizer is a former Executive Global Grocery Coordinator at Whole Foods Market. He is an advocate for organic and biodynamic foods. Throughout his interview with Robert Bullard, known as the father of environmentalism, Schweizer supports the claim that environmental racism is an American reality. Schweizer cites Bullard's description of the environmental justice movement as a combined concern for both the physical and cultural environments. Throughout the interview, race is a factor for unwanted land use. David Friedman, a writer and an MIT Japan fellow, rejects any claim that environmental racism exists in the nation. He asserts that the research utilized to support the existence of environmental racism is flawed and that the data have not been properly analyzed.
Issue: Is the Mass Incarceration of Blacks and Latinos the New Jim Crow?
Yes: James Kilgore, from "Racism and Mass Incarceration in the US Heartland: Historical Roots of the New Jim Crow," Truthout (2015)
No: James Forman, Jr., from "Racial Critiques of Mass Incarceration: Beyond the New Jim Crow," Racial Critiques (2012)
James Kilgore, through a study of the Midwestern criminal legal system, argues that anti-black racism, especially in the Midwest, resulting in high rates of incarceration, is determined by a number of factors. Decades of segregation and deindustrialization have contributed to mass incarceration. He argues that mass incarceration will not end unless there is a restructuring of the regional economy along with an attack on white supremacy. James Forman, Jr., a clinical professor of law at Yale Law School and a noted constitutional law scholar, affirms the utility of the new Jim Crow paradigm but argues that it has significant limitations. It obscures significant facts regarding the history of mass incarceration as well as black support for punitive criminal justice policy among other deficiencies.
Issue: Is Gentrification Another Form of Segregation?
Yes: Jeremiah Moss, from "On Spike Lee & Hyper-Gentrification," Vanishing New York (2014)
No: Justin Davidson, from "Is Gentrification All Bad?" New York Magazine (2014)
Jeremiah Moss, an urban based writer, views gentrification as a destructive process through which African Americans and others are displaced by affluent whites. He is concerned that communities with a rich culture and stability are experiencing a significant uprooting of their homes and communities due to gentrification. Justin Davidson, a writer for New York Magazine, sees many positive outcomes that result from gentrification. Among these are economic development, neighborhood revitalization, and improvements in standards of living.
Issue: Is Black Lives Matter an Effective Civil Rights Organization?
Yes: Julia Craven, Ryan J. Reilly, and Mariah Stewart, from "The Ferguson Protests Worked," The Huffington Post (2016)
No: Barbara Reynolds, from "I Was a Civil Rights Activist in the 1960s. But It's Hard for Me to Get Behind Black Lives Matter," The Washington Post (2015)
Julia Craven, Ryan Reilly, and Mariah Stewart argue that the unrest which accompanied the Ferguson protests were necessary to begin a reform process. They cite several examples in which they assert that militant actions by Black Lives Matter activists have had a positive impact in moving local, state, and federal authorities to begin to implement reforms in the criminal justice system of St. Louis County. Barbara Reynolds is former editor and columnist for USA Today who was an activist in the civil rights movement in the 1960s. Although she is committed to the goals of Black Lives Matter, Reynolds is troubled by certain tactics and behaviors in which movement members engage. Reynolds' concerns include her contention that Black Lives Matter activists have not learned important lessons from previous civil rights struggles, especially the civil rights movement. She is also concerned that rather than seeking insight, wisdom, and guidance from older generations of activists, they have tended to alienate the older generation.