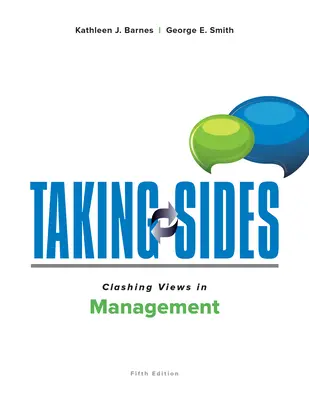 Taking Sides: Clashing Views in Management
5th Edition
By Kathleen Barnes and George Smith
ISBN10: 1259873455
ISBN13: 9781259873454
Copyright:
2018
Product Details

+
Taking Sides Collection on McGraw-Hill Create® includes current controversial issues in a debate-style format designed to stimulate student interest and develop critical thinking skills. Each issue is framed with Learning Outcomes, an Issue Summary, an Introduction, and an "Exploring the Issue" section featuring Critical Thinking and Reflection, Is There Common Ground?, Additional Resources and Internet References.
---
Instructors: choose ebook for fast access or receive a print copy.
---
Program Details
Unit 1: Ethical Issues for Managers
Issue: Do Corporations Have a Responsibility to Society Beyond Maximizing Profit?
Yes: Knowledge@Wharton, from "Why Companies Can No Longer Afford to Ignore Their Social Responsibilities," Time (2012)
No: Milton Friedman, from "The Social Responsibility of Business Is to Increase Its Profits," The New York Times Magazine (1970)
Knowledge@Wharton maintains that companies care about corporate social responsibility because their customers do and ignore it at their own peril. In his classical defense of the profit motive, Nobel laureate Milton Friedman attacks social responsibility, arguing that spending shareholders' property against their wishes is immoral, illegal, and ultimately unproductive.
Issue: Are U.S. CEOs Paid More Than They Deserve?
Yes: Sarah Anderson et al., from "Executive Excess 2008: How Average Taxpayers Subsidize Runaway Pay," Institute for Policy Studies (2007)
No: Poonkulali Thangavelu, from "Justifications for High CEO Pay (AAPL, GE)," Investopedia (2015)
Arguing that U.S. CEOs are substantially overpaid in a 2008 study conducted for the Institute for Policy Studies (IPS) are compensation expert and IPS Fellow Sarah Anderson and her colleagues. Arguing that companies have come up with a number of reasons for the pay differential between CEOs and other workers, but they sometimes seem to be specious, as a CEO's pay is often set by their boards of directors who have every incentive to please them, states respected financial journalist Poonkulali Thangavelu.
Unit 2: Human Resource Management
Issue: Does an Employer's Need to Monitor Workers Trump Employee Privacy Concerns?
Yes: The Week Staff, from "The Rise of Workplace Spying," The Week (2015)
No: Caron Beesley, from "Email, Phone and Social Media Monitoring in the Workplace—Know Your Rights as an Employer," U.S. Small Business Administration (2016)
The Week staff outlines how a growing number of companies are using technology to monitor employee's emails, phone calls, and movements. Caron Beesley, a Small Business Administration contributor, provides guidelines to employers on how not to violate employees' right to privacy.
Issue: Is Workplace Drug Testing a Wise Corporate Policy?
Yes: Elaine Davis and Stacie Hueller, from "Strengthening the Case for Workplace Drug Testing: The Growing Problem of Methamphetamines," SAM Advanced Management Journal (2006)
No: Emily Gray Brosious, from "Public Schools Spend Major Cash on Ineffective Student Drug Testing Programs," Extract (2015)
Scholars Elaine Davis and Stacie Hueller provide an analysis on how and why businesses should address the growing use of methamphetamines in the workplace. Sun-Times Network reporter Emily Gray Brosious cites several secondary schools that drug-test their students even in the light of numerous studies that show very little evidence that drug tests are effective.
Issue: Is Social Media a Tool of Expression or Trouble for Businesses?
Yes: Christopher E. Parker, from "Rising Tide of Social Media," The Federal Lawyer (2011)
No: David L. Barron, from "Social Media: Frontier for Employee Disputes," Baseline (2012)
Christopher E. Parker argues that the prevalence of social media is quite clear and a useful tool for business. Many employers now routinely use social networking sites in advertising, marketing, communication, and decision making, and to conduct research about the backgrounds of job candidates. David L. Barron argues that employees are increasingly making complaints to human resources departments and management over offensive or harassing statements made online. With the rise of cyber-bullying and "textual harassment," employees must be made to understand that company policies extend into cyber-space and social media forums, and these policies must be followed.
Issue: Are Unions Good or Bad for Employees and Corporations?
Yes: Henry Blodget, from "I've Always Hated the Idea of Labor Unions, But It May Be Time to Reconsider," Business Insider (2012)
No: Derek Thompson, from " 'Unnecessary' and 'Political': Why Unions Are Bad for America," The Atlantic (2012)
Business Insider contributor Henry Blodget lists the reasons he doesn't like unions, but then discusses the extreme compensation inequity that is worse than any time since the late 1920s. Derek Thompson relays The Atlantic's readers' responses to the question whether unions were necessary to restore wealth to average American families.
Unit 3: Strategic Management
Issue: Is Outsourcing a Wise Corporate Strategy?
Yes: BusinessWeek, from "The Future of Outsourcing: How It's Transforming Whole Industries and Changing the Way We Work," Bloomberg Businessweek (2006)
No: Ephraim Schwartz, from "Painful Lessons from IT Outsourcing Gone Bad," InfoWorld (2008)
BusinessWeek writers argue that outsourcing is likely to become even more important to corporate America in the near future. Indeed, they suggest that it has the potential to transform whole industries. InfoWorld columnist Ephraim Schwartz explores the often-overlooked costs associated with failed outsourcing initiatives. His analysis consists of four brief case studies of outsourcing initiatives that turned out badly.
Issue: Will the Use of Reshoring/Insourcing by Corporations Increase?
Yes: Andrew Sikula, Sr., et al., from "Insourcing: Reversing American Outsourcing in the New World Economy," Supervision (2010)
No: David J. Lynch, from " 'Reshoring' of Jobs Looks Meager," Bloomberg Businessweek (2012)
Andrew Sikula and colleagues discuss reasons why a movement to insourcing is currently occurring. The authors conclude that this movement is going to expand during the next several years in the United States. David J. Lynch observes that many of the jobs a nation (e.g., China) is losing are heading to other low-cost Asian nations. In addition, he observes that while some jobs have returned to the United States, other jobs are still being shipped out of the country.
Issue: Does Expanding via Mergers and Acquisitions Make for Sound Corporate Strategy?
Yes: Rosy Kalra, from "Mergers and Acquisitions: An Empirical Study on the Post-Merger Performance of Selected Corporate Firms in India," The IUP Journal of Business Strategy (2013)
No: Anand Sanwal, from "M&A's Losing Hand," Business Finance Magazine (2008)
Rosy Kalra studied 47 firms listed in Indian stock exchanges which underwent mergers and acquisitions between April 1, 2008 and March 31, 2009. Kalra's study showed there is significant improvement in the liquidity, profitability, operating performance, and financial leverage for a few merged/acquirer firms. Anand Sanwal examines 33 large merger and acquisition (M&A) transactions from Europe, Canada, and the United States. The evidence is that a great number of these M&A transactions have actually destroyed value. He also contends that in many of the transactions that did fare well, luck was often a large factor.
Issue: Are Trade Agreements Good or Bad for the U.S. Economy?
Yes: Ana I. Eiras, from "Why America Needs to Support Free Trade," The Heritage Foundation (2004)
No: Robert E. Scott, from "'Free Trade Costs American Jobs," Newsweek (2015)
Ana I. Eiras, Heritage Foundation's International Economics Senior Policy Analyst, discusses the classic argument of how free trade is an essential pillar of U.S. economic power and prosperity and outlines reasons to support free trade. According to Robert E. Scott, the Economic Policy Institute's Director of Trade and Manufacturing Policy Research, several U.S. trade partners managing the value of their own currencies for competitive gain vis-à-vis the United States are the most important barrier to U.S. export success.
Issue: Does It Make Good Business (Economic) Sense to Bring Manufacturing Back to the United States?
Yes: Thomas Roemer, from "Why It's Time to Bring Manufacturing Back Home to the U.S.," Forbes (2015)
No: Sita Slavov and Ben Ho, from "Stop Wishing for the Return of Manufacturing Jobs," U.S. News & World Report (2014)
MIT Sloan School of Management Senior Lecturer and MIT Leaders for Global Operations program Executive Director Thomas Roemer discusses five factors for the shift to bring manufacturing back to the United States. Sita Slavov and Ben Ho discuss how many politicians emphasize the importance of manufacturing, but this reflects a fundamental misunderstanding of the United States' service-based economy.
Unit 4: Environmental Management
Issue: Should Corporations Adopt Environmentally Friendly Policies of Corporate Social Responsibility (CSR) and Sustainable Development?
Yes: Sierra Club, from "From the Current Articles of Incorporation & Bylaws, June 20, 1981," Sierra Club (2006)
No: Paul Driessen, from "Roots of Eco-Imperialism," Free Enterprise Press (2003)
The Sierra Club is a leading environmentalist organization and has consistently advocated for the implementation of CSR policies in the workplace. The selection presented here provides insight into their philosophy and expectations as they relate to corporate behavior and its impact on the natural environment. Paul Driessen, trained in environmental science and a major advocate for the world's poor, writes a blistering attack on CSR and its constituent policies. He argues that these policies bring misery and death to the world's poor and act as camouflage for the environmentalist's anticapitalism, pro-statism agenda.
Issue: Is Corporate Sustainability Reporting a Valuable Corporate Reporting Tool?
Yes: Brian Ballou, Dan L. Heitger, and Charles E. Landes, from "The Future of Corporate Sustainability Reporting: A Rapidly Growing Assurance Opportunity," Journal of Accountancy (2006)
No: Jeff Leinaweaver, from "Is Corporate Sustainability Reporting a Great Waste of Time?" The Guardian (2015)
Brian Ballou, Dan L. Heitger, and Charles E. Landes note that corporations have come to the realization that there is value to reporting on sustainability issues and note that this trend is increasing the number of reports published annually. The article also discusses some steps for improving the existing processes that are focused on the G3 Reporting Initiative and auditing. Jeff Leinaweaver, Global Zen Sustainability principal, warns that companies are wasting time and money creating sustainability reports that aren't effective.
Issue: Is It Really Possible to Create Sustainable Businesses?
Yes: Chris Boyd, from "Sustainability Is Good Business," The OECD Observer (2001)
No: Auden Schendler and Michael Toffel, from "Corporate Sustainability Is Not Sustainable," Grist Magazine (2013)
Chris Boyd argues that there "is no fundamental contradiction between concern for the environment or social responsibility and the profit motive" and that "it is good business for companies to act in a more sustainable way." Auden Schendler and Michael Toffel relay that most green scorecards, corporate strategies, media, and shareholder analyses of business focus almost entirely on operational greening activities and policies, and don't actually measure sustainability. These authors then outline five characteristics of a meaningful corporate sustainability program.
Unit 5: International Management
Issue: Do Unskilled Immigrants Hurt the American Economy?
Yes: Steven Malanga, from "How Unskilled Immigrants Hurt Our Economy," City Journal (2006)
No: Diana Furchtgott-Roth, from "The Case for Immigration," The New York Sun (2006)
Steven Malanga believes the influx of unskilled immigrant's results in job loss by native workers and lower investment in labor-saving technology. He also contends that illegal immigration taxes our already-strained welfare and social security systems. Diana Furchtgott-Roth, senior fellow at the Hudson Institute and a former chief economist at the U.S. Department of Labor, points out that annual immigration represents a small portion of the U.S. labor force, and, in any event, immigrant laborers complement, rather than replace, legal American citizens in the workplace.
Issue: Is Economic Globalization Good for Humankind?
Yes: Paul A. Gigot and Guy Sorman, from "Foreword," The Heritage Foundation (2008)
No: Branko Milanovic, from "Why Globalization Is in Trouble—Parts 1 and 2," YaleGlobal Online (2006)
Arguing that globalization is good for humankind are Paul A. Gigot and Guy Sorman. They outline seven ways in which globalization has positively impacted life and what needs to be done to further its advancement. Branko Milanovic, an economist with both the Carnegie Endowment for International Peace and the World Bank, is against globalization. Milanovic addresses several reasons for his views while emphasizing the incompatibility of globalization with the ages-old ethnic and religious traditions and values that characterize much of the world.
Issue: Are Protectionist Policies Beneficial to Business?
Yes: Ha-Joon Chang, from "Protecting the Global Poor," Prospect Magazine (2007)
No: Robert Krol, from "Trade, Protectionism, and the U.S. Economy: Examining the Evidence," The Cato Institute (2008)
In support of the idea that protectionist policies help business, Ha-Joon Chang focuses attention on developing industries in poor countries. Further, he describes and advocates historical protectionist policies from around the world. Robert Krol describes the findings of various economic studies of international trade. The areas that he surveys include the effect of trade on employment and wages as well of the costs of trade restrictions. He concludes that overall the benefits from protectionist policies are overshadowed by their negative effects.
Issue: Is Globalization Beneficial for Society?
Yes: Stephen A. Baker and Robert A. Lawson, from "The Benefits of Globalization: An Economic Perspective," Journal of Lutheran Ethics (2002)
No: Sergio Obeso, from "Globalization and Its Consequences for the Countries and People in Mexico and Latin America," Kolping International (Accessed 2012)
Professors Steven A. Baker and Robert A. Larson discuss the benefits of globalization for both developed and developing nations and peoples. While acknowledging that there are imperfections in the approach, they note that globalization can have a positive effect and can help nations and people successfully address the issue of poverty. Sergio Obeso, Archbishop Emeritus of Xalapa, presents his view of globalization's impact on the people of Mexico and Latin America. While he acknowledges that some benefits were derived from these practices and this process, Archbishop Obeso observes that there have been adverse consequences on local and regional cultures as well as other forms of regional and nationalistic expression (e.g., politics, religion, societal values).