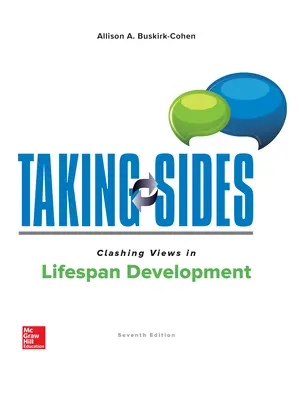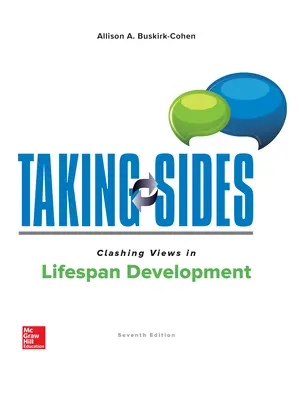 Taking Sides: Clashing Views in Lifespan Development
,
7th Edition
ISBN10: 1260494179 | ISBN13: 9781260494174
Purchase Options:
* The estimated amount of time this product will be on the market is based on a number of factors, including faculty input to instructional design and the prior revision cycle and updates to academic research-which typically results in a revision cycle ranging from every two to four years for this product. Pricing subject to change at any time.
Instructor Details
The Taking Sides Collection on McGraw-Hill Create® includes current controversial issues in a debate-style forma designed to stimulate student interest and develop critical thinking skills. This Collection contains a multitude of current and classic issues to enhance and customize your course. You can browse the entire Taking Sides Collection on Create or you can search by topic, author, or keywords. Each Taking Sides issue is thoughtfully framed with Learning Outcomes, an Issue Summary, an Introduction, and an "Exploring the Issue" section featuring Critical Thinking and Reflection, Is There Common Ground?, Additional Resources, and Internet References. Go to the Taking Sides Collection on McGraw-Hill Create® at www.mcgrawhillcreate.com/takingsides and click on "Explore this Collection" to browse the entire Collection. Select individual Taking Sides issues to enhance your course, or access and select the entire Buskirk-Cohen: Taking Sides: Clashing Views in Lifespan Development, 7/e book for here http://create.mheducation.com/createonline/index.html#qlink=search%2Ftext%3Disbn:1260494179 an easy, pre-built teaching resource. Visit http://create.mheducation.com for more information on other McGraw-Hill titles and special collections.
Unit 1: General Issues in the Study of Lifespan Development


Issue: Does the Cultural Environment Influence Emotions More Than Our Genes?
YES: Rachael E. Jack et al., from "Facial Expressions of Emotion Are Not Culturally Universal," Proceedings of the National Academy of Sciences (2012)
NO: Beau Sievers et al., from "Music and Movement Share a Dynamic Structure that Supports Universal Expressions of Emotion," Proceedings of the National Academy of Sciences (2013)


The long-standing question of whether nature or nurture has a bigger impact on our development can be examined in terms of our emotions. Many believe that emotions are biologically hardwired; however, the research from Rachel Jack and colleagues questions that belief. These researchers compared facial expressions of emotions of individuals from Western and Eastern cultures, finding differences that highlight the influence of culture on how we represent emotions. However, the work of Beau Sievers and colleagues studies music in the United States and in an isolated tribal village in Cambodia. They utilized a computer program to generate matching examples of music and movement. They found that music and movement were interpreted similarly both within and across cultures, suggesting a universal expression of emotion.


Issue: Should Happiness Be Our Goal?
YES: Daniel Sgroi, from "Happiness and Productivity: Understanding the Happy-productive Worker," Global Perspectives Series: Paper (2015)
NO: Emily Esfahani Smith, from "There's More to Life Than Being Happy," The Atlantic (2013)


Much of psychology's history has focused on dysfunction and misery. However, in more recent years, psychologists have shifted their attention to study wellness, and, more specifically, happiness. Daniel Sgroi utilizes several small experiments to demonstrate happiness as an input to economic processes of productivity. His paper argues that the main path from happiness to productivity is through increased work effort. On the other hand, Emily Esfahani Smith argues that a meaningful life is better than a happy one. She reviews a current research study that found important differences between a meaningful life and a happy one. Smith posits that pursuing meaning is about giving, which is more important than simply pursuing pleasure.


Unit 2: Prenatal Development and Infancy


Issue: Are Midwives and Homebirths the Best Option?
YES: Jamie Santa Cruz, from "Call the Midwife," The Atlantic (2015)
NO: Jonathan M. Snowden, et al., from "Planned Out-of-Hospital Birth and Birth Outcomes," New England Journal of Medicine (2015)


Jamie Santa Cruz documents a growing trend among American mothers to rely on midwives, rather than physicians, for prenatal care, labor, and delivery. She describes the roles of rising costs of labor and delivery, rates of surgery and other medical interventions, and philosophical differences in this trend. However, are midwife-attended births safe? Jonathan Snowden and colleagues analyzed data of Oregon births that took place during 2012 and 2013. They found that perinatal mortality was higher with planned out-of-hospital birth than with planned in-hospital birth. Their study highlights the complexities involved in assessing birth risks.


Issue: Is Breastfeeding Inevitably Best for Healthy Development?
YES: Fani Anatolitou, from "Human Milk Benefits and Breastfeeding," Journal of Pediatric and Neonatal Individualized Medicine (JPNIM) (2012)
NO: Courtney Jung, from "Overselling Breastfeeding," The New York Times (2015)


Fani Anatolitou describes research documenting the benefits of breastmilk, arguing the breastfeeding is linked with strong infant and maternal health outcomes in both the industrialized and developing world. Given the advantages, Anatolitou argues that breastfeeding should considered a basic health issue, not a lifestyle choice. However, Courtney Jung's article provides a cautionary view of these benefits. She describes the zealousness with which Americans pursue breastfeeding, possibly to the detriment of the mother's health and with limited benefits for the child. Jung also describes the economic motivation for encouraging breastfeeding. She does not discourage it, but rather invites readers to examine parenting practices with a critical lens.


Issue: Is Co-sleeping Safe for Baby?
YES: Wendy Middlemiss, from "Bringing the Parent Back into Decisions about Nighttime Care," Clinical Lactation (2013)
NO: Adrienne LaFrance, from "About that Scary Swaddling Study," The Atlantic (2016)


Educational psychologist Wendy Middlemiss advocates that healthcare providers discuss options of nighttime care with parents, rather than providing specific advice that may conflict with parents' beliefs and preferences. Furthermore, she discusses ways for healthcare providers address infant safety and health that best match each family. However, all choices may not be equal, argues Adrienne LaFrance. Her article describes a new meta-analysis that links swaddling with a higher risk of SIDS. Importantly, LaFrance emphasizes the importance of how research is interpreting and examines some of the limitations to the meta-analysis. Her work emphasizes the need for caregivers to engage in thoughtful decision-making regarding nighttime care.


Unit 3: Early and Middle Childhood


Issue: Is Preschool Education Worthwhile?
YES: Hirokazu Yoshikawa et al., from "Investing in Our Future: The Evidence Base on Preschool Education," Society for Research in Child Development and Foundation for Child Development (2013)
NO: David J. Armor and Sonia Sousa, from "The Dubious Promise of Universal Preschool," National Affairs (2014)


Should young children be formally educated in preschools? Given the high costs, is it a worthwhile investment? Hirokazu Yoshikawa led a team of researchers from the Foundation for Child Development in an examination of the current research on early childhood education. They found that scientific research supports the academic, social, emotional and economic benefits of preschool. Professors David Armor and Sonia Sousa, in contrast, point to disappointing results from the existing federal preschool program Head Start. While they acknowledge some benefits, they point to their small and short-term impact. They do not believe research overwhelmingly supports the benefits of preschool.


Issue: Is an Assault Weapons Ban the Best Way to Reduce School Shootings?
YES: Christopher Ingraham, from "It's Time to Bring Back the Assault Weapons Ban, Gun Violence Experts Say," The Washington Post (2018)
NO: United States Secret Service National Threat Assessment Center, from "Enhancing School Safety Using a Threat Assessment Model," Department of Homeland Security (2018)


School shootings have brought attention back to the idea of banning assault weapons. Christopher Ingraham claims that the deadliest mass shootings in the United States have involved assault weapons, and a return to their ban is necessary. However, the federal report from the United States Secret Service National Threat Assessment Center presents another model to reduce school shootings. This paper recommends the creation of threat assessment team that uses mental health, law enforcement, and education professionals to help identity and support individuals.


Issue: Should We Try to "Cure" Autism?
YES: Ruth Padawer, from "The Kids Who Beat Autism," The New York Times (2014)
NO: Aaron Rothstein, from "Mental Disorder or Neurodiversity?" The New Atlantis: A Journal of Technology and Society (2012)


Autism has been viewed through several different lenses in its history. One question in current debate involves how we view autism, and treatment for individuals with autism. Reporter Ruth Padawer describes how applied behavior analysis (A.B.A.) has seemingly "cured" some children of autism. She profiles these children, showcasing their individual responses to therapeutic programs. However, medical student Aaron Rothstein cautions that autism might be considered an example of neurodiversity, rather than a disorder. He describes how and why many autism advocates argue against the idea of a "cure." Instead, the focus of research should be on better understanding the complexity of human behavior.


Unit 4: Adolescence and Early Adulthood


Issue: Is There a Sexting Epidemic?
YES: Hanna Rosin, from "Why Kids Sext," The Atlantic (2014)
NO: Elizabeth Englander, from "Coerced Sexting and Revenge Porn Among Teens," Civic Research Institute (2015)


Sexting has become a top concern among parents of youth and professionals who work with them. Hanna Rosin looks into one specific adolescent texting scandal to examine how youth think about sexting. Her article reveals the range of responses to sexting, and the harm that can result from well-intentioned adults. However, Elizabeth Kandel Englander's analysis of older adolescents indicates that some of the sexting dangers frequently discussed are not supported by data. Her research shows that most sexting occurs in older adolescents and takes place in the context of romantic relationships. Suggestions for evidence-based approaches for discussing sexting with adolescents are provided.


Issue: Are Fraternities Too Dangerous for College Students?
YES: Devon M. Alvarez, from "Death by Hazing: Should there be a Federal Law Against Fraternity and Sorority Hazing?" Journal of Multidisciplinary Research (2015)
NO: Olga Khazan, from "The Bro Whisperer," The Atlantic (2015)


Devon Alvarez provides an overview of hazing in sororities and fraternities and reviews the current laws on hazing in the United States. Alvarez finds that anti-hazing legislation varies from state to state both in terms of definitions and consequences. Therefore, the proposed solution includes federal anti-hazing legislation. On the other hand, Olga Khazan follows the work of sociology professor Michael Kimmel who argues the problem is our definition of masculinity, not Greek life. This article describes Kimmel's work to change power dynamics around sexual behaviors. Several potential solutions are explored, all with the focus on reviving the concept of the gentleman.


Issue: Is a College Degree Valuable?
YES: Jennifer Ma, Matea Pender, and Meredith Welch, from "Education Pays 2016: The Benefits of Higher Education for Individuals and Society—Trends in Higher Education Series," The College Board (2016)
NO: Cristina C. López, from "Measuring College Value," Journal of Multidisciplinary Research (2018)


Jennifer Ma and colleagues describe differences in earnings and employment patters of adults with different levels of education in the United States. They find that college education increases the likelihood of moving up the socioeconomic ladder and is associated with healthier lifestyles. Do these findings hold true for all individuals? Cristina López reviews the literature on the value of obtaining a college degree, focusing on minority first-generation college students with low socioeconomic status and a lack of role models at home. She finds that these students are at risk for retention, program completion, and access to rewarding careers.


Issue: Is Facebook Bad for College Students' Health?
YES: Holly B. Shakya and Nicholas A. Christakis, from "Association of Facebook Use With Compromised Well-Being: A Longitudinal Study," American Journal of Epidemiology (2017)
NO: Peter Jegrace Jehopio, Ronald Wesonga, and Douglas Andabati Candia, from "Effect of Online Social Networking Sites Usage on Academic Performance of University Students in Uganda," International Journal of Computer Applications (2017)


Young adults commonly use social networking sites. Are their negative consequences for that use to our psychological health? Holly Shakya and Nicholas Christakis evaluated the associations of Facebook activity and real-world social network activity with several measures of well-being. Overall, their results demonstrate that use of Facebook is negatively associated with well-being. In a study looking specifically at the academic context, Peter Jehopio and colleagues investigated whether the use of online social networking sites improves academic performance. They found that students who managed their time well and who used online social networking sites for academic purposes were more likely to perform better academically.


Unit 5: Middle Adulthood


Issue: Do Adults Need to Place More Value on Marriage?
YES: Lawrence Aber, et al., from "Opportunity, Responsibility, and Security: A Consensus Plan for Reducing Poverty and Restoring the American Dream," American Enterprise Institute (2015)
NO: Brenda McKerson, from "Raising the Next Generation: What's Gender Got to Do with It?" Plaza: Dialogues in Language and Literature (2014)


In this policy report, members of the Brookings Working Group argue marriage offers significant benefits, particularly for children. They recommend promoting new cultural norms for parenthood and marriage, providing young adults with education on family planning and effective parenting, and helping to engage young men in work and family. In contrast, Brenda McKerson argues that research on "non-traditional" couples often reflects heterosexist norms. She draws parallels between racial discrimination in the 1960's and discrimination faced by same-sex couples today. Furthermore, McKerson believes that as generations become more accepting of different family structures, research findings will change to reflect this acceptance.


Issue: Should Grandparents Have Visitation Rights to Their Grandchildren?
YES: Lixia Qu et al., from "Grandparenting and the 2006 Family Law Reforms," Family Matters (2011)
NO: Rachel Dunifon and Ashish Bajracharya, from "The Role of Grandparents in the Lives of Youth," Journal of Family Issues (2012)


Lixia Qu and colleagues review Australian data on grandparent-grandchild involvement before and after the 2006 legal reforms. They find that that family law reforms are consistent with parental beliefs about grandparent involvement. However, they caution that the reforms do not address many practicalities, including knowledge about the legal system. However, the research of Rachel Dunifon and Ashish Bajracharya, does not find clear evidence that grandparents influence the well-being of their grandchildren. They find that distance, the parent's relationship with the grandparent and child, and age of child and parent all contribute to the quality of the grandparent-grandchild relationship.


Issue: Are Pap Smears Unnecessary for Women over Age 65?
YES: Diana R. Curran and Sue Stigleman, from "Should We Discontinue Pap Smear Screening in Women Aged >65 Years?" The Journal of Family Practice (2004)
NO: Ayasha P. Thomason, et al., from "Discontinuation of Pap Smears at Age 65: A Critical Analysis of the Impact on Women's Health," Journal of Women's Health Care (2015)


Dianna Curran and Sue Stigleman review 12 studies from 1995 to 2001, which included women aged 50 years and older. They found that few older women with a history of baseline Pap smear will develop cervical cancer. They also summarize recommendations from other and provide a clinical commentary. However, Ayasha Thomason and colleagues analyze how changing guidelines for screenings will influence healthcare practice, particularly for women over age 65. They conclude that there is great potential for women to develop later stage diagnoses of cancers, pelvic organ issues, incontinence, and infections.


Unit 6: Late Adulthood


Issue: Should Assisted Suicide Be Legal for Everyone?
YES: April Dembosky, from "Doctors' Secret Language for Assisted Suicide," The Atlantic (2015)
NO: Ira Byock, from "Physician-assisted Suicide Is Not Progressive," The Atlantic (2012)


"Assisted suicide," or euthanasia, has become a more familiar phrase with sick, aging adults looking for personal control during this last part of life. April Dembosky argues that because many state laws prohibit euthanasia, medical professionals cannot converse properly with their patients about end-of-life decisions. Legalizing assisted suicide across the nation would allow for better communication, the article posits. Ira Byock, in contrast, believes that physician-assisted suicide should not be legal. In this article, he describes the political climate influencing the euthanasia debate. Furthermore, Byock claims that the focus should be on improving end-of-life care.


Issue: Should We Try to "Cure" Old Age?
YES: Guillermo Abril, from "Could Science One Day Cure Us of Old Age?" World Economic Forum (2017)
NO: Ezekiel J. Emanuel, from "Why I Hope to Die at 75," The Atlantic (2014)


Guillermo Abril describes the work of scientists who are developing stem cell therapies, investigating microscopic DNA structures, and exploring other anti-aging possibilities. These individuals believe we can combat age-related diseases and illness, thereby extending the lifespan. Ezekiel Emanuel, an oncologist and bioethicist, presents a contrasting view. He argues against an ever-expanding lifespan. Instead, his believes this article suggest our focus should be on maximizing our quality of life and accepting the inevitability of death.