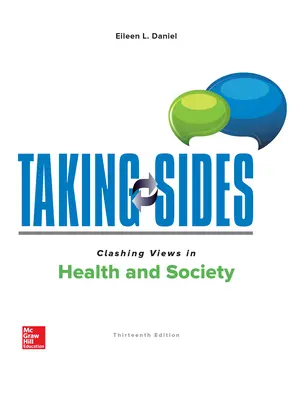 Taking Sides: Clashing Views in Health and Society
13th Edition
By Eileen Daniel
ISBN10: 1259904024
ISBN13: 9781259904028
Copyright: 2018
---
Instructors: choose ebook for fast access or receive a print copy.
---
Program Details
Unit 1: The Health Care Industry
Issue: Is the Affordable Care Act Successful?
Yes: Jared Bernstein, from "The Success of the Affordable Care Act Is a Hugely Inconvenient Truth for its Opponents," Washington Post (2015)
No: Kevin D. Williamson, from "Obamacare Is Dead," National Review (2015)
Senior fellow at the Center on Budget and Policy Priorities and author Jared Bernstein believes the Affordable Care Act is the best hope Americans have for making our health care system better. National Review roving correspondent Kevin D. Williamson argues that the Affordable Care Act has not worked since its design was seriously flawed.
Issue: Should the Health Care System Continuously Strive to Extend Life?
Yes: Miguel Faria, from "Bioethics and Why I Hope to Live Beyond Age 75 Attaining Wisdom!—A Rebuttal to Dr. Ezekiel Emanuel's 75 Age Limit," haciendapublishing.com (2014)
No: Ezekiel J. Emanuel, from "Why I Hope to Die at 75: An Argument That Society and Families—and You—Will Be Better Off if Nature Takes Its Course Swiftly and Promptly," The Atlantic (2014)
Physician Miguel Faria contends that lives can be productive and fulfilling and worthwhile past age 75 and that there is a difference between aging and infirmity and illness. Physician, bioethicist, and vice provost of the University of Pennsylvania Ezekiel J. Emanuel disagrees and claims that society and families would be better off if we died at 75 rather than be incapacitated and unable to live a full life.
Issue: Does the Affordable Health Care Act Violate Religious Freedom by Requiring Employers' Health Insurance Plans to Cover Birth Control?
Yes: Wesley J. Smith, from "What About Religious Freedom: The Other Consequences of Obamacare," The Weekly Standard (2012)
No: Elizabeth Sepper and Alisha Johnson, from "Rhetoric versus Reality: The Contraception Benefit and Religious Freedom," religionandpolitics.org (2013)
Senior fellow in the Discovery Institute's Center on Human Exceptionalism Wesley J. Smith believes birth control cases are just the beginning of far more intrusive violations of religious liberty to come, for example, requiring businesses to provide free abortions to their employees. Law professor Elizabeth Sepper and research assistant and law student Alisha Johnson counter that the Affordable Care Act strikes a delicate balance by providing broad protection for religiously affiliated employers, while at the same time it protects the freedom of all Americans to live out their own religious and moral convictions.
Unit 2: Health and Society
Issue: Is the Cost of Treating Cancer Unsustainable?
Yes: Lee N. Newcomer, from "Myths and Realities in Cancer Care: Another Point of View," Health Affairs (2014)
No: Dana P. Goldman and Tomas Philipson, from "Five Myths about Cancer Care in America," Health Affairs (2014)
United Healthcare's vice president for oncology, physician Lee N. Newcomer believes that the cost to treat cancer will be unsustainable in the near future and will undermine the progress made in cancer treatment. Professor of public policy Dana P. Goldman and professor of health economics Tomas Philipson maintain that it's a myth that treatment costs are unsustainable and that restricting patients' treatments is socially wasteful and will likely discourage research innovations.
Issue: Will Legalizing Marijuana Increase Usage?
Yes: Christian Hopfer, from "Implications of Marijuana Legalization for Adolescent Substance Use," Substance Abuse (2014)
No: Christopher Ingraham, from "Now We Know What Happens to Teens When You Make Pot Legal," Washington Post (2016)
Physician Christian Hopfer believes that marijuana legalization will increase availability, social acceptance, and possibly lower prices leading to increased usage among adults and teens. Journalist Christopher Ingraham argues that marijuana use among teenagers is essentially unchanged since legalization.
Issue: Is the Use of "Smart" Pills for Cognitive Enhancement Dangerous?
Yes: Alan Schwarz, from "Drowned in a Stream of Prescriptions," The New York Times (2013)
No: Phil Taylor, from "Think Positive: The Rise of 'Smart Drugs,' " PMLive (2013)
Pulitzer Prize-nominated reporter Alan Schwartz maintains that "smart pills" such as Adderall can significantly improve the lives of children and others with ADHD but that too many young adults who do not have the condition fake the symptoms and get prescriptions for the highly addictive and dangerous drug. Journalist Phil Taylor disagrees and claims that smart drugs are safe and effective in boosting cognition.
Issue: Are There Medical Benefits to Cloning?
Yes: Robin McKie, from "Human Cloning Developments Raise Hopes for New Treatments," The Guardian (2013)
No: Brendan Foht, from "The Case against Human Cloning," BioNews (2015)
Science editor Robin McKie argues that human cloning can create embryonic stem cells used to treat diseases such as heart failure. Editor of The New Atlantis: A Journal of Technology and Society Brendan Foht counters that there are numerous safety and moral issues related to cloning.
Unit 3: Mind-Body Relationships
Issue: Should Addiction to Drugs Be Labeled a Brain Disease?
Yes: Alan I. Leshner, from "Addiction Is a Brain Disease," The Addiction Recovery Guide (2016)
No: Steven Slate, from "Addiction Is Not a Brain Disease, It Is a Choice," The Clean Slate (2016)
Alan I. Leshner, director of the National Institute on Drug Abuse at the National Institutes of Health, believes that addiction to drugs and alcohol is not a behavioral condition but a treatable disease. Addition Theorist Steven Slate counters that addiction is not a true disease since there is no physical malfunction and the brains of addicts are normal.
Unit 4: Sexuality and Gender Issues
Issue: Is It Necessary for Pregnant Women to Completely Abstain from All Alcoholic Beverages?
Yes: National Organization on Fetal Alcohol Syndrome, from "Is It Completely Safe and Risk-Free to Drink a Little Alcohol While Pregnant, Such as a Glass of Wine?" nofas.org (2013)
No: Emily Oster, from "I Wrote That It's OK to Drink While Pregnant. Everyone Freaked Out. Here's Why I'm Right," slate.com (2013)
The National Organization on Fetal Alcohol Syndrome provides evidence that even moderate quantities of alcohol can damage a developing fetus and cites new research indicating that even small amounts of alcoholic beverages consumed during pregnancy may be harmful. Economics professor Emily Oster argues that there are almost no studies on the effects of moderate drinking during pregnancy and that small amounts of alcohol are unlikely to have much effect.
Issue: Should Pro-Life Health Providers Be Allowed to Deny Prescriptions on the Basis of Conscience?
Yes: John A. Menges, from "Public Hearing on HB4346 Before the House State Government Administration Committee," Illinois House State Government Administration Committee (2006)
No: J. Paul Kelleher, from "Emergency Contraception and Conscientious Objection," Journal of Applied Philosophy (2010)
Pharmacist John A. Menges believes that it is his right to refuse to dispense any medication designed to end a human life. Professor J. Paul Kelleher maintains that the rights of women trumps the rights of medical professionals to refuse services based on religious conviction.
Issue: Do the Benefits of the Cervical Cancer Vaccine Outweigh the Risks?
Yes: Mark Donald White, from "Benefits of HPV Vaccination," Translational Andrology and Urology (2014)
No: Mark Donald White, from "Cons of HPV Vaccine Administration," Translational Andrology and Urology (2014)
Physician Mark Donald White asserts that the vaccine offers benefits to teens and is effective in preventing cervical cancer. He also points out that the cervical cancer vaccine comes with risks; various side effects including 32 reports of death.
Issue: Does Watching Pornography Lead to Sexual Dysfunction?
Yes: Philip Zimbardo, Gary Wilson, and Nikita Coulombe, from "How Porn Is Messing with Your Manhood," Skeptic (2016)
No: Marty Klein, from "Skeptical of the Porn Skeptics," Skeptic (2016)
Psychologist Philip Zimbardo and writers Gary Wilson and Nikita Coulombe argue that watching pornography, especially by young men, can lead to sexual dysfunction with a partner. Sex therapist Marty Klein counters that while young men may be getting some wrong ideas about sex from porn, they don't appear to suffer sexual dysfunction.
Unit 5: Public Health Issues
Issue: Should Vaccines Be Mandatory?
Yes: Ronald Bailey, from "Refusing Vaccination Puts Others at Risk," Reason (2014)
No: Jeffrey A. Singer, from "Vaccination and Free Will," Reason (2014)
Senior correspondent and author Ronald Bailey argues that the popularization of invalid anti-immunization reporting has resulted in many parents opting out of vaccinating their children resulting in serious health problems. Physician Jeffrey A. Singer counters that parents and their choices to vaccinate or not should be respected and preserved.
Issue: Will Hydraulic Fracturing (Fracking) Negatively Affect Human Health and the Environment?
Yes: John Rumpler, from "Fracking: Pro and Con," Tufts Now (2013)
No: Bruce McKenzie Everett, from "Fracking: Pro and Con," Tufts Now (2013)
Environmentalist and senior attorney for Environment America John Rumpler argues that fracking is not worth the damage to health and the environment. Energy researcher and Adjunct Professor Bruce McKenzie Everett claims fracking provides substantial economic benefits and its health and environmental problems are relatively small.
Issue: Is There a Valid Link Between Saturated Fat and Heart Disease?
Yes: Henry Blackburn, from "In Defense of U Research: The Ancel Keys Legacy," Star Tribune (2014)
No: Jon White, from "Fat or Fiction?" New Scientist (2014)
Professor emeritus and researcher Henry Blackburn contends that valid research by Dr. Ancel Keys and his team established a strong link between saturated fat and heart disease. Opinion editor at New Scientist magazine Jon White argues that the science behind the saturated fat–heart disease link was flawed and that carbohydrates, not fats, are the real culprits.
Issue: Are Restrictions on Sugar and Sugary Beverages Justified?
Yes: Gary Taubes and Cristin Kearns Couzens, from "Sweet Little Lies," Mother Jones (2012)
No: Kenneth W. Krause, from "Saving Us from Sweets: This Is Science and Government on Sugar," Skeptical Inquirer (2012)
Writers Gary Taubes and Cristin Kearns Couzens maintain that added sugars and sweeteners pose dangers to health and that the sugar industry continually campaigns to enhance its image. Journalist Kenneth W. Krause argues that individuals have the ability to make decisions about sugar consumption themselves and that government should not restrict our access to sugar and sugar-containing food products.
Unit 6: Consumer Health
Issue: Is Weight-Loss Maintenance Possible?
Yes: Barbara Berkeley, from "The Fat Trap: My Response," refusetoregain.com (2011)
No: Tara Parker-Pope, from "The Fat Trap," The New York Times Magazine (2011)
Physician Barbara Berkeley believes that weight maintenance is not easy but possible as long as people separate themselves from the world of typical American eating. She also claims that some individuals are heavy because they are susceptible to the modern diet or because they use food for comfort. Journalist Tara Parker-Pope disagrees and maintains that there are biological imperatives that cause people to regain all the weight they lose and for those genetically inclined to obesity, it's almost impossible to maintain weight loss.
Issue: Does Obesity Increase the Risk of Premature Death?
Yes: Harvard School of Public Health, from "As Overweight and Obesity Increase, So Does Risk of Dying Prematurely," Harvard School of Public Health (2016)
No: Harriet Brown, from "The Weight of the Evidence," Medical Examiner (2015)
The editors of the Harvard School of Public Health argue that being overweight or obese is clearly associated with a higher risk of dying prematurely than being normal weight. Writer Harriet Brown maintains that obese individuals with chronic diseases fare better and live longer than those of normal weight.
Issue: Are Energy Drinks with Alcohol Dangerous Enough to Ban?
Yes: Don Troop, from "Four Loko Does Its Job with Efficiency and Economy, Students Say," The Chronicle of Higher Education (2010)
No: Jacob Sullum, from "Loco over Four Loko," Reason (2011)
Chronicle of Higher Education journalist Don Troop argues that the combination of caffeine and alcohol is extremely dangerous and should not be sold or marketed to college students and young people. Journalist and editor of Reason magazine Jacob Sullum disagrees and claims that alcoholic energy drinks should not have been targeted and banned since many other products are far more dangerous.
Issue: Do Diet Sodas Aid in Weight Loss?
Yes: William Hudson, from "Diet Soda Helps Weight Loss, Industry-funded Study Finds," CNN (2014)
No: Stephanie Bucklin, from "Why Diet Soda Could Actually Prevent You from Losing Weight," The Huffington Post (2016)
CNN Medical Producer William Hudson reports that studies show that diet soda drinkers are likely to lose more weight than water drinkers. Writer Stephanie Bucklin argues that research indicates that diet soda may actually hinder weight loss efforts.
Issue: Do the Benefits of Statin Drugs Outweigh the Risks?
Yes: Jo Willey, from "The Benefits of Statins 'Greatly Outweigh' Small Risks Say Experts," express.co.uk (2014)
No: Martha Rosenberg, from "Do You Really Need That Statin?" huffingtonpost.com (2012)
Journalist Jo Willey reports that statins' ability to prevent heart attacks and stroke outweighed any risks and that tens of thousands of deaths from cardiovascular disease could be prevented if all eligible adults took the drugs. Investigative reporter Martha Rosenberg interviewed physician Barbara Roberts, who claims that statins treat high cholesterol, which is a weak risk factor for heart disease, and that the side effects of the drugs negate any benefits, especially when taken by otherwise healthy adults with high cholesterol.