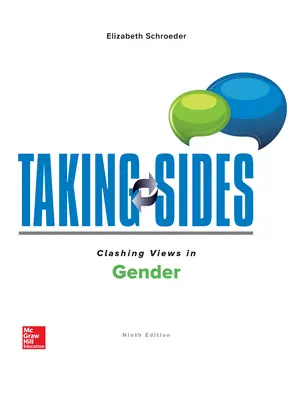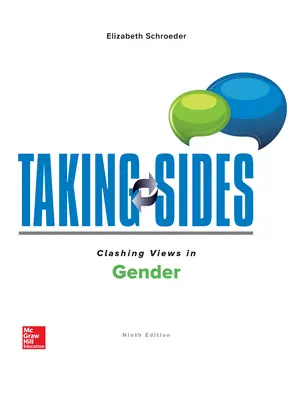 Taking Sides: Clashing Views in Gender
,
9th Edition
ISBN10: 1260571912 | ISBN13: 9781260571912
Purchase Options:
* The estimated amount of time this product will be on the market is based on a number of factors, including faculty input to instructional design and the prior revision cycle and updates to academic research-which typically results in a revision cycle ranging from every two to four years for this product. Pricing subject to change at any time.
Instructor Details
The Taking Sides Collection on McGraw-Hill Create® includes current controversial issues in a debate-style format designed to stimulate student interest and develop critical thinking skills. This Collection contains a multitude of current and classic issues to enhance and customize your course. You can browse the entire Taking Sides Collection on Create or you can search by topic, author, or keywords. Each Taking Sides issue is thoughtfully framed with Learning Outcomes, an Issue Summary, an Introduction, and an "Exploring the Issue" section featuring Critical Thinking and Reflection, Is There Common Ground?, Additional Resources, and Internet References. Go to the Taking Sides Collection on McGraw-Hill Create® at www.mcgrawhillcreate.com/takingsides and click on "Explore this Collection" to browse the entire Collection. Select individual Taking Sides issues to enhance your course, or access and select the entire Schroeder: Taking Sides: Clashing Views in Gender, 9/e book here http://create.mheducation.com/createonline/index.html#qlink=search%2Ftext%3Disbn:1260571912 for an easy, pre-built teaching resource. Visit http://create.mheducation.com for more information on other McGraw-Hill titles and special collections.
Unit 1: Gender and Education


Issue: Should There Be Single-Sex Classrooms or Schools?
YES: Elizabeth O'Gorek, from "The Advantages of Single-Gender Schools: Research Shows a Difference in How Boys and Girls Learn," East of the River (2018)
NO: Ellie Mulcahy, from "Should Boys and Girls be Taught Separately in Our Schools?" The Guardian (2017)


Elizabeth O'Gorek describes several of the rationales behind having single-sex or gender learning environments, including educators being able to use teaching methods traditionally proven to resonate more with a particular gender. Ellie Mulcahy presents the argument that single-sex and -gender classrooms and schools reinforce harmful gender-role stereotypes.


Issue: Can Traditionally All-Girls' Schools Accept Transgender Students and Still Retain Their Identities as All-Girls' Schools?
YES: Natalie Swartz, from "Coming Out While Staying In," Harvard Political Review (2017)
NO: Brad Richardson, from "The End of the Women's College," Claremont Independent (2015)


Natalie Swartz describes some of the support for allowing transgender students to attend traditionally all-girls/all-women's schools, provided they make changes to their school environment and language used, especially because these learning environments are typically safer for trans students. Brad Richardson maintains that a school or college cannot have it all; the time has come to eliminate single-gender learning environments, whether all-girls or all-boys.


Issue: Does a Boy Crisis Exist?
YES: Troy Kemp and Michael Gurian, from "Understanding Boys in the 21st Century," National Center for the Development of Boys (2018)
NO: Bryce Covert, from "In the Real World, the So-Called 'Boy Crisis' Disappears," The Nation (2014)


Troy Kemp and Michael Gurian cite statistics relating to sociocultural risk factors, such as school drop-out and suicide rates, to demonstrate the unique issues putting boys in crisis. Bryce Covert argues that, even if boys lag behind girls in some academic subjects, biases against girls and women – particularly in adulthood – renders the so-called "crisis" irrelevant.


Unit 2: He Said, She Said, They Said: Gender Equity and Equality


Issue: Is the Wage Gap between Women and Men Due to Sexism?
YES: Ariane Hegewisch and Asha DuMonthier, from "The Gender Wage Gap by Occupation 2015 and by Race and Ethnicity," Institute for Women's Policy Research (2016)
NO: Ashe Schow, from "A Yearly Reminder that the Gender Wage Gap Is Due To Choice, Not Discrimination," The Washington Examiner (2015)


Ariane Hegewisch and Asha DuMonthier provide data demonstrating that women both continue to be paid less than men for the same types of jobs and tend to have access to jobs that inherently pay less than job markets dominated by men. Ashe Schow maintains that women have equal access to the types of jobs that could yield equal or even higher salaries, and that they choose not to avail themselves of these jobs.


Issue: Has Gender Equality Come a Long Way?
YES: Ronald Brownstein, from "Poll: American Men Embracing Gender Equality," National Journal (2015)
NO: Leisa Peterson, from "Who Am I to Be Financially Feminist? (A Guide for Female Entrepreneurs)," Huffington Post (2015)


Ronald Brownstein, Atlantic Media's editorial director for strategic partnerships, reports on surprising findings of a recent poll that details major changes in gender attitudes of males and income, racial, and ethnic groups. "The survey suggests that men from all rungs on the economic and social ladder were open to the 'partnership of equals.'" Leisa Peterson, money mindfulness expert and founder, WealthClinic, points out the many ways that she and other women today are discriminated against. She uses statistics and comparative studies to prove her thesis that women are worse off in several ways.


Issue: Should Transgender Athletes Be Allowed to Compete in Professional Sports?
YES: Katelyn Burns, from "Being Trans in the Paradox of Sports," The Cauldron—Sports Illustrated (2016)
NO: Ben Cohen, from "Joe Rogan Is Right, Transgender Athletes Should Not Be Able to Fight Women," The Daily Banter (2014)


Transgender athlete Katelyn Burns discusses her own experiences identifying as a gender different from the sex she was assigned at birth (male) and believes that transgender athletes should be allowed to compete in the Olympics without requirements requiring surgery or demanding committee approval. Ben Cohen focuses the impact of allowing transgender women—those who were assigned male at birth but now identify as women—to compete against cisgender women, arguing an unfair physical advantage to transgender women because of their chromosomal composition. In considering a case-by-case basis, he still favors discriminating against some transgender women under certain circumstances.


Issue: Should Male and Female Athletes Be Paid Equally?
YES: Kevin Netto, from "Should Women Athletes Earn the Same as Men? The Science Says They Work as Hard," The Conversation (2016)
NO: Shane Ferro, from "Here's Why It's Fair that Female Athletes Make Less Than Men," Business Insider (2015)


Kevin Netto provides several reasons why he feels women athletes should earn the same as men, including, but not limited to, the fact that physiological differences require women to have to exert more energy than men in numerous types of sports and to train harder and for longer periods of time. Women are also more prone to injury when playing the same type of sports men do. Shane Ferro explains that it makes sense for women athletes to be paid less than men because their sporting events earn less. Paying women athletes equally without the accompanying revenue to support those salaries places an undue burden on the sports teams and organizations.


Unit 3: Parental Presence, Parental Choices


Issue: Are Fathers Necessary for Children's Well-being?
YES: Deirdre Bell, from "The Importance of Dads: Expert Findings About Involved Fathers," Boba (2017)
NO: Denise Balkissoon, from "The 7 Habits of Highly Effective Lesbian Families," The Globe and Mail (2013)


Deirdre Bell argues that fathers play an essential role in the upbringing of their children—that they can be just as sensitive and nurturing to their children as mothers can, and that their presence helps children to develop cognitive, socially, and emotionally as they grow up. Denise Balkissoon discusses research from Canada relating to lesbian-headed families that suggest that fathers are not essential to a child's development and well-being. In particular, she explains that no incidents of physical child abuse had been recorded in families where the children had two mothers and no father.


Issue: Should Parents Be Able to Choose Their Baby's Sex?
YES: Anastasia Repouliou, from "Should Parents be Allowed to Select the Sex of Their Children? An Overview of the Case of the Defense," Princeton Journal of Bioethics (2016)
NO: Tamara Kayali Browne, from "How Sex Selection Undermines Reproductive Autonomy," Bioethical Inquiry (2017)


Anastasia Repouliou discusses some of the arguments in support of allowing parents to choose their baby's sex, highlighting in particular that, taking out a few concerns, there does not seem to be any compelling reason to restrict parents from making a decision to manage a gender balance in their family. Tamara Kayali Browne argues that it is impossible to pre-determine how being a particular sex will play out in terms of gender identity and expression, and that parents should be able to have a satisfying parenting experience regardless of the assigned sex of their children.


Issue: Should Partners of Deceased Men Be Allowed to Use Their Sperm without Their Consent?
YES: Jenny Morber, from "Dead Man's Sperm," Mosaic (2016)
NO: Henky Henky, from "Donor Consent for Posthumous Reproduction: Legal and Ethical Perspectives," Journal of Forensic Sciences and Criminal Investigation (2018)


Jenny Morber argues that if a legal spouse and health-care proxy has the right to make other health-care decisions for their spouse, such as ending life support, they should be able to decide what is done with that spouse's body upon his demise should he not specify his wishes in an advance directive. Those people who only want to have children with the spouse who passed away should, she maintains, be given the right to do that. Indonesian forensics professional Henky Henky argues that collecting and using any reproductive material after death without consent violates the deceased's rights to bodily autonomy and self-determination.


Issue: Should Men Have a Say in Whether Their Partner Has an Abortion?
YES: The Life Resources Charitable Trust, from "Men and Abortion: Locked Out of the Decision" The Life Resources Charitable Trust, life.org.nz
NO: Heather Barnett, from "Why Men Don't Have a Right to Choose When it Comes to Abortion," Sheknows.com (2015)


The Life Resources Charitable Trust argues that the impact of reproductive decision-making affects men as much as it affects women, and that if they are to be held equally responsible for the financial upbringing of a child, they should have an equal say as to whether their female partner keeps or terminates a pregnancy of which they are the biological father. Writer Heather Barnett in turn argues that since the pregnant partner is the one assuming the physical risks in a pregnancy, her partner should not have any say as to whether she carries the pregnancy to term.


Issue: Are Children Who Are Raised by a Lesbian or Gay Couple Worse Off than Those Raised by Different-sex Parents?
YES: Mark Regnerus, from "Media Gush over New Study, Only to Find Same-sex Parents More Irritated with Their Children," Public Discourse (2016)
NO: Henny M. W. Bos et al., from "Same-sex and Different-sex Parent Households and Child Health Outcomes: Findings from the National Survey of Children's Health," Journal of Developmental & Behavioral Pediatrics (2016)


Researcher Mark Regnerus questions the validity of how data were examined and discussed in a recent study that suggested children do better with same-sex parents or caregivers than different-sex ones, asserting biased analysis and conclusions. Researcher Henry Bos and his colleagues, authors of the study, maintain that the children of lesbian parents demonstrate no differences in general health, emotional difficulties, coping behaviors, and learning capacities from children with different-sex parents.


Issue: Should a Pregnant Woman Be Punished for Exposing Her Fetus to Risk?
YES: Liles Burke, from Hope Elisabeth Ankrom v. State of Alabama, Circuit Court of Coffee County (2011)
NO: Lynn M. Paltrow, from "Punishment and Prejudice: Judging Drug-Using Pregnant Women," Mother Troubles: Rethinking Contemporary Maternal Dilemmas (1999)


Liles Burke sets out the majority opinion of the Alabama Court of Criminal Appeals in a case involving a pregnant woman who was found to have used cocaine while pregnant. Burke argues that Alabama law that forbids adults from exposing children to controlled substances applies in cases involving pregnant women and their fetuses. Attorney Lynn M. Paltrow argues that treating drug-using pregnant women as criminals targets poor, African American women while ignoring other drug usage and fails to provide the resources to assist them in recovery.


Issue: Should Transgender Children Be Allowed to Transition?
YES: Samantha Allen, from "It's Absurd to Claim That Trans Kids Are Being 'Rushed' Into Transitioning," The Daily Beast (2017)
NO: Michelle Cretella, from "Gender Dysphoria in Children," American College of Pediatricians (2018)


Daily Beast Senior Reporter Samantha Allen interviews youth development experts whose research has found that allowing transgender children to transition can save their lives. Dr. Michelle Cretella, president of the American College of Pediatricians, asserts that children are cognitively incapable of providing consent, and that starting medical transition so early in their lives amounts to mass sterilization of youth.


Unit 4: Gender in the World around Us


Issue: Should Public Restrooms Be Gender-Neutral?
YES: Nico Lang, from "Why All Public Bathrooms Should Be Gender Neutral," The Daily Beast (2016)
NO: Elizabeth Lee Vliet, from "Doc: 'Gender Neutral' Bathrooms are Dangerous," WND (2016)


Writer Nico Lang cites violence and safety risks as the reasons for gender-neutral rest rooms, providing examples of people who are not read as a particular gender being assaulted by someone thinking they were using the "wrong" restroom. Dr. Elizabeth Vliet hones in on her concerns for the safety of cisgender girls and women, asserting that someone assigned male at birth, even if they identify as anything other than male, is still ruled by testosterone, and therefore the risk of indecent exposure and/or sexual assault remains.


Issue: Is Gender Identity Biological?
YES: Aruna Saraswat, Jamie D. Weinand, and Joshua D. Safer, from "Evidence Supporting the Biological Nature of Gender Identity," Endocrine Practice (2015)
NO: Michael J. Carter, from "Gender Socialization and Identity Theory," Social Sciences (2014)


Saraswat, Weinand, and Safer review empirical studies that suggest gender as biologically caused. They discuss congenital adrenal hyperplasia (CAH), gray and white matter studies, and twin case studies as evidence for their argument is that gender has a biological basis. Michael J. Carter explores a review of the literature that emphasizes gender identity as being based in learned roles. He discusses how gender is learned over time in the family environment and how gender can be a person identity, role identity, or social identity in gender identity theory. He argues that gender comes from learned roles in society.


Issue: Should Only Transgender Actors Be Allowed to Play Transgender Characters?
YES: Phaylen Fairchild, from "The Ongoing Problem With Trans Representation in Media," Medium (2018)
NO: Alexandra DeSanctis, from "The Transgender Community's Ridiculous Crusade against Acting" National Review (2016)


Transgender writer and actor Phaylen Fairchild argues that having cisgender actors play transgender characters contributes to the alienation of transgender individuals in society by removing their visibility from the general public. National Review journalist Alexandra DeSanctis argues that the whole point of acting is for someone to present a character they are not, and that an actor does not necessarily need to identify as transgender to be able to provide an effective portrayal of that character.


Issue: Can a Woman with Conservative Political Views Be a Feminist?
YES: Eric C. Miller, from "How Conservative Christian Women Came to Claim 'True' Feminism," Religion Dispatches (2014)
NO: Amanda Marcotte, from "Stop Trying to Make Conservative Feminism Happen," Rewire (2015)


Eric Miller interview author Leslie Dorrough Smith whose book, "Righteous Rhetoric: Sex, Speech, and the Politics of Concerned Women for America" outlines the CWA's arguments of why the Conservative definition of feminism is true feminism. Amanda Marcotte believes that being pro-choice is a requirement for one being able to call oneself a feminist, and so if social Conservatives are all antichoice, by definition they cannot be feminists.


Issue: Are There "Male" and "Female" Brains?
YES: Gregory L. Jantz, from "Brain Differences Between Genders," Psychology Today (2014)
NO: Lila MacLellan, from "The Biggest Myth about Our Brains Is That They Are 'Male' or 'Female,'" Quartz (2017)


Author Gregory L. Jantz describes research demonstrating there are approximately 100 gender differences in the brain, and that these differences should be used to inform how adults parent, educate, and support children from their youngest ages. Quartz reporter Lila MacLellan focuses on research relating to neuroplasticity, or the ability for the brain to change during life. She argues that, even if there are certain neuro differences in brains based on sex, these are not set in stone and therefore should not determine how we interact with our same or another gender.


Issue: Should Women Be Ordained as Catholic Priests?
YES: Sarah Macdonald, from "Pure Codology: The Case for Women Priests," The Independent (2018)
NO: Fr. Dwight Longenecker, from "Why Women Can't Be Catholic Priests," www.dwightlongnecker.com (2018)


Irish Times journalist Sarah Macdonald describes extensive support from women in various non-Catholic Christian traditions, some of which have already ordained women as leaders as rationale for the Catholic church to do the same. Catholic priest Father Dwight Longenecker argues that, in addition to millennia of writing to support this, Jesus being a man has pre-ordained that only men can be priests.


Issue: Should Children's Toys Be Gender-Neutral?
YES: Amy Dempsey, from "Why Toys are More Divided by Gender Than Ever Before," The Star (2017)
NO: James Delingpole, from "Why It's Not Sexist to Say Boys Should Never Play with Dolls," Daily Express (2014)


Amy Dempsey posits, by citing children's toy manufacturers and psychologists, that gendering and marketing particular toys to specific genders reinforces social stereotypes and limits children in their options for how they engage in the world. Children are taught to want to play with particular toys based on their sex or gender, it is not predetermined by biology. James Delingpole argues that even if toys were to be gender neutral, a child's chromosomal composition would cause that child to behave according to their sex assigned at birth. Having gender-neutral toys is, therefore, unnecessary, since children will still naturally gravitate toward toys that their chromosomal composition dictates are for them.


Issue: Should the United States Ratify the Convention to Eliminate All Forms of Discrimination Against Women?
YES: Melanne Verveer, from "Ratify the CEDAW," U.S. Senate (2010)
NO: Steven Groves, from "Reject CEDAW," U.S. Senate (2010)


Melanne Verveer, ambassador-at-large, Office of Global Women's Issues, U.S. Department of State, tells a congressional committee that the U.S. Senate should ratify the Convention on the Elimination of All Forms of Discrimination Against Women (CEDAW) because doing so would send a powerful message about the U.S commitment to equality for women across the globe. Steven Groves, the Bernard and Barbara Lomas Fellow in the Margaret Thatcher Center for Freedom, a division of the Kathryn and Shelby Cullom Davis Institute for International Studies at the Heritage Foundation, headquartered in Washington, DC, contends that ratifying CEDAW would neither advance U.S. international interests nor enhance the rights of women in the United States.