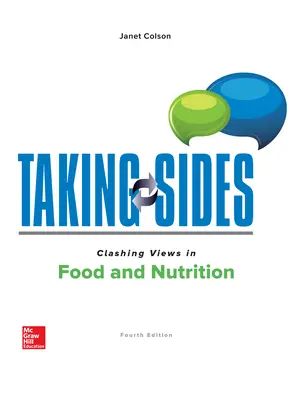 Taking Sides: Clashing Views in Food and Nutrition
4th Edition
By Janet Colson
ISBN10: 1260571920
ISBN13: 9781260571929
Copyright:
2020
---
Instructors: choose ebook for fast access or receive a print copy.
---
Program Details
Unit 1: Dietary Guidelines
Issue: Are Dietary Guidelines Ethical and User Friendly?
YES: Mark Hay, from "What Americans Can Learn from the New Dutch Dietary Guidelines." The Daily Good (2016)
NO: Michiel Korthals, from "Ethics of Dietary Guidelines: Nutrients, Processes and Meals," Journal of Agricultural and Environmental Ethics (2017)
Journalist Hay applauds the new Dutch Dietary Guidelines and their recommendations to cut back on animal foods—no more than one serving of fish per week and no processed meat. These recommendations are based largely on environmental sustainability. Professor Korthals groups the Dutch and American dietary guidelines in the category of focusing on nutrients and foods and points out the recommendations are influenced by groups from the sugar, beef, egg, and dairy industries. He criticizes both countries' belief that they have "the final truth on the healthiness of nutrients, and they heap scorn on diet gurus".
Issue: Will the U.S. Government's Dietary Guidance Improve Health?
YES: 2015 Dietary Guidelines Advisory Committee, from "Executive Summary," Scientific Report of the 2015 Dietary Guidelines Advisory Committee (2015)
NO: Adele Hite, from "Healthy Nation Coalition's Letter to the Secretaries of Health and Human Services and the United States Department of Agriculture Regarding the Scientific Report of the 2015 Dietary Guidelines Advisory Committee," Healthy Nation Coalition (2015)
The 2015 DGAC acknowledges that the average American has not followed dietary recommendations to reduce consumption of saturated fat, sodium, and sugar and continues to recommend for reductions in the three nutrients to improve health in Americans. They also stress the importance of eating an overall healthy diet and support food-based dietary guidelines with emphasis on fruits, vegetables, and whole grains. Adele Hite believes that the DGAC report will "perpetuate the same ineffective federal nutrition guidance that has persisted for nearly four decades but has not achieved positive health outcomes for the American public." He cites studies that claim reductions in saturated fat, cholesterol, and sodium, while increasing starch and vegetable oils actually increase the risk for chronic diseases. Hite, the Healthy Nation Coalition director and co-founder, claims that "Millions of taxpayer dollars are spent on policies and practices related to guidance whose scientific foundation has yet to be established."
Issue: Should Dietary Guidelines Stress Less Added Sugars?
YES: Barbara E. Millen, from "Part D. Chapter 6: Cross-Cutting Topics of Public Health Importance: Added Sugars and Low-Calorie Sweeteners," Scientific Report of the 2015 Dietary Guidelines Advisory Committee (2015)
NO: Andrew C. Briscoe III and P. Courtney Gaine, from "The Sugar Association's Letter Written in Response to Scientific Report of the 2015 Dietary Guidelines Advisory Committee," The Sugar Association (2015)
The DGAC concludes that there is strong evidence that diets high in added sugars are associated with overweight, obesity, and type 2 diabetes and moderate evidence that sugars are linked to dental caries, hypertension, stroke, and cardiovascular disease. They call for an upper limit (UL) of 10 percent of energy to come from added sugars in the diet. They also recommend that additional studies need to be conducted on the roles of sugars and various health conditions. The Sugar Association, whose mission is to "monitor nutrition science . . . to provide science-based information . . . and to ensure that Federal nutrition and food policy regarding sugar is based on the preponderance of scientific evidence," asks the Secretaries of HHS and USDA to continue the same advice about added sugars that was in the 2010 DGA. The 2010 advice is to simply reduce intake of calories from added sugars and limit refined grains that contain added sugars, without a specific upper limit recommendation based on the percent of energy.
Unit 2: Nutrition and Health
Issue: Is Nutrigenomics Useful in Weight Loss?
YES: David C. Merritt, Joseph Jamnik, and Ahmed El-Sohemy, from "FTO Genotype, Dietary Protein Intake, and Body Weight in a Multiethnic Population of Young Adults: A Cross-Sectional Study," Genes and Nutrition (2018)
NO: Caitlin Dow, from "Personalized Nutrition: Do You Need a Just-for-Me Diet?" Nutrition Action Healthletter (2018)
The race to identify nutrition-related genes has been underway since the human genome was sequenced in 2003. One of the first identified was the fat mass and obesity-associated (FTO) gene. As early as 2007, reports have linked certain variants of this gene to a variety nutrient/weight-loss diets. Merritt and his team support this belief and conclude that high protein intake results in greater weight loss among individuals with certain FTO variants. Caitlin Dow disagrees and points out that results of her genetic testing found two high-risk variants of the FTO gene, but she is not overweight or obese. She also concludes that at least 97 gene variants have been linked to obesity, but only account for 3 percent of weight differences among the population.
Issue: Do Probiotics and Prebiotics Promote Health?
YES: Rout George Kerry et al., from "Benefaction of Probiotics for Human Health: A Review," Journal of Food and Drug Analysis (2018)
NO: Matt Wood, from "Do Probiotics Work?" Science Life (2014)
Rout George Kerry leads the group of researchers from India and Korea to describe the differences between and sources of probiotics, prebiotics and synbiotics. They review the latest research related to use of probiotics to treat diarrhea, obesity, diabetes, IBS and cancer. Matt Wood discusses what the scientific studies show about the various biotics but points out some negative effects of prebiotics and stresses that there is only a very short list of probiotics shown to actually be beneficial to health.
Issue: Does Eating Beans Improve Health?
YES: Donna M. Winham et al., from "Arizona Registered Dietitians Show Gaps in Knowledge of Bean Health Benefits," Nutrients (2018)
NO: Joseph Mercola, from "The Case Against Beans and Other Foods Containing Toxic Lectins," Mercola (2018)
Winham and her colleagues claim that beans are nutrient-dense and emphasize the benefits that beans provide to humans have been recognized for many years. They point out several epidemiological studies that indicate consuming high amounts of beans is associated with greater longevity. The focus of their article is describing the knowledge that Registered Dietitians Nutritionist have about beans, legumes, and pulses. Mercola warns that beans contain lectin, a substance known to cause a variety of health problems. He points out that lectins cause the most problems to individuals who have thyroid dysfunction, arthritis, diabetes or heart disease.
Issue: Is Modern Wheat Unhealthy?
YES: Kris Gunnars, from "Modern Wheat—Old Diet Staple Turned into a Modern Health Nightmare," Authority Nutrition (2014)
NO: The National Wheat Improvement Committee, from "Wheat Improvement: The Truth Unveiled," National Association of Wheat Growers (2013)
Kris Gunnars claims that there are profound genetic changes in modern wheat and that it is processed differently than wheat grown in earlier times. He describes how the new wheat is the root of a variety of health problems. Members of the National Wheat Improvement Committee point out why modern wheat is not the cause of celiac disease or gluten sensitivity. And that today's wheat has less gluten protein but improved gluten function than historical wheat.
Issue: Does Coconut Oil Provide Health Benefits?
YES: The Coconut Research Center, from "The Coconut Oil Miracle: Where Is the Evidence?" Coconut Research Center (2015)
NO: William A. Correll, from "FDA Warning Letter to Carrington Farms," Office of Compliance, Center for Food Safety and Applied Nutrition, Food and Drug Administration (2015)
Authors of the Coconut Research Center website boast of the various health benefits of coconut oil related to seizures, dementia, ALS and cardiovascular disease. They describe the number of studies available through a PubMed search that support the health benefits of coconut oil and the medium-chain fatty acids found in the oil. After reviewing claims that Carrington Farms includes on the labels of coconut oil, William Correll, FDA Director Office of Compliance, Center for Food Safety and Applied Nutrition, issues a warning letter to the company pointing out the therapeutic claims on their website about coconut oil classify it as a drug, not a food, and points out other violations on the labels.
Issue: Are Artificial Sweeteners Harmful?
YES: Joseph Mercola, from "Reconfirmed: Artificial Sweeteners Make You Fat and Sick" Mercola (2018)
NO: Szimonetta Lohner, Ingrid Toews, and Joerg J. Meerpohl, from "Health Outcomes of Non-nutritive Sweeteners: Analysis of the Research Landscape" Nutrition Journal (2017)
Mercola points out that many people mistakenly think that artificially-sweetened products are a healthier option as they reduce calories, but he claims that "nothing could be further from the truth." He outlines how they increase the risk of diabetes, obesity, cardiovascular disease, stroke and Alzheimer's disease. After reviewing 420 studies, Lohner and colleagues conclude that there is no conclusive evidence showing that non-nutritive sweeteners are harmful.
Issue: Is Breastfeeding Inevitably Best for Healthy Development?
YES: U.S. Department of Health and Human Services, from The Surgeon General's Call to Action to Support Breastfeeding, Office of the Surgeon General (2011)
NO: Courtney Jung, from "Overselling Breastfeeding," The New York Times (2015)
Breastfeeding children is both a personal and societal issue. As part of a broad mandate to advocate for public health, the U.S. Surgeon General cites numerous benefits of breastfeeding as part of "call to action" oriented toward increasing the practice among new mothers. However, Courtney Jung's article provides a cautionary view of these benefits. She describes the zealousness with which Americans pursue breastfeeding, possibly to the detriment of the mother's health and with limited benefits for the child. Jung also describes the economic motivation for encouraging breastfeeding. She does not discourage it, but, rather invites readers to examine parenting practices with a critical lens.
Unit 3: Our Food Supply
Issue: Are Organic Diets Environmentally Sustainable?
YES: Carola Strassner et al., from "How the Organic Food System Supports Sustainable Diets and Translates These into Practice," Frontiers in Nutrition (2015)
NO: Henry I. Miller, from "How College Students Are Being Misled About 'Sustainable' Agriculture," National Review (2017)
Strasser and her European colleagues explain why the organic food system is a good example for developing a sustainable diet. They describe the organic farming movement from a global perspective and outline how it increases yield, improves soil fertility and water-holding capacity. Miller agrees that sustainability is a positive step for humanity but claims that using organic farming practices is not the way to achieve it. He thinks that college students are being brainwashed about the superiority of organic diets while ignoring the negative (and unsustainable) aspects of organic farming.
Issue: Does the World Need Genetically Modified Foods?
YES: William Saletan, from "Unhealthy Fixation: The War against Genetically Modified Organisms Is Full of Fearmongering, Errors, and Fraud. Labeling Them Will Not Make You Safer," Slate (2015)
NO: Claire Robinson, from "Lessons in Critical Thinking and William Saletan—Part 1," GMWatch (2015)
William Saletan defends biotechnology used in genetically modifying foods and believes they bring many advantages and help ensure a safe food supply. He says the case against genetic modification is full of errors, fallacies, misconceptions, misrepresentations and lies. GMWatch editor Claire Robinson, and co-author of the free online book GM Myths and Truths, points out the fallacies of Saletan's defense of GM foods in her rebuttal to his article. She concludes that Saletan's critical thinking skills deserve an "F" for "Fail."
Issue: Should All Trans Fat Be Banned in Processed Foods?
YES: Food and Drug Administration, from "Final Determination Regarding Partially Hydrogenated Oils," Food and Drug Administration (2015)
NO: The Grocery Manufacturers Association, from "A Petition to the Food and Drug Administration (FDA) about Partially Hydrogenated Vegetable Oils (PHOs)," Center for Science in the Public Interest (2015)
In June 2015, the Food and Drug Administration issued the final determination that partially hydrogenated oils (PHOs) are no longer on the GRAS list because they are not "generally considered as safe." In effect, this means that trans fats are banned from foods because PHOs are the main source of trans fat. The FDA announced that PHOs must be removed from processed foods by June 2018. The Grocery Manufacturers Association filed a detailed petition outlining the safety of PHOs and requesting that low levels of PHOs be allowed in certain processed foods.
Issue: Are Interesterified (IE) Fats as Bad as Trans Fats?
YES: Gregory D. Sloop, Joseph J. Weidman, and John A. St. Cyr, from "Perspective: Interesterified Triglycerides, The Recent Increase in Deaths from Heart Disease, and Elevated Blood Viscosity," Therapeutic Advances in Cardiovascular Disease (2018)
NO: Andreina Alfieri et al., from "Effects of Plant Oil Interesterified Triacylglycerols on Lipemia and Human Health," International Journal of Molecular Science (2018)
Gregory Sloop's team believes that the new IE fats are as bad as trans fats and may be the cause of Increasing the risk cardiovascular deaths since 2011. Andreina Alfieri's group describes the differences in the digestion, absorption, and metabolism of natural and interesterified fats. They suggest that types of fatty acids found in IE fats influence effects on health status and that some types of EI may actually reduce cardiovascular disease risk.
Unit 4: Nutrition and Food Policy
Issue: Should Clean Labels Be Used on Foods?
YES: Lisa Lefferts, from "Clean Labels: Public Relations or Public Health?" Center for Health in the Public Interest (2017)
NO: Nadia Berenstein, from "Clean Label's Dirty Little Secret," The New Food Economy (2018)
Although there is no legal definition, the "clean label" concept generally implies that processed foods have short ingredients lists and no artificial ingredients. Lefferts reports that consumers are demanding to know if products are free of artificial and potentially unsafe ingredients, and that many chain grocery stores and restaurants are promoting clean foods. She believes their efforts are in the right direction, and that more should adopt clean label programs. Nadia Berenstein unveils the secrets behind the clean label movement and questions if the public realizes the changes that removing additives will have on the foods they have grown to enjoy. She also wonders if "clean foods" are really better than standard processed foods.
Issue: Is Vegetarianism the Future of Halal Eating?
YES: Febe Armanios and Boğaç Ergene, from "For Many Muslim Grocery Shoppers, a Shifting Definition of Halal," The Conversation (2018)
NO: Adam Withnall, from "Why Is Halal Meat So Controversial?" The Week UK (2014)
Armanios and Ergene trace the history of Islamic eating and describe what tayyib–halal foods are, including how meat and poultry are killed based on Quranic rules. They discuss the growing evidence that veganism is probably the food pattern most consistent with the Prophet Muhammad's lifestyle and that many younger Muslims are shifting to ethically sourced foods and veganism. In contrast, Withnall points out the increase in global sales of halal meats, describes the slaughter process, and speculates the amount of pain caused to the animals during slaughter.
Issue: Should Fluoridated Water Be Banned?
YES: Michael Connett, from "Citizen Petition Under Section 21 of TSCA: Regarding the Neurotoxic Risks Posed by Fluoride Chemicals in Drinking Water," Environmental Protection Agency (2016)
NO: Environmental Protection Agency (EPA), from "Fluoride Chemicals in Drinking Water; TSCA Section 21 Petition; Reasons for Agency Response," The Federal Register (2017)
Michael Connett leads concerned citizens in their petition to the EPA to remove fluoride from public drinking water. They claim that fluoride causes neurotoxic damage and include over 180 studies that support fluoride's neurotoxicity. They point out that fluoride's benefit to dental health is from topical application to teeth, not by swallowing it in drinking water. The EPA denies the petition to remove fluoride from public water supplies concluding there is lack of scientific studies showing that people in the United States have suffered brain damage or other problems from drinking fluoridated water.
Issue: Do Diet Sodas Aid in Weight Loss?
YES: William Hudson, from "Diet Soda Helps Weight Loss, Industry-funded Study Finds," CNN (2014)
NO: Stephanie Bucklin, from "Why Diet Soda Could Actually Prevent You from Losing Weight," The Huffington Post (2016)
CNN Medical Producer William Hudson reports that studies show that diet soda drinkers are likely to lose more weight than water drinkers. Writer Stephanie Bucklin argues that research indicates that diet soda may actually hinder weight loss efforts.
Issue: Should FDA Revoke Soy's Health Claim?
YES: Joseph Mercola, from "Soy—Health Food or Not?" Mercola (2017)
NO: Matthew Ruscigno, from "Soy Under Fire," Today's Dietitian (2017)
Dr. Mercola has long warned against eating unfermented soy and points out the many negative aspects of soy products. He welcomes FDA's efforts to revoke the health claim about soy reducing the risk of heart disease. Dietitian Matthew Ruscigno disagrees and concludes that average individuals who are at risk of heart disease "would most likely benefit from adding soy foods to their diets."
Issue: Do Pesticides Cause Birth Defects and Other Health Problems?
YES: Christopher Pala, from "Pesticides in Paradise: Hawaii's Spike in Birth Defects Puts Focus on GM Crops," The Guardian (2015)
NO: Environmental Protection Agency, from "Food and Pesticides," Environmental Protection Agency (2015)
Christopher Pala reports an increase in birth defects and pediatric morbidity in areas of Hawaii where high levels of pesticides are used for testing growth of GMO corn. He also describes the steps some Hawaiians are taking to restrict the testing of pesticides in Hawaii. The Environmental Protection Agency claims that American agricultural products are rigorously tested, and the pesticide residue levels cause no health problems, especially among children.