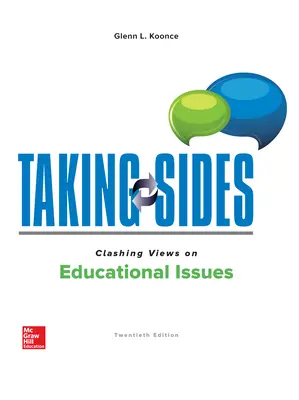 Taking Sides: Clashing Views on Educational Issues
20th Edition
By Glenn Koonce
ISBN10: 1260494241
ISBN13: 9781260494242
Copyright:
2020
---
Instructors: choose ebook for fast access or receive a print copy.
---
Program Details
Unit 1: Basic Theoretical Issues
Issue: Should the Curriculum Be Standardized for All?
YES: Ervin Sparapani and David Pérez, from "A Perspective on the Standardized Curriculum and Its Effect on Teaching and Learning," Journal of Education and Social Policy (2015)
NO: John Holt, from "Escape from Childhood," E.P. Dutton (1974)
Saginaw Valley State University Professor Ervin Sparapuni and Associate Provost at Saginaw Valley State University, David Perez contend that even though a curriculum may be standard, teachers need to use a variety of teaching approaches to meet the needs of diverse student populations. Educator John Holt argues that an imposed curriculum damages the individual and usurps a basic human right to select one's own path of development.
Issue: Should "Public Schooling" Be Redefined?
YES: Stephanie T. Scott, from "An Argument for Redefining Public Schools," Pawley Learning Institute (2008)
NO: Linda Nathan et al., from "A Response to Frederick Hess," Phi Delta Kappan (2004)
Researcher Stephanie Scott explains that the purpose of public schools must be clarified at a minimum and redefined at a maximum in this era where parents have increased choices for the education of their children. Linda Nathan, Joe Nathan, Ray Bacchetti, and Evans Clinchy express a variety of concerns about the conceptual expansion that Hess proposes.
Unit 2: Current Fundamental Issues
Issue: Are Truly Democratic Classrooms Possible?
YES: Lina Bell Soares, from "The Education Students Deserve: Building a Democratic Classroom in Teacher Education," Critical Literacy: Theories and Practices (2013)
NO: Gary K. Clabaugh, from "Second Thoughts about Democratic Classrooms," Educational Horizons (2008)
Lina Soares, Associate Professor of Education, draws from John Dewey and literature related to social justice and critical multicultural education as a way to practice democracy in the classroom. Gary K. Clabaugh, Professor of Education, examines such factors as top-down management, compulsory attendance, business world influences, and federal mandates to declare Morrison's ideas to be "out of touch" with reality.
Issue: Do Public Schools Have Grounds to Punish Students for Their Off-Campus Online Speech?
YES: Theodore A. McKee, from J.S. v. Blue Mountain School District, United States Court of Appeals (2011)
NO: Theodore A. McKee, from Layshock v. Hermitage School District, United States Court of Appeals (2011)
On February 11, 2010, a panel of judges from the Third Circuit Court of Appeals heard the J.S. v. Blue Mountain District case ruling against a suspended junior high school student who ridiculed her principal online using MySpace with a computer that was accessed off-campus. The student had been suspended by her school district. On the previous day, February 10, 2010, another panel of three judges from the same Third Circuit Court of Appeals heard Layshock v. Hermitage School District and ruled on June 3, 2010 that the school district had violated high school senior Justin Layshock's First Amendments free speech rights. A local Pennsylvania school official suspended Layshock for10 days. He was also placed in an alternative education setting and banned from extracurricular activities and graduation ceremonies for mocking his principal with a fake MySpace profile that he accessed off-campus. Both the J.S. and Layshock cases were later heard on June 3, 2011 by the Full Third Circuit Court of Appeals, with a twist and changes to the earlier ruling in J.S. due to application of a 1969 U.S. Supreme Court ruling. Chief Judge Theodore McKee wrote the court's opinion for both the Layshock & J.S. cases. In 2012, the U.S. Supreme Court declined to hear either of these social media cases.
Issue: Can the Common Core State Standards Be Successful?
YES: William H. Schmidt and Nathan A. Burroughs, from "How the Common Core Boosts Quality and Equality," Educational Leadership (2012/2013)
NO: Tom Loveless, from "The Common Core Initiative: What Are the Chances of Success?" Educational Leadership (2012/2013)
With a focus on the new math standards, Michigan State University researchers William Schmidt and Nathan Burroughs indicate the Common Core State Standards will address two tenacious problems in U.S. education: the mediocrity quality of mathematics learning and unequal opportunity in U.S. schools. Tom Loveless, a senior fellow at the Brookings Institute, takes the position that chances for the Common Core Standards to be successful are "slim at best" when compared to the claims on how well similar policies have worked in the past.
Issue: Can Failing Schools Be Turned Around?
YES: Roxanne Garza and Melissa Tooley, from "Freeing Up School Turnaround Leaders," National Association of State Boards of Education (2018)
NO: Laura Hoxworth, from "Five Myths That Inhibit School Turnaround," UVA Today (2017)
Policy Analyst and Director of preK-12 Educator Quality with the Education Policy Program at New America, Roxanne Garza and Melissa Tooley, author of From Frenzied to Focused: How School Staffing Models Can Support Principals in Instructional Leadership, discuss how three districts divvy up principals' duties so they can devote time to instructional leadership. Media contact, Laura Hoxworth interviews Coby Meyer, research associate professor at the University of Virginia and co-editor Marlene Darwin of the American Institutes for Research advocate addressing in their book, Enduring Myths that Inhibit School Turnaround, the myths that inhibit school turnaround, so that policy makers and school leaders can address them head on.
Unit 3: Current Specific Issues
Issue: Is There Support for Arming Teachers in Schools?
YES: Arvin Campbell, from "A Case for Arming Teachers and Administrators in Public Schools with Firearms," The Bill Blackwood Law Enforcement Management Institute of Texas; Benbrook Police Department (2016)
NO: National School Safety and Security Services, from "Arming Teachers and School Staff with Guns: Implementation Issues Present School Boards and Administrators with Significant Responsibility and Potential Liability" (2013)
Arvin Campbell, in a White Paper in partial fulfillment required for graduation from the Leadership Command College, Benbrook Police Department, supports arming teachers and administrators to serve as a deterrent because time is a big factor in confronting a shooter. Led by President Kenneth Trump, the National School Safety and Security Services asserts that teachers want to be armed with "textbooks and computers, not guns."
Issue: Has the Time Arrived for Universal Preschool?
YES: Sara Vecchiotti, from "Transforming the Early Care and Education Workforce," National Association of State Boards of Education (2018)
NO: Erika Christakis, from "How the New Preschool Is Crushing Kids," The Atlantic (2016)
Dr. Sara Vecchiotti, Esq., Chief Program Officer at the Foundation for Child Development, in her support for early learning environments notes that children can receive benefits from early care and education if early childhood education professionals are adequately prepared, competent, supported, and well compensated. Erika Christakis from The Atlantic posits that the same educational policies that are pushing academic goals down to ever earlier levels seem to be contributing to—while at the same time obscuring—the fact that young children are gaining fewer skills, not more.
Issue: Should Teacher Preparation and Licensing Be Regulated by the Government?
YES: James Cibulka, from "Strengthen State Oversight of Teacher Preparation," Education Next (2013)
NO: David Chard, from "Training Must Focus on Content and Pedagogy," Education Next (2013)
Council for the Accreditation of Educator Preparation President Jim Cibulka states that tightening government licensure regulation is needed to assure candidate and program quality that can result in a more favorable learning environment for Pre-K–12 students. David Chard indicates that current state control of teacher preparation and licensing does not ensure that teachers will be of high quality.
Issue: Though the Law Has Been Rescinded, Should Teacher Preparation Programs Be Rated under the Higher Education Act?
YES: Ashley LiBetti Mitchel and Chad Aldeman, from "Plotting a New Course on Teacher Preparation Reform," National Association of State Boards of Education (2017)
NO: Paul T. von Hippel and Laura Bellows, from "Rating Teacher-Preparation Programs," Education Next (2018)
Ashley LiBetti Mitchel, a senior analyst and Chad Aldeman, a principal at Bellwether Education Partners, state that the regulation to rate teacher preparation programs deserved more attention as a way to hold them accountable. Paul von Hippel, an associate professor in the LBJ School of Public Affairs, University of Texas in Austin, and Laura Bellows, doctoral student at the Sanford School of Public Policy at Duke University, noting attention to the body of research comparing teacher preparation programs has produced inconsistent results, and they question why officials at United States Department of Education dismissed this research when originally setting the policy.
Issue: Should There Be No-Zero Grading Policies in Schools?
YES: Bianca Bell, from "From Zero to Hero: A Teacher's Academic Freedom and Professional Judgment Upheld," Education Law Journal (2016)
NO: Michael Zwaagstra, from "Zero Support for No-Zero Policies," Frontier Centre for Public Policy (2012)
Articulating student at Ursel Phillips Fellows Hopkinson LLP Bianca Bell reports the outcome from a court case where a teacher's use of zeros, in deference to the principal's policy, was upheld in court. Teacher, education researcher, and author Michael Zwaagstra posits no-zero policies are logically flawed, unsupported by research, and mathematically unfair.
Issue: Is the "21st Century Skills" Movement Practical?
YES: Michael F. Fitzpatrick, from "Presenting a Practitioner's Response to the 21st Century Skills Debate," Mass.gov (2015)
NO: Margaret Hilton, from "Preparing Students for Life and Work," Issues in Science and Technology (2015)
Michael Fitzpatrick, a member of the American Association of School Administrators, presents a research-based view that concludes school leaders can and should promote challenging and meaningful structure for twenty-first century skill development. Margaret Hilton, a senior program officer of the Board on Science Education and the Board on Testing and Assessment at the National Research Council, argues that the "Achilles" heel of the growing movement for twenty-first century skills is the absence of agreement on what these skills are and that important challenges to this concept remain.
Issue: Should Educators Be Cautious Regarding Flipped Classrooms?
YES: Stacy M.P. Schmidt and David L. Ralph, from "The Flipped Classroom: A Twist on Teaching," The Clute Institute (2016)
NO: Project Tomorrow Speak Up, from "Speak Up 2014 National Research Project Findings: Flipped Learning Continues to Trend for Third Year," Flipped Learning Network (2015)
Professors Stacy Schmidt from California State University at Bakersfield and David Ralph from Pepperdine University advocate for more research and funding for the flipped classroom noting five reasons to use caution in implementing flipped classrooms. Speak Up's 2014 National Research Project Findings assert that school leaders, teachers, librarians, and students are increasingly interested in flipped learning to transform the learning experience and a growing number of teachers who are moving to the concept, so "why fight it?"
Issue: Does Class Size Affect Student Achievement?
YES: William J. Mathis, from "The Effectiveness of Class Size Reduction," National Education Policy Center (2016)
NO: Christopher Jepsen, from "Class Size: Does It Matter for Student Achievement?" IZA World of Labor (2015)
William J. Mathis, the managing director of the National Education Policy Center at the University of Colorado Boulder, states that the literature on class size reduction finds it as an effective strategy for improved learning. Christopher Jepsen states that smaller classes are often associated with increased achievement, but evidence is far from universal.
Issue: Does Funding Improve Student Achievement?
YES: Jesse Rothstein, Julien Lafortune, and Diane Whitmore Schanzenbach, from "Can School Finance Reforms Improve Student Achievement?" Washington Center for Equitable Growth (2016)
NO: Caitlin Emma, from "Here's Why $7 Billion Didn't Help America's Worst Schools," Politico (2015)
Jesse Rothstein, a Ph.D. candidate at the University of California, Berkley Economics Department, Julien Lafortune, Professor of Public Policy and Economics at the University of California, and Diane Whitmore Schanzenbach, Chair of the Program on Child, Adolescent, and Family Studies at Northwestern's Institute for Policy Research and senior fellow at the Brookings Institute, find that "money matters for student achievement" and through a new strand of research have found positive effects of additional funding on student achievement. Caitlin Emma, Politico reporter covering education, inquires as to why the government pumped $3 billion dollars of economic stimulus money into School Improvement Grants when six years later the program failed to produce only modest or no gains in student achievement.
Issue: Should Charter Schools Be Expanded?
YES: Derrell Bradford, from "Strengthening the Roots of the Charter-School Movement," Education Next (2018)
NO: Robin Lake, et al., from "Why Is Charter Growth Slowing?" Education Next (2018)
Derrell Bradford, executive vice-president of 50CAN, a national non-profit that advocates for equal opportunity in K-12 education and senior visiting fellow at the Thomas B. Fordham Institute, notes that we would be better advised to provide leaders of charter schools with more support because they allow the autonomy and flexibility to do what some districts can't or won't. Robin Lake, director of the Center on Reinventing Public Education at the University of Washington Bothell, where Roohi Sharma is research coordinator and Alice Opalka is special assistant to the director, Trey Cobb, a graduate student at the University of Notre Dame and a middle school math teacher, share their study of charter school growth and decline in the San Francisco Bay area of charter schools over the last five years and they note that districts have become skilled at limiting charter growth.
Issue: Is the Use of Technology Changing How Teachers Teach and Students Learn?
YES: Joanne Jacobs, from "Beyond the Factory Model," Education Next (2014)
NO: Benjamin Herold, from "Why Ed Tech Is Not Transforming How Teachers Teach: Student-Centered, Technology-Driven Instruction Remains Elusive for Most," Education Week (2015)
Former San Jose Mercury News editorial writer and columnist for K-12 education, Joanne Jacobs, provides evidence from the field that technology use through Blended Learning strategies has a positive effect on student learning outcomes even though she acknowledges it is not "transformational" right now. Benjamin Herold posits that a mountain of evidence indicates that teachers have been painfully slow to transform the way they teach despite the massive influx of new technology into their classrooms.
Issue: Should Students Be Allowed to Opt Out?
YES: Kristina Rizga, from "Sorry, I'm Not Taking This Test," Mother Jones (2015)
NO: Jonah Edelman, from "This Issue Is Bigger Than Just Testing," Education Next (2016)
Kristina Rizga, a former education correspondent at Mother Jones and author of Mission High, argues that with so much controversy revolving around the effects of testing on struggling students and schools, it's hard to remember that the movement's original goal was to level the educational playing field. Jonah Edelman, an American advocate for public education and the co-founder and Chief Executive Officer of Stand for Children deeply values teachers' perspective on how students are progressing academically, but he also wants a more objective gauge of whether students are on grade level in math, reading, and writing.
Issue: Does Homework Matter?
YES: Lee Walk and Marshall Lassak, from "Making Homework Matter to Students: More Meaningful Homework Is an Easily Achievable Goal," Mathematics Teaching in the Middle School (2017)
NO: Cory A. Bennette, from "'Most Won't Do It!' Examining Homework as a Structure for Learning in a Diverse Middle School," American Secondary Education (2017)
Lee Walk who teaches eighth-grade math and science at Cumberland Middle School in Toledo, Illinois and Marshall Lassak who teaches at Eastern Illinois University in Charleston believe that with an appropriate level of demand and timely feedback will allow students to learn from their homework and be confident that the work they do outside of class is meaningful. Cory Bennett, an Associate Professor of Education at Idaho State University, provides recommendations for homework policy and practice that requires critical examination of practices and beliefs.
Issue: Is There Opposition to Using Technology to Track Student Social–Emotional Learning?
YES: Jane Robbins, from "Invited Testimony of Jane Robbins, American Principles Project Foundation before the U.S. House Committee on Education and the Workforce," (2018)
NO: Benjamin Herold, from "How (and Why) Ed-Tech Companies Are Tracking Student's Feelings," Education Week (2018)
Speaking to the U.S. House Committee on Education and the Workforce, Jane Robbins is opposed to using technology to track student social emotional behavior because she feels the government will have enormous leeway to disclose personal information on individual students without their consent. Benjamin Herold comments on both sides of the issue, but identifies school districts that have already implemented SEL assessment and comments favorable on the growing push to use educational technology to measure, monitor, and modify students' emotions, mindsets, and ways of thinking.
Issue: Should Electronic Textbooks Replace Print Textbooks?
YES: Ty Pierce, from "Electronic Textbooks for K12 Education: Lessons Learned from the Ohio as America Redesign," Ohio History Connection (2018)
NO: The Paper and Packaging Board, from "Paper and Productive Learning: The Fourth Annual Back-to-School Report," The Paper and Packaging Board (2018)
Ty Pierce, Manager of Education and Multimedia Services at the Ohio History Connection states that electronic textbooks are quickly becoming the norm for K12 education, and the use of myriad electronic resources is now standard practice in the modern classroom. The Paper and Packaging Board support print books noting that current research shows people are still more likely to have read a print book than a digital one.