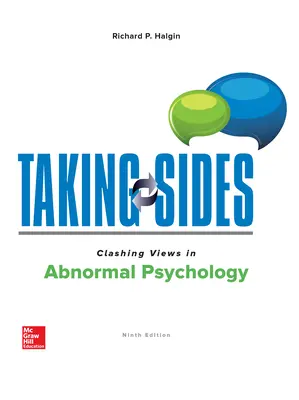 Taking Sides: Clashing Views in Abnormal Psychology
,
9th Edition
ISBN10: 1259903907 | ISBN13: 9781259903908
Purchase Options:
* The estimated amount of time this product will be on the market is based on a number of factors, including faculty input to instructional design and the prior revision cycle and updates to academic research-which typically results in a revision cycle ranging from every two to four years for this product. Pricing subject to change at any time.
Additional Product Information:
The Taking Sides Collection on McGraw-Hill Create® includes current controversial issues in a debate-style forma designed to stimulate student interest and develop critical thinking skills. This Collection contains a multitude of current and classic issues to enhance and customize your course. You can browse the entire Taking Sides Collection on Create or you can search by topic, author, or keywords. Each Taking Sides issue is thoughtfully framed with Learning Outcomes, an Issue Summary, an Introduction, and an "Exploring the Issue" section featuring Critical Thinking and Reflection, Is There Common Ground?, Additional Resources, and Internet References. Go to the Taking Sides Collection on McGraw-Hill Create® at www.mcgrawhillcreate.com/takingsides and click on "Explore this Collection" to browse the entire Collection. Select individual Taking Sides issues to enhance your course, or access and select the entire Halgin: Taking Sides: Clashing Views in Abnormal Psychology, 9/e book here http://create.mheducation.com/createonline/index.html#qlink=search%2Ftext%3Disbn:1259903907 for an easy, pre-built teaching resource. Visit http://create.mheducation.com for more information on other McGraw-Hill titles and special collections.
Unit 1: Psychological Conditions and Treatments
Issue: Is the Addiction Model Appropriate for Treating Compulsive Sexual Behaviors?
YES: Isaac Abel, from "Was I Actually 'Addicted' to Internet Pornography?" The Atlantic (2013)
NO: Marty Klein, from "Why 'Sexual Addiction' Is Not a Useful Diagnosis—And Why It Matters," martyklein.com (2016)
Isaac Abel, a journalist who writes (under a pen name) about sexuality and gender, shares his story of compulsive sexual behaviors while arguing that the sex addiction model, while not perfect, gave support to his struggle. Marty Klein, an author and Certified Sex Therapist, argues that the sex addiction model is harmful to clients, treating normal sexual behaviors as pathologies and gives undue authority to moralizing, sex-negative "experts."
Issue: Is Attention-Deficit/Hyperactivity Disorder (ADHD) a Real Disorder?
YES: National Institute of Mental Health (NIMH), from "Attention Deficit Hyperactivity Disorder (ADHD)," National Institute of Mental Health (2014)
NO: Tim O'Shea, D.C., from "ADD: A Designer Disease," The Doctor Within (2014)
The National Institute of Mental Health concurs with DSM-5 in viewing ADHD as a valid disorder that warrants thoughtful diagnosis and effective intervention. Tim O'Shea, Doctor of Chiropractic, views the diagnosis of ADD/ADHD as representing an invidious assault on American children that is promoted by parents, teachers, psychiatrists, school personnel, lobbyists, and the pharmaceutical industry.
Issue: Should Asperger's Syndrome Be a Diagnosis Distinct from Autism Spectrum Disorder?
YES: Dania Jekel and Nomi Kaim, from "Asperger's: Too Valuable to Lose," Original Work (2017)
NO: Francesca Happé and Jon Sutton, from "A Creative, Interpersonal, Social Scientist," The Psychologist (2014)
Dania Jekel, Executive Director of the Asperger/Autism Network, and Nomi Kaim, an adult living with Asperger's, stand against the exclusion of Asperger's from the DSM-5 as a distinct diagnosis, and they call for its reintroduction in the next edition. They consider Asperger's to be a unique profile on the autism spectrum, and that recognition of Asperger's as a valid diagnosis has had a positive impact on the lives of those with this condition. They seek to depathologize Asperger's, and they are striving to have society view this condition as an example of neurodiversity. Professor Francesca Happé defends the revisions to the neurodevelopment disorders section of the DSM-5 that eliminated Asperger's as a distinct diagnosable disorder. She considers Asperger's to be a "descriptive" term, rather than a diagnostic category, as it has no clear distinction that separates it from what is already captured by dimensional autism spectrum. She views the autism spectrum in a "multidimensional space," and asserts that individual categorical diagnoses fail to capture the heterogeneity of autism spectrum disorders.
Issue: Is Alcoholics Anonymous (A.A) an Ineffective Treatment Based on Pseudoscience?
YES: Gabrielle Glaser, from "The Irrationality of Alcoholics Anonymous," The Atlantic (2015)
NO: Sarah A. Benton, from "Critique of Gabrielle Glaser's Atlantic Article 'Irrationality of AA'," Original Work (2015)
Gabrielle Glaser asserts that A.A. is based on a "debunked" framework and contends that several alternative treatments are much more effective. She labels A.A. as "the medical treatment least grounded in modern science," and criticizes the lack of qualified addiction counselors who run A.A. groups. She criticizes A.A. for its inflated success rates, inability to help with comorbid mental health conditions, and its overall "one size fits all" approach. She views A.A. as obsolete faith-based and abstinence-based treatment that should and will be replaced by evidence-based treatments, which teach alcoholic individuals how to appropriately moderate their alcohol consumption. Mental health clinician Sarah A. Benton provides a rebuttal to several of Glaser's assertions. She refutes the claim of A.A. as unscientific, and criticizes Glaser's subscription to the notion of moderated drinking as evidence that Glaser does not have a grasp of how alcoholism works. Benton advocates that A.A. to be used in tandem with other treatment modalities. She considers the spiritual element of A.A. to be an invaluable part of the recovery process, and states that spirituality's positive effects are empirically supported. She praises A.A.'s tenet of abstaining from alcohol as scientifically sound and the practical route to recovery.
Issue: Is "Social Transitioning" a Beneficial Treatment for Transgender Children?
YES: Kristina Olson and Lily Durwood, from "Are Parents Rushing to Turn Their Boys Into Girls?" Slate (2016)
NO: Alice Dreger, from "The Big Problem with Outlawing Gender Conversion Therapies," Wired (2015)
Kristina Olson, Associate Professor of Psychology and founder of the TransYouth Project at the University of Washington, and Lily Durwood, Project Coordinator at the TransYouth Project, argue that researchers have misrepresented findings to suggest that many young people who identify as transgender will ultimately identify as cisgender, and that calls to limit the option of social transitioning can be harmful to transgender youth. Alice Dreger, author and Professor of Clinical Medical Humanities and Bioethics at Northwestern University, argues that controversial "gender conversion therapy" can help prevent unnecessary treatments on gender non-conforming young people.
Issue: Should Psychiatric Asylums Be Reestablished as a Treatment Option for Long-term, Inpatient Care?
YES: H. Richard Lamb and Linda E. Weinberger, from "Rediscovering the Concept of Asylum for Persons with Serious Mental Illness," The Journal of the American Academy of Psychiatry and the Law (2016)
NO: Julian C. Hughes, from "Objections and Merits: A Commentary on 'Improving Long-term Psychiatric Care: Bring Back the Asylum' by Sisti, Segal, and Emanuel," Journal of Ethics in Mental Health (2015)
Psychiatrist H. Richard Lamb and Psychologist Linda E. Weinberger argue that negative connotations surrounding asylums due to their dark history should not end the discussion of revisiting institutionalization as a solution for long-term mental health care moving forward. They criticize deinstitutionalization and note that the movement has displaced the severely mentally ill from treatment facilities and into prisons, or trans-institutionalization. By expanding and improving the concept of asylum, they contend that those with low-functioning serious mental illness (SMI) such as severe schizophrenia can be given life structure and a road to recovery rather than an underserved punishment. They conclude that such "re-institutionalization" measures provide the optimal route to rehabilitation for individuals with SMIs, a remedy neither prisons nor community-based services can adequately provide. Julian C. Hughes contests a highly controversial article in the Journal of the American Medical Association (JAMA), which advocates for the return of institutionalization as a long-term psychiatric care model. He argues such institutions "breed abusive and infantilizing attitudes" and "represent a return to the bad old days of prejudice amongst the public and paternalism amongst the professionals." He cites the importance of patient autonomy in the recovery process, something stripped away by such institutions. Although not against long-term inpatient care altogether, he urges such measures should not resemble the structure of the prototypical asylum, and believes a return to institutionalization is an oversimplified "bandage" solution to complex flaws throughout the mental health care system. He advocates for the improvement of community-based services to reduce stigma surrounding mental health.
Unit 2: The Trend toward Biological Interventions
Issue: Do We Still Need Psychiatrists?
YES: Steven Moffic, from "Why We Still Need Psychiatrists!" Mad in America (2012)
NO: Steven Balt, from "Yes, We Still Need Psychiatrists, but for What?" The Carlat Psychiatry Report (2012)
Psychiatrist Steven Moffic states that psychiatrists play critically important roles in the field of mental health care because they are extensively trained and well-versed in understanding the functioning of the human body and the treatment of mental disorders. He urges psychiatrists to accept constructive criticism and to take steps to move forward in developing innovative intervention models such as collaborating on-site with primary care physicians in offering integrated care. Psychiatrist Steven Balt believes that psychiatrists have overstepped the boundaries of their position, and doing so has often led to mislabeling and mistreating countless people. He contends that much of what psychiatrists do is pseudoscience, but that most people nevertheless buy into the psychiatric model. He argues that psychiatrists, with their years of scientific education, can use their influence to change the current state of affairs in the field of mental health.
Issue: Is Addiction a Brain Disease?
YES: National Institute on Drug Abuse, from "Drugs, Brain, and Behavior: The Science of Addiction," National Institute on Drug Abuse (2014)
NO: Sally Satel and Scott O. Lilienfeld, from "Addiction and the Brain-Disease Fallacy," Frontiers in Psychiatry (2014)
In the NIDA publication, the argument is made that addiction is indeed a disease, and that scientific information is available about the nature, prevention, and treatment of this disease. Psychiatrist Sally Satel and Clinical Psychologist Scott O. Lilienfeld oppose the Brain-Disease Model of Addiction, asserting that is over-emphasizes the brain's role in addiction while not considering the role of choice and operant conditioning in addiction formation and persistence. They insist that addicts can choose recovery and are not "helpless victims of their own hijacked brains." They emphasize personality responsibility rather than searching for a "magic bullet" cure. They consider the medicalization of addiction as a failed attempt by advocates to destigmatize addicts when, in fact, it has worked to enable their problem behaviors.
Issue: Should Memory-Dampening Drugs Be Used to Prevent and Treat Trauma in Combat Soldiers?
YES: Elise Donovan, from "Propranolol Use in the Prevention and Treatment of Posttraumatic Stress Disorder in Military Veterans: Forgetting Therapy Revisited," Perspectives in Biology and Medicine (2010)
NO: The President's Council on Bioethics, from "Beyond Therapy: Biotechnology and the Pursuit of Happiness," President's Council on Bioethics (2003)
Research scientist Elise Donovan states that an alarming and rising number of soldiers are returning from combat suffering from PTSD, and that medications such as the beta-blocker propranolol can alleviate their symptoms. Propranolol, she argues, will help soldiers with PTSD who have essentially lost "their sense of self" reintegrate into society. Because the drug causes memory dampening, rather than memory loss, it will create an opportunity for veterans to better cope with everyday life upon returning from combat. She believes that symptoms and consequential behaviors associated with PTSD (i.e., suicide, domestic abuse, and alcohol or drug abuse) will be greatly reduced in PTSD patients who take propranolol. Dr. Donovan also states that use of propranolol will foster an experience of posttraumatic growth. The President's Council on Bioethics, chaired by Dr. Leon Kass, criticizes the use of memory-dampening drugs to treat the symptoms of trauma by asking, "What kind of society are we likely to have when the powers to control memory, mood, and mental life through drugs reach their full maturity?" The Council asserts that identities are formed by what people do and what they undergo or suffer. Escaping painful memories would necessarily result in a change in the identity of who the person is, as well as the person's perception and understanding of significant life events.
Issue: Should Brain Stimulation Therapies Be Used in Efforts to Rehabilitate Psychopathic Criminals?
YES: Sergio Canavero, from "Criminal Minds: Neuromodulation of the Psychopathic Brain," Frontiers in Human Neuroscience (2014)
NO: Dietmar Hübner and Lucie White, from "Neurosurgery for Psychopaths? An Ethical Analysis," AJOB Neuroscience (2016)
Neurosurgeon Sergio Canavero advocates for the experimental implementation of neuromodulating interventions, specifically cortical stimulation (CS), for criminal and/or psychopathic individuals. He considers CS a "risk-free" procedure for treating people with criminal psychopathy. He asserts that CS has the potential to increase behavioral inhibition, boost neuroplasticity, and rewire moral circuitry in the psychopathic brain. He believes that the benefits of these brain stimulating procedures outweigh legal and ethical concerns. Bioethicists Dietmar Hübner and Lucie White contend that neuromodulation of criminal psychopaths, specifically the implementation of deep brain stimulation (DBS), violate the ethical code of medical research. They question the medical benefit of DBS for psychopathy on several grounds. First, they argue that the "disease" model of psychopathy is debatable, thus making medical intervention inappropriate. Second, they contend that psychopaths do not experience subjective suffering and that medical intervention is only justified in cases in which individuals are relieved of such suffering. They argue that psychopaths experience their condition as an "objective" reality and that the "wish to alter them cannot override their lacking the wish to change." Due to objections on the part of psychopathic individuals, they conclude that such interventions would violate the ethical standard of voluntary informed consent. They also assert that similar ethical concerns could arise in the application of other brain-stimulating procedures.
Issue: Is Marijuana a Viable Treatment Option for Psychiatric Disorders?
YES: Will Hall, from "Marijuana for Mental Health Conditions?" Everything Matters: Beyond Meds (2015)
NO: Bernard Woodward, from "Marijuana and the Psychiatric Patient," Psychiatric Times (2017)
Counselor Will Hall supports the exploration of marijuana as a potential treatment for psychiatric conditions due to the ineffectiveness of psychotropic medications and the stagnancy of psychopharmacological developments. He asserts that many are already using cannabis to treat their mental health conditions on their own volition. He advises medical professionals to challenge the notion of "reefer madness" perpetuated by the "War on Drugs" and believes it is unethical to withhold this holistic treatment option from patients. Although he acknowledges that not all individuals react positively to marijuana, and some are at risk of developing psychotic features by using cannabis, he does not consider this enough reason to prohibit medical marijuana for mental health conditions. He points to the considerable number of success stories of people who have found relief from in depression, anxiety, and PTSD. He advocates advancing clinical trials to assess the therapeutic prospects of cannabis and its derivatives, such as the chemical compound cannabinol (CBD) which has already been shown to have medicinal value. Psychiatrist Bernard Woodward warns against attempts to use marijuana to combat psychopathology. He considers psychiatric patients especially vulnerable to addiction, dependence, self-medication, and psychosis when substituting marijuana for appropriate pharmaceutical intervention. Dr. Woodward also highlights the likelihood of psychiatric patients choosing THC-rich recreational marijuana over CBD-rich medical marijuana, and he contends that THC's psychedelic properties only exacerbate symptom presentation(s). He is skeptical of claims that marijuana is a "godsend" for conditions such as PTSD, citing the limitations of translating the findings in animal research to human populations. He discusses the concept of "cannabis-use disorder" and its ability to morph an individual into a "dual-diagnosis" patient.
Unit 3: Social, Ethical, and Legal Issues
Issue: Does Research Confirm That Violent Video Games Are Harmful to Minors?
YES: Leland Y. Yee and Steven F. Gruel, from "Brief of Amicus Curiae in Case of Brown v. Entertainment Merchants Association," U.S. Supreme Court (2010)
NO: Patricia A. Millett, from "Brief of Amici Curiae in Brown v. Entertainment Merchants Association," U.S. Supreme Court (2010)
California State Senator Leland Y. Yee and Attorney Steven F. Gruel (Counsel of Record for the professional associations in pediatrics and psychology) contend that substantial research shows that violent video games can cause psychological or neurological harm to minors. Studies have shown that, in addition to fostering aggressive thought and behavior, ultra-violent video games can lead to reduced activity in the frontal lobes of the brain as well as behavioral problems such as antisocial behavior and poor school performance. Senator Yee and Attorney Gruel believe that the government has a duty to protect children, and that the First Amendment of the U.S. Constitution, with regard to free speech, should not be used to place at risk immature children who cannot discern the difference between fantasy and reality. Attorney Patricia A. Millett (Counsel of Record for the amicus curiae submitted on behalf of the Entertainment Merchants Association) argues that there is insufficient evidence to show that violent video games can cause psychological or neurological harm to minors. Attorney Millett claims that the various studies cited in the opposing amicus curiae are either flawed or have been discredited. She also asserts that studies have shown no compelling causal connections between playing violent video games and aggressive or antisocial behavior in youths.
Issue: Must Mentally Ill Murderers Have a Rational Understanding of Why They Are Being Sentenced to Death?
YES: American Psychological Association, American Psychiatric Association, and National Alliance on Mental Illness, from "Brief for Amici Curiae American Psychological Association, American Psychiatric Association, and National Alliance on Mental Illness in Support of Petitioner," U.S. Supreme Court (2007)
NO: Greg Abbott et al., from "On Writ of Certiorari to the United States Court of Appeals for the Fifth Circuit: Brief for the Respondent," U.S. Supreme Court (2007)
The American Psychological Association, the American Psychiatric Association, and the National Alliance on Mental Illness collaborated in the preparation of an amici curiae brief pertaining to the case of Scott Panetti, who was sentenced to death for murder. In this brief, the argument is made that mentally ill convicts should not be executed if their disability significantly impairs their capacity to understand the nature and purpose of their punishment or to appreciate why the punishment is being imposed on them. In his position as Attorney General of Texas, Greg Abbott argued the case of Scott Louis Panetti, Petitioner v. Nathaniel Quarterman, Director, Texas Department of Criminal Justice, Correctional Institutions Division, Respondent. Attorney General Abbott asserts that punishment for murder does not depend on the rational understanding of the convicted individual, but rather on the convict's moral culpability at the time the crime was committed.
Issue: Are Trigger Warnings Destructive in College Classrooms?
YES: Richard E. Vatz, from "The Academically Destructive Nature of Trigger Warnings," First Amendment Studies (2016)
NO: Eleanor A. Lockhart, from "Why Trigger Warnings are Beneficial, Perhaps Even Necessary," First Amendment Studies (2016)
Professor Richard E. Vatz considers trigger warnings as "wholly incompatible with the goal of education," and only work to stunt academic growth and limit freedom of thought. He believes the infantilization of students through trigger warnings creates a generation of dependent and hypervigilant students who are ill-prepared for the challenges of the real world. Rather than serving as a protective shield against provocative content, trigger warnings serve as a false safety net with unintended consequence of heightening anxiety in college students. Professor Eleanor A. Lockhart refutes the claim that trigger warnings stagnate academic growth. Rather, she argues that trigger warnings are designed to create a more inclusive learning environment for students suffering from psychological trauma while simultaneously enhancing the ability of academic faculty to teach emotionally provocative material. She disputes the claim that academic trigger warnings coddle students, and she perceives them as a way of allowing students to learn real world challenges in an empathic manner. She insists that trigger warnings are designed to be inclusive rather than exclusive, as they serve to protect all students from potentially traumatizing content and not just those with preexisting post-traumatic stress.
Issue: Is the Use of Aversive Treatment an Inhumane Intervention for Psychologically Disordered Individuals?
YES: Laurie Ahern and Eric Rosenthal, from "Torture Not Treatment: Electric Shock and Long-term Restraint in the United States on Children and Adults with Disabilities at the Judge Rotenberg Center," Mental Disability Rights International (2010)
NO: Matthew L. Israel, from "Aversives at JRC: A Better Alternative to the Use of Drugs, Restraint, Isolation, Warehousing, or Expulsion in the Treatment of Severe Behavior Disorders," Judge Rotenberg Center (2010)
Laurie Ahern and Eric Rosenthal, writing on behalf of Mental Disability Rights International (MDRI), characterize the intentional infliction of pain at JRC as human rights abuses. Psychologist Matthew L. Israel, director of the Judge Rotenberg Center (JRC), responds to the MDRI with insistence that JRC is using behavioral methods to save individuals from their treatment-resistant, life-threatening disorders.
Issue: Is Forced Treatment of Seriously Mentally Ill Individuals Justifiable?
YES: Samuel J. Brakel and John M. Davis, from "Overriding Mental Health Treatment Refusals: How Much Process Is 'Due'?" Saint Louis University Law Journal (2007)
NO: James B. Gottstein, from "How the Legal System Can Help Create a Recovery Culture in Mental Health Systems," Alternatives 2005: Leading the Transformation to Recovery (2005)
Attorney Samuel J. Brakel and psychiatrist John M. Davis assert that society has a responsibility to take care of seriously mentally ill individuals who are incapable of making an informed decision about their need for care and treatment. Attorney James B. Gottstein contends that forced treatment of mentally ill citizens represents a curtailment of liberty which leads many people down a road of permanent disability and poverty.
Issue: Should Solitary Confinement Be Considered Psychological Torture and Be Outlawed for Inmates with Mental Illness?
YES: Reena Kapoor, from "Taking the Solitary Confinement Debate Out of Isolation," The Journal of the American Academy of Psychiatry and the Law (2014)
NO: U.S. Department of Justice, from "Inmates with Serious Mental Illness (SMI)," U.S. Department of Justice Report and Recommendations Concerning the Use of Restrictive Housing (2016)
Psychiatrist Reena Kapoor notes that the expanding movements against the solitary confinement of prisoners in not without good reason. She describes solitary confinement as having detrimental psychological effects among all prisoners, with increased suicide rates and self-injurious behavior occurring in segregated housing units. Of greater concern are inmates with serious mental illnesses (SMIs), who are placed in solitary confinement at a disproportionately higher rate. She outlines a vicious cycle in which adherence to a punishment model and ignorance about mental health conditions by correctional faculty serves to exacerbate the severity of these inmates' psychopathologies and does nothing to rehabilitate them. She considers such isolation to be a violation of constitutional rights protected under the Eight Amendment, which prohibits cruel and unusual punishment. Prison reform and psychoeducation could serve to address this issue. Despite recognizing the propensity for psychological harm, the US Department of Justice (DOJ) defends the use of solitary confinement of violent and disruptive inmates. DOJ contends that isolation measures maintain law and order within the prison infrastructure; inmates with SMI are segregated as a last resort to protect others and themselves. DOJ details how the Bureau of Prisons (BOP) offers mental health care to inmates with SMIs before and while in segregated housing. DOJ contends that the BOP works to prevent long-term isolation of inmates with SMIs, while assembling treatment teams for these individuals.
Issue: Is the Internet Damaging Teen Brains?
YES: Chandra Johnson, from "Growing Up Digital: How the Internet Affects Teen Identity," Deseret News (2014)
NO: Lauren Sherman, from "Internet and the Teen Brain: What Do We Know, and What Should We Be Asking?" Psychology in Action (2014)
Chandra Johnson describes some of the harmful effects that the Internet can have on teenagers. Lauren Sherman advocates for more research to be conducted before a firm determination is made about the impact of the Internet on adolescents.
Issue: Does Pornography Reduce the Incidence of Rape?
YES: Anthony D'Amato, from "Porn Up, Rape Down," Northwestern University School of Law, Public Law and Legal Theory Research Paper Series (2012)
NO: Darwin, from "Does Porn Prevent Rape?" Catholic Exchange (2012)
Professor of law Anthony D'Amato highlights statistics from the most recent National Crime Victimization Survey that demonstrate a correlation between the increased consumption of pornography over the years with the decreased incidence of rape. Some people, he argues, watch pornography in order to push any desire to rape out of their minds, and thus have no further desire to go out and actually do it. Blogger Darwin argues that the while sexual crimes have gone down over the years, the consumption of sexually explicit material cannot be given and that trying to associate pornography with a decrease in the incidence of rape is an attempt to justify consuming its existence and use.
Issue: Should Individuals Convicted of Lower-tier Sexually Related Crimes Be Listed on the Sex Offender Registry?
YES: John G. Malcolm, from "The Sex Offender Registration and Notification Act: A Sensible and Workable Law that Helps Keep Us Safe," Engage (2012)
NO: Carla Schultz, from "The Stigmatization of Individuals Convicted of Sex Offenses: Labeling Theory and the Sex Offense Registry," Themis: Research Journal of Justice Studies and Forensic Science (2014)
Attorney John G. Malcolm views the Sex Offender Registry and Notification Act (SORNA) as both a deterrent of sex-crime recidivism and a protective measure for society that prevents future victimization. SORNA is an objective standard that can categorize the likelihood of re-offense and serve as a predictive measure which subjective psychosexual assessments fail to provide. In response to criticism of SORNA, he asserts that the evidence points to refining SORNA policies rather than doing away with them altogether. Carla Schultz argues that SORNA and other sex offender laws, such as the Adam Walsh Act, lumps all individuals convicted of sexually-based offenses into one category without considering the nature or severity of the crime. She recommends reform of such laws so that non-violent, lower-level sexual offenders do not face the same lifelong consequences as violent predators. She casts doubt on SORNA's effectiveness, noting how socioeconomic restrictions and societal demonization imposed by SORNA may counterproductively increase the likelihood of recidivism. She proposes a rehabilitation model for sex offenders, the Good Lives Model (GLM), to replace the lasting punishment of SORNA.