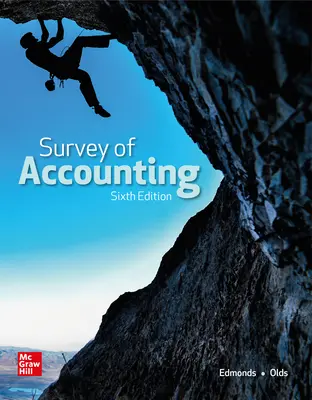 Survey of Accounting
6th Edition
By Thomas Edmonds and Christopher Edmonds and Philip Olds
ISBN10: 1260247775
ISBN13: 9781260247770
Copyright:
2021
Product Details

+
No Debit/Credit Coverage makes it an ideal choice for non majors.
Utilizes Horizontal Financial Statements Model: Allows students to see the big picture & a multiple accounting cycle approach that demonstrates the impact of related events over a series of accounting cycles.
Connect: A highly reliable, easy-to-use homework & learning management solution that embeds learning science & award-winning adaptive tools to improve student results.
Program Details
Chapter 1: An Introduction to Accounting
Chapter 2: Accounting for Accruals and Deferrals
Chapter 3: Accounting for Merchandising Businesses
Chapter 4: Internal Controls, Accounting for Cash, and Ethics
Chapter 5: Accounting for Receivables and Inventory Cost Flow
Chapter 6: Accounting for Long-Term Operational Assets
Chapter 7: Accounting for Liabilities
Chapter 8: Proprietorships, Partnerships, and Corporations
Chapter 9: Financial Statement Analysis
Chapter 10: An Introduction to Management Accounting
Chapter 11: Cost Behavior, Operating Leverage, and Profitability Analysis
Chapter 12: Cost Accumulation, Tracing, and Allocation
Chapter 13: Relevant Information for Special Decisions
Chapter 14: Planning for Profit and Cost Control
Chapter 15: Performance Evaluation
Chapter 16: Planning for Capital Investments
Appendix A: Accessing the EDGAR Database through the Internet
Appendix B: The Double-Entry Accounting System
Appendix C: Portion of the Form 10-K for Target Corporation
Appendix D: Big Data and Data Visualizations Overview