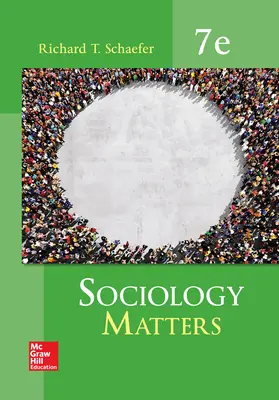 Sociology Matters
7th Edition
By Richard T. Schaefer
ISBN10: 0077823273
ISBN13: 9780077823276
Copyright:
2019
Product Details

+
• Offers a concise introduction to the discipline of sociology.
• Features the author's characteristic straightforward style, a streamlined design, and highly focused coverage, making it the perfect affordable and concise introductory text for instructors who use a variety of materials in their course.
• Emphasizes real-world applications, enabling students to see the relevance of sociological concepts to contemporary issues, events, and everyday life.
Program Details
Sociology Matters, 7e

CHAPTER 1: The Sociological ViewCHAPTER 2: Culture and Socialization
CHAPTER 3: Social Interaction, Groups, and Social Structure
CHAPTER 4: Deviance and Social Control
CHAPTER 5: Stratification in the United States and Global Inequality
CHAPTER 6: Inequality by Race and Ethnicity
CHAPTER 7: Inequality by Gender
CHAPTER 8: Social Institutions: Family and Religion
CHAPTER 9: Social Institutions: Education, Government, and the Economy
CHAPTER 10: Population, Community, Health, and the Environment
CHAPTER 11: Social Movements, Social Change, and Technology