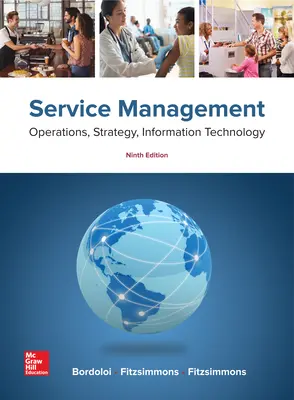 Service Management: Operations, Strategy, Information Technology
9th Edition
By Sanjeev Bordoloi and James Fitzsimmons and Mona Fitzsimmons
ISBN10: 1259784630
ISBN13: 9781259784637
Copyright:
2019
Product Details

+
• Emphasizes the essential uniqueness of service management.
• Covers historical context and the service enterprise supporting competitive strategy, managing service enterprises, and forecasting and managing service inventory.
• Includes updates on recent advances in data analytics and the Internet of Things (IoT), an extension of the Internet into our everyday lives.
Program Details
PART ONE Understanding Services
1 The Service Economy
2 Service Strategy
PART TWO Designing the Service Enterprise
3 New Service Development
4 The Service Encounter
5 Supporting Facility and Process Flows
6 Service Quality
7 Process Improvement
Supplement: Data Envelopment Analysis (DEA)
8 Service Facility Location
PART THREE Managing Service Operations
9 Service Supply Relationships
10 Globalization of Services
11 Managing Capacity and Demand
12 Managing Waiting Lines
13 Capacity Planning and Queuing Models
Supplement: Computer Simulation
PART FOUR Quantitative Models for Service Management
14 Forecasting Demand for Services
15 Managing Service Inventory
16 Managing Service Projects