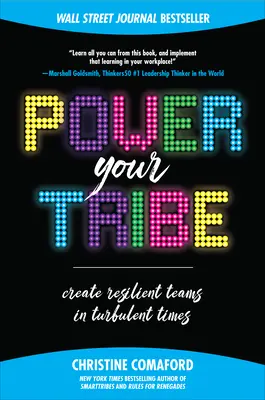 Power Your Tribe: Create Resilient Teams in Turbulent Times
1st Edition
By Christine Comaford
ISBN10: 1260108775
ISBN13: 9781260108774
Copyright:
2018
---
Instructors: choose ebook for fast access or receive a print copy.
---
Program Details
Contents
Foreword by Marshall Goldsmith
Preface
PART I: What Happens Inside When Change Happens Outside
1. How Human Beings Experience the World
We decide whether an experience is "good" or "bad," and the meaning we assign to our experience creates and reinforces our identity, beliefs, capabilities, and behavior.
2. The Three Things All Humans Crave
Resilient teams have three key ingredients: safety, belonging, and mattering.
PART II: The Power Your Tribe Playbook: Learn to Love Change
3. Release Resistance
To shift your state and create choice, we'll find your starting point. Resistance reinforces the Present State, which is where the problem is. Learn how to release resistance so you can have more choice.
Tools: Emotion Wheel, Maneuvers of Consciousness, Outcome Frame
4. Increase Rapport with Yourself
To live in a state of emotional agility more consistently, we need to build certain mental muscles of self-awareness. We do so by increasing emotional rapport with oneself and stilling the constant chatter of our mind.
Tools: Organismic Rights, Parts Process, Mindfulness Meditation
5. Make New Meaning
Shakespeare was right: nothing is good or bad but thinking makes it so. Learn how to choose your response to what happens to you, and the story you want to tell about it.
Tools: Reframing, Distorted Thinking Decoder, Neuro Storytelling
6. Anchor the Outcome You Want
Now that you have choice, what exactly would you like? Once you figure out what you want, you can help others do the same. A clear Desired State combined with potent sensory anchors can make all the difference.
Tools: VAK Anchoring, Outcome Frame
7. Enroll and Engage Others
Forge your emotional agility strategy with others; enroll, align, and engage even the most challenging types to help you create the needed change.
Tools: SBM Behavior Decoder, SBM Communication, SBM Index, Meta Programs
8. Build Tribal Agility
Help your team build trust and keep the change going, and increase emotional agility in yourself and others.
Tools: Three-Minute Journal; Diversity, Equity, and Inclusion Structures; Cognitive Bias Navigation, Borderline Behavior Quiz, Borderline Behavior Decoder, Borderline Behavior Navigation, Cultural GAME Plan
9. Expand Tribal Power
Help your tribe navigate any obstacle, thrive on feedback, and redefine their personal best.
Tools: Energetic Weight, Energy Recall, Myelination Practice, Feedback Frame, Four Conversations, Seven-Step Feedback Frame
PART III: The Power Your Tribe Playbook Case Studies
10. Resilience Rx: Leadership Abusing Power and Engaging in Bullying Behavior
11. Resilience Rx: Sluggish Sales and Competitive Crush
12. Resilience Rx: Merger and Acquisition Adventures
13. Resilience Rx: A Family Business and Board Dysfunction
14. Summary: What to Do Next
Acknowledgments
Appendix: Additional Resources
Notes
Index