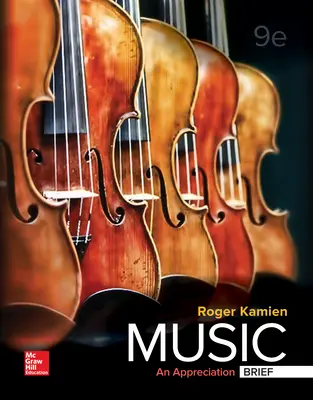 Music: An Appreciation, Brief Edition
9th Edition
By Roger Kamien
ISBN10: 1259870545
ISBN13: 9781259870545
Copyright:
2018
Product Details

+
– Connect: A highly reliable, easy-to-use homework and learning management solution that embeds learning science and award-winning adaptive tools to improve student results.
- Places a renewed focus on learning the elements of music, fostering a unique path to listening and understanding for non-majors.
- Provides step-by-step guidance through the elements of music, as well as an increased number of musical selections to appreciate.
- Equips students with the language, tools and listening skills required to sustain a life-long enthusiasm for music.
Program Details
Preface
Part I Elements
1. Sound: Pitch, Dynamics, and Tone Color
2. Performing Media: Voices and Instruments
3. Rhythm
4. Music Notation
5. Melody
6. Harmony
7. Key
8. Musical Texture
9. Musical Form
10. Musical Style
Part II The Middle Ages And Renaissance
1. Music In The Middle Ages (450-1450)
2. Music In The Renaissance (1450-1600)
Part III The Baroque Period
1. Baroque Music (1600-1750)
2. Music In Baroque Society
3. The Concerto Grosso And Ritornello Form
4. The Fugue
5. The Elements Of Opera
6. Opera In The Baroque Era
7. Claudio Monteverdi
8. Henry Purcell
9. The Baroque Sonata
10. Antonio Vivaldi
11. Johann Sebastian Bach
12. The Baroque Suite
13. The Chorale And Church Cantata
14. The Oratorio
15. George Frideric Handel
Part IV The Classical Period
1. The Classical Style (1750-1820)
2. Composer, Patron, And Public In The Classical Period
3. Sonata Form
4. Theme And Variations
5. Minuet And Trio
6. Rondo
7. The Classical Symphony
8. The Classical Concerto
9. Classical Chamber Music
10. Joseph Hadyn
11. Wolfgang Amadeus Mozart
12. Ludwig Van Beethoven
Part V The Romantic Period
1. Romanticism In Music (1820-1900)
2. Romantic Composers And Their Public
3. The Art Song
4. Franz Schubert
5. Robert Schumann
6. Clara Wieck Schumann
7. Frederic Chopin
8. Franz Liszt
9. Felix Mendelssohn
10. Program Music
11. Hector Berlioz
12. Nationalism In Nineteenth-Century Music
13. Antonin Dvorak
14. Peter Ilyich Tchaikovsky
15. Johannes Brahms
16. Georges Bizet
17. Giuseppe Verdi
18. Giacomo Puccini
19. Richard Wagner
Part VI The Twentieth Century
1. Musical Styles: 1900-1945
2. Music and Musicians in Society since 1900
3. Impressionism and Symbolism
4. Claude Debussy
5. Neoclassicism
6. Igor Stravinsky
7. Expressionism
8. Arnold Schoenberg
9. Alban Berg
10. Bela Bartok
11. Music in America
12. Charles Ives
13. George Gershwin
14. William Grant Still
15. Aaron Copland
16. Albert Ginestera
17. Musical Styles Since 1945
18. Music Since 1945: Five Representative Pieces
19. Jazz
20. Music for Stage and Screen
21. Rock
Part VII Nonwestern Music
1. Music In Nonwestern Cultures
2. Music In Sub-Saharan Africa
3. Classical Music Of India
Appendixes
Glossary
Acknowledgments
Photo Credits
Index