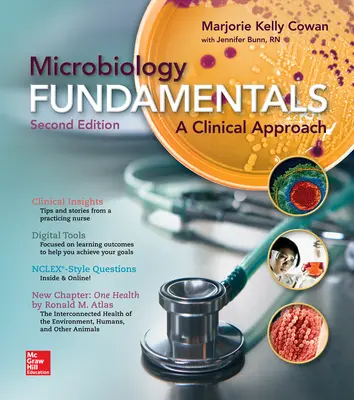 Microbiology Fundamentals: A Clinical Approach
2nd Edition
By Marjorie Kelly Cowan and Jennifer Bunn
ISBN10: 0078021049
ISBN13: 9780078021046
Copyright:
2016
Product Details

+
Cowan's
Microbiology Fundamentals: A Clinical Approach
is The Perfect Fit to align with your course. Here's why:
The author team includes a practicing nurse to help students see how the content fits in their lives and relates to their future career on every page.
A briefer text means all core concepts are covered, but streamlined to better fit the length of your course.
Connect: A highly reliable, easy-to-use homework and learning management solution that embeds learning science

and award-winning adaptive tools to improve student results.
---
Instructors: choose ebook for fast access or receive a print copy.
---
Program Details
Chapter 1 Microbes: An Introduction Chapter 2 Tools of the Laboratory: The Methods for Studying Microorganisms Chapter 3 Prokaryotic Profiles: The Bacteria and Archaea Chapter 4 Eukaryotic Cells and Microorganisms Chapter 5 An Introduction to the Viruses Chapter 6 Microbial Nutrition, Ecology, and Growth Chapter 7 Microbial Metabolism Chapter 8 Microbial Genetics and Genetic Engineering Chapter 9 Physical and Chemical Control of Microbes Chapter 10 Drugs, Microbes, Host: The Elements of Chemotherapy Chapter 11 Microbe-Human Interactions: Infection and Disease Chapter 12 Host Defenses I: Overview and Nonspecific Defenses Chapter 13 Host Defenses II: Specific Immunity and Immunization Chapter 14 Disorders in Immunity Chapter 15 Diagnosing Infections Chapter 16 Infectious Diseases Affecting the Skin and Eyes Chapter 17 Infectious Diseases Affecting the Nervous System Chapter 18 Infectious Diseases Affecting the Cardiovascular and Lymphatic Systems Chapter 19 Infectious Diseases Affecting the Respiratory System Chapter 20 Infectious Diseases Affecting the Gastrointestinal Tract Chapter 21 Infectious Diseases Affecting the Genitourinary System Chapter 22 One Health: The Intersection of Animals, Humans and the Environment