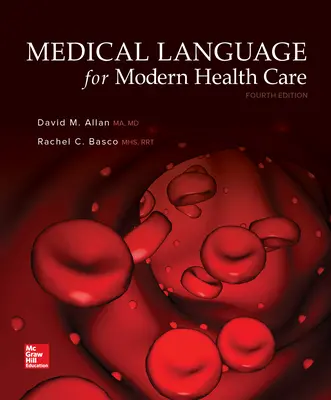 Medical Language for Modern Health Care
4th Edition
By David Allan and Rachel Basco
ISBN10: 007782072X
ISBN13: 9780077820725
Copyright:
2019
Product Details

+
• Uses contextual learning to introduce medical terminology within a healthcare context.
• Covers one topic at a time, so contextual content, tables, and exercises are in one place.
• Includes an instructor's manual to shows how each component supports and reinforces the content and strengths of the others.
• Helps students visualize difficult concepts using BodyAnimat3D's animations.
Program Details
Welcome
1 The Anatomy of Medical Terms
2 Word Analysis and Communication
3 The Body as a Whole
4 Integumentary System
5 Digestive System
6 Urinary System
7 Male Reproductive System
8 Female Reproductive System
9 Nervous System
10 Cardiovascular System
11 Blood
12 Lymphatic and Immune System
13 Respiratory System
14 Skeletal System
15 Muscles, Tendons, Physical Medicine and Rehabilitation (PM&R)
16 Special Senses of the Eye and Ear
17 Endocrine System
18 Mental Health
19 Geriatrics
20 Cancer
21 Radiology and Nuclear Medicine
22 Pharmacology