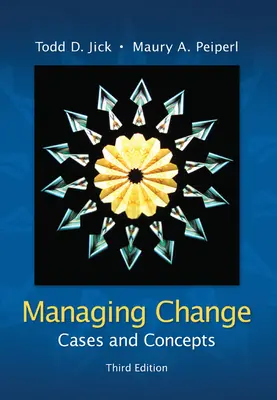 Managing Change: Cases and Concepts
3rd Edition
By Todd Jick and Maury Peiperl
ISBN10: 0073102741
ISBN13: 9780073102740
Copyright:
2011
Product Details

+
Managing Change: Cases and Concepts is comprised of six modules that introduce common threads in the ensuing case studies and readings on organizational change. The materials in this edition cases and reading shave been chosen and arranged to introduce change as an integrated process. Cases in the text represent a wide variety of change situations. Some readings provide theoretical underpinnings for a case, supporting the action: others challenge the action with alternative viewpoints.
---
Instructors: choose ebook for fast access or receive a print copy.
---
Program Details
Module One - Forces for Change
Case: Innovation at the Lego Group
Reading: The 12 Different Ways for Companies to Innovate
Case: Change Classic: Changing the Culture at British Airways
Reading: Re-Energizing the Mature Organization
Case: Nestlé's Globe
Reading: Has Strategy Changed?
Reading: Meeting the Challenges of Disruptive Change
Case: GlaxoSmithKline and AIDS in South Africa
Reading: Rethinking the Social Responsibility of Business: A Reason debate featuring Milton Friedman, Whole Foods' John Mackey, and Cypress Semiconductor's T.J. Rodgers
Reading: The Collapse and Transformation of Our World
Module Two - Changing the Game: From Vision to Adaptation
Part 1 The Strategic Imperatives
Case: Yinscape and Yangsearch
Reading: The Vision Thing
Case: Change Classic: Bob Galvin and Motorola, Inc. Reading: From Bogged Down to Fired Up: Inspiring Organizational Change
Case: Merrill Lynch: Evolution, Revolution and Sale, 1996-2008
Reading: An Improvisational Model for Change Mgt: The Case of Groupware Technologies
Case: Charlotte Beers at Ogilvy & Mather Worldwide
Reading: The Quest for Resilience
Module Three - Implementing Change
Case: Change Classic: Peter Browning and Continental White Cap
Reading: Implementing Change
Case: Marconi plc
Reading: Organisational Frame Bending: Principles for Managing Reorientation
Case: Leading Culture Change at Seagram
Reading: Why Change Programs Don't Produce Change
Simulation: The Merger Plan Simulation
Case: Oticon: Building a Flexible World-Class Organization
Reading: Changing the Deal While Keeping the People
Case: Ayudha Allianz CP
Module Four - The Recipients of Change
Case: Change Classic: Donna Dubinsky and Apple Computer Inc
Reading: The Recipients of Change
Case: Wellcome Israel
Reading: Back to Square Zero: The Post-Corporate Career
Case: Mark Margolis
Case: Emilio Kornau
Case: Kerstin Berger
Simulation: Broadway Brokers
Reading: Managing to Communicate, Communicating to Manage: How Leading Companies Communicate with Employees
Module Five - Leading Change: The Personal Side
Case: Change Classic: Walt Disney's Dennis Hightower: Taking Charge
Case: Dennis Hightower: Walt Disney's Transnational Manager
Reading: Bob Knowling's Change Manual
Case: Change Agent "In Waiting"
Case: Henry Silva: Aspiring Change Agent for a Start-up
Case: Susan Baskin: Aspiring Change Agent
Reading: Converting Middle Powerlessness to Middle Power: A Systems Approach
Case: The Young Change Agents
Reading: Leadership for Change: Enduring Skills for Change Masters
Case: Vinesh Juglal, South African Entrepreneur
Module Six - Continuous Change
Reading: Seismic Shifts and Systemic Shocks
Case: Managing Performance at Haier
Reading: Bringing Life to Organizational Change
Case: Singapore Airlines: Continuing Service Improvement
Reading: Cracking the Code of Change
Case: Change Classic: Nigel Andrews and General Electric Plastics
Case: GE's Two-Decade Transformation: Jack Welch's Leadership
Reading: GE's Move to the Internet
Case: Get Me a CEO from GE
Reading: The Immelt Revolution
Reading: Unlocking the Mystery of Effective Large-Scale Change