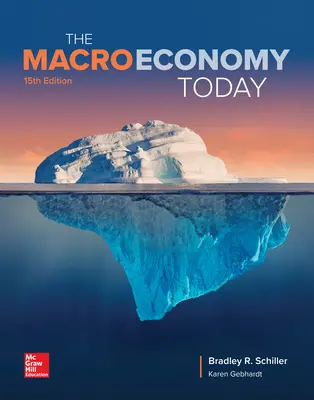 The Macro Economy Today
15th Edition
By Bradley Schiller and Karen Gebhardt
ISBN10: 1260105156
ISBN13: 9781260105155
Copyright:
2019
Product Details

+
The Macro Economy Today is noted for three great strengths: readability, policy orientation, and effective pedagogy. The accessible writing style engages students and brings the excitement of domestic and global economic news into the classroom. The Macro Economy Today, 15th edition, is thoroughly integrated with adaptive digital tools and dynamic interactive resources available in Connect--proven to increase student engagement and success.
Program Details
Part One: The Economic Challenge
Chapter 1: Economics: The Core Issues
Chapter 2: The U.S. Economy: A Global View
Chapter 3: Supply and Demand
Chapter 4: The Role of Government
Part Two: Measuring Macro Outcomes
Chapter 5: National Income Accounting
Part Three: Cyclical Instability
Chapter 8: The Business Cycle
Chapter 9: Aggregate Demand
Appendix: The Keynesian Cross
Chapter 10: Self-Adjustment or Instability?
Part Four: Fiscal Policy Tools
Chapter 11: Fiscal Policy
Chapter 12: Deficits and Debt
Part Five: Monetary Policy Options
Chapter 13: Money and Banks
Chapter 14: The Federal Reserve System
Chapter 15: Monetary Policy
Part Six: Supply-Side Options
Chapter 16: Supply-Side Policy: Short-Run Options
Chapter 17: Growth and Productivity: Long-Run Possibilities
Part Seven: Policy Constraints
Chapter 18: Theory Versus Reality
International
Part Eight: International Economics
Chapter 19: International Trade
Chapter 20: International Finance
Chapter 21: Global Poverty