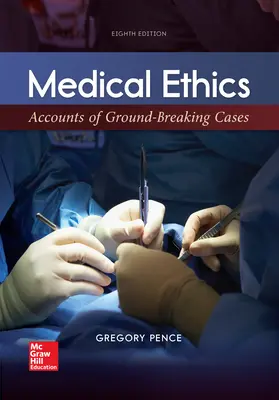 LooseLeaf for Medical Ethics: Accounts of Ground-Breaking Cases
8th Edition
By Gregory Pence
ISBN10: 1259907945
ISBN13: 9781259907944
Copyright:
2017
Product Details

+
* Connect: A highly reliable, easy-to-use homework and learning management solution that embeds learning science and award-winning adaptive tools to improve student results.
* Thought-provoking content affords students the opportunity to think beyond what is presented in the book, enabling them to actively assess what they have read.
* This program covers some of the most well-known bioethics cases and the ethical issues those cases present and provides an overview of current issues in the medical ethics field.
---
Instructors: choose ebook for fast access or receive a print copy.
---
Program Details
Chapter 1 - Ethical Reasoning, Moral, Theories, Principles, and Bioethics
Chapter 2 - Requests to Die: Terminal Patients and Non-Terminal Patients
Chapter 3 - Comas: Karen Quinlan, Nancy Cruzan, and Terri Schiavo
Chapter 4 - Abortion: The Trial of Kenneth Edelin
Chapter 5 - Assisted Reproduction, Multiple Births, and Elderly Parents
Chapter 6 - Embryos, Stem Cells, and Cloning
Chapter 7 - Impaired Babies and the Americans with Disabilities Act
Chapter 8 - Medical Research on Animals
Chapter 9 - Research on Vulnerable Human Subjects
Chapter 10 - Ethical Issues in Organ Transplantation
Chapter 11 - Just Distribution of Organs: The God Committee and Personal Responsibility
Chapter 12 - Using One Baby for Another: Babies Fae, Gabriel, and Theresa and Conjoined Twins
Chapter 13 – Ethical Issues in the Treatment of Intersex and Transgender Persons
Chapter 14 - Involuntary Psychiatric Commitment
Chapter 15 - Ethical Issues in Testing for Genetic Disease
Chapter 16 - Ethical Issues in Stopping the Global Spread of AIDS
Chapter 17 - Ethical Issues of the Patient Protection and Affordable Care Act
Chapter 18 - Ethical Issues in Medical Enhancement
Chapter 19 - Ethical Issues in Treating Alcoholism