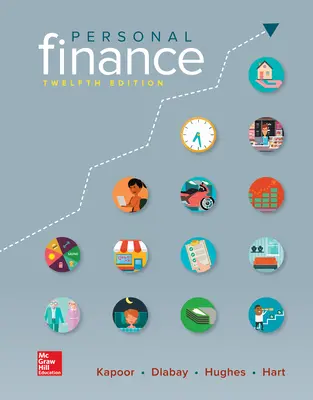 Loose Leaf for Personal Finance
12th Edition
By Jack Kapoor and Les Dlabay and Robert J. Hughes and Melissa Hart
ISBN10: 1259720683
ISBN13: 9781259720680
Copyright:
2017
Product Details

+
– Connect: A highly reliable, easy-to-use homework and learning management solution that embeds learning science and award-winning adaptive tools to improve student results.
- Provides many financial planning tools to help students identify and evaluate choices as well as understand the consequences of decisions in terms of opportunity costs.   
- End of each chapter exercises include a Daily Spending Diary exercise that asks students to consider how they can change their daily spending habits to improve their personal finances overall.
Program Details
1 Planning Your Personal Finances
1. Personal Finance Basics and the Time Value of Money
Appendix: The Time Value of Money
2. Financial Aspects of Career Planning
Appendix: Résumés, Cover Letters, and Interviews
3. Money Management Strategy: Financial Statements and Budgeting
4. Planning Your Tax Strategy
2 Managing Your Personal Finances
5. Financial Services: Savings Plans and Payment Accounts
6. Introduction to Consumer Credit
7. Choosing a Source of Credit: The Costs of Credit Alternatives
3 Making Your Purchasing Decisions
8. Consumer Purchasing Strategies and Legal Protection
9. The Housing Decision: Factors and Finances
4 Insuring Your Resources
10. Property and Motor Vehicle Insurance
11. Health, Disability, and Long-Term Care Insurance
12. Life Insurance
5 Investing Your Financial Resources
13. Investing Fundamentals
14. Investing in Stocks
15. Investing in Bonds
16. Investing in Mutual Funds
17. Investing in Real Estate and Other Investment Alternatives
6 Controlling Your Financial Future
18. Starting Early: Retirement Planning
19. Estate Planning