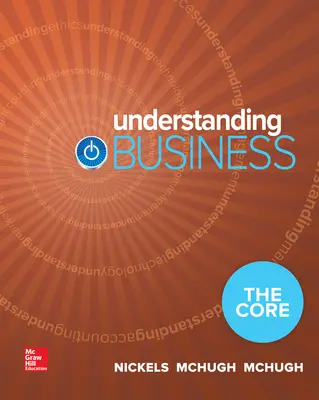 Loose-Leaf Edition Understanding Business: The Core
1st Edition
By William Nickels and James McHugh and Susan McHugh
ISBN10: 1259869296
ISBN13: 9781259869297
Copyright:
2016
Product Details

+
Nickels' Understanding Business:The Core reflects the latest business practices and developments including the Trans-Pacific Partnership, post-financial crisis and recession, Affordable Care Act, mobile/social/on-demand marketing, Generation Z, and more. Developed upon request of faculty, The Core is a more brief, value-priced 18-chapter version of the #1 selling Nickels Understanding Business with condensed marketing coverage and tightened content throughout.
This briefer, value-priced package delivers a platinum experience that:
Improves Student Performance—Understanding Business: The Core puts students at the center. It's the only learning program on the market to offer proven adaptive technology that increases grades by a full letter through Connect® Business, and the only program to offer SmartBook, the learning tool that prepares students for class by guiding them through readings that you assign.
Enhances your Teaching—The authors are dedicated to supporting your teaching and your student's learning, which is why they listen to YOU and develop resources based on YOUR suggestions and course needs. This is the only author-team on the market that carefully review each and every resource to ensure cohesion.
Accessible to All—This learning program has moved toward tighter compliance with the Web Content Accessibility Guidelines, and provides students the opportunity to learn regardless of learning style or disability. What's more, The Core earned a perfect score of 100 points possible by Quality Matters, an independent organization that reviews and certifies the quality of online courses and online components.
Give your students the platinum experience. Choose Understanding Business: The Core.
---
Instructors: choose ebook for fast access or receive a print copy.
---
Program Details
Part 1: Business Trends: Cultivating a Business in Diverse, Global Environments
Chapter 1 Taking Risks and Making Profits within the Dynamic Business Environment
Chapter 2 Understanding Economics and How It Affects Business
Chapter 3 Doing Business in Global Markets
Chapter 4 Demanding Ethical and Socially Responsible Behavior
Part 2: Business Ownership: Starting a Small Business
Chapter 5 How to Form a Business
Chapter 6 Entrepreneurship and Starting a Small Business
Part 3: Business Management: Empowering Employees to Satisfy Customers
Chapter 7 Management and Leadership
Chapter 8 Structuring Organizations for Today's Challenges
Chapter 9 Production and Operations Management
Chapter 10 Motivating Employees
Part 4: Management of Human Resources: Motivating Employees to Produce Quality Goods and Services
Chapter 11 Human Resource Management: Finding and Keeping the Best Employees
Chapter 12 Dealing with Union and Employee–Management Issues
Part 5: Marketing: Developing and Implementing Customer-Oriented Marketing Plans
Chapter 13 Marketing: Helping Buyers Buy
Chapter 14 Managing the Marketing Mix: Product, Price, Place, and Promotion
Part 6: Managing Financial Resources
Chapter 15 Understanding Accounting and Financial Information
Chapter 16 Financial Management
Chapter 17 Using Securities Markets for Financing and Investing Opportunities
Chapter 18 Money, Financial Institutions, and the Federal Reserve
Bonus Chapters (Available within SmartBook with purchase of Connect)
Bonus Chapter A Working Within the Legal Environment
Bonus Chapter B Using Technology to Manage Information
Bonus Chapter C Managing Risk
Bonus Chapter D Managing Personal Finances