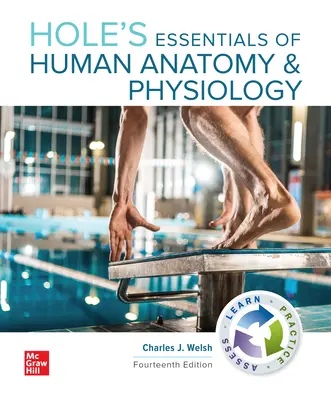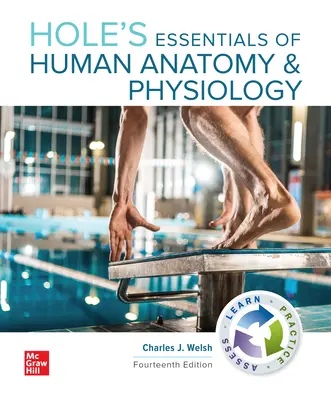 Laboratory Manual by Martin for HOLE'S ESSENTIALS OF HUMAN ANATOMY & PHYSIOLOGY
,
14th Edition
ISBN10: 1260425843 | ISBN13: 9781260425840
Purchase Options:
* The estimated amount of time this product will be on the market is based on a number of factors, including faculty input to instructional design and the prior revision cycle and updates to academic research-which typically results in a revision cycle ranging from every two to four years for this product. Pricing subject to change at any time.
Instructor Details
This laboratory manual was prepared to supplement the textbook Hole's Essentials of Human Anatomy and Physiology, Fourteenth Edition, by Dr. Charles Welsh. As in the textbook, the laboratory manual is designed for students with minimal backgrounds in the physical and biological sciences pursuing careers in professional health fields.







Scientific Method and Measurements
Laboratory Report 1
Laboratory Exercise
Body Organization and Terminology
Laboratory Report 2
Laboratory Exercise
Chemistry of Life 
Laboratory Report 3 
Laboratory Exercise
Care and Use of the Microscope 
Laboratory Report 4 
Cells
Laboratory Exercise 5
Cell Structure and Function
Laboratory Report 5 
Laboratory Exercise 6
Movements Through Membranes 
Laboratory Report 6 
Laboratory Exercise 7
Cell Cycle
Laboratory Report 7 
Tissues
Laboratory Exercise 8
Epithelial Tissues 
Laboratory Report 8
Laboratory Exercise 9
Connective Tissues
Laboratory Report 9
Laboratory Exercise 10
Muscle and Nervous Tissues
Laboratory Report 10
Integumentary System
Laboratory Exercise 11
Integumentary System
Laboratory Report 11
Skeletal System
Laboratory Exercise 12
Bone Structure 
Laboratory Report 12 
Laboratory Exercise 13
Organization of the Skeleton 
Laboratory Report 13 
Laboratory Exercise 14
Skull 
Laboratory Report 14 
Laboratory Exercise 15
Vertebral Column and Thoracic Cage 
Laboratory Report 15 
Laboratory Exercise 16
Pectoral Girdle and Upper Limb 
Laboratory Report 16 
Laboratory Exercise 17
Pelvic Girdle and Lower Limb 
Laboratory Report 17 
Laboratory Exercise 18
Joint Structure and Movements 
Laboratory Report 18 
Muscular System
Laboratory Exercise 19
Skeletal Muscle Structure and
Function 
Laboratory Report 19 
Laboratory Exercise 20
Muscles of the Head and Neck 
Laboratory Report 20 
Laboratory Exercise 21
Muscles of the Chest, Shoulder, and Upper Limb 147
Laboratory Report 21 
Laboratory Exercise 22
Muscles of the Abdominal Wall and Pelvic Floor 155
Laboratory Report 22 
Laboratory Exercise 23
Muscles of the Hip and Lower Limb
Laboratory Report 23 
Surface Anatomy
Laboratory Exercise 24
Surface Anatomy 1
Laboratory Report 24 
Nervous System
Laboratory Exercise 25
Nervous Tissue and Nerves 
Laboratory Report 25 
Laboratory Exercise 26
Spinal Cord and Meninges 
Laboratory Report 26 
Laboratory Exercise 27
Reflex Arc and Reflexes 
Laboratory Report 27 
Laboratory Exercise 28
Brain and Cranial Nerves 
Laboratory Report 28 
Laboratory Exercise 29
Dissection of the Sheep Brain 
Laboratory Report 29 
Special Senses
Laboratory Exercise 30
Ear and Hearing 
Laboratory Report 30 
Laboratory Exercise 31
Eye Structure 
Laboratory Report 31 
Laboratory Exercise 32
Visual Tests and Demonstrations
Laboratory Report 32 
Endocrine System
Laboratory Exercise 33
Endocrine Histology and Diabetic
Physiology 
Laboratory Report 33 
Cardiovascular System
Laboratory Exercise 34
Blood Cells and Blood Typing 
Laboratory Report 34 
Laboratory Exercise 35
Heart Structure 
Laboratory Report 35 
Laboratory Exercise 36
Cardiac Cycle 
Laboratory Report 36 
Laboratory Exercise 37
Blood Vessel Structure, Arteries, and Veins Laboratory Report 37
Laboratory Exercise 38
Pulse Rate and Blood Pressure 
Laboratory Report 38 
Lymphatic System
Laboratory Exercise 39
Lymphatic System
Laboratory Report 39 
Digestive System
Laboratory Exercise 40
Digestive Organs 
Laboratory Report 40 
Laboratory Exercise 41
Action of a Digestive Enzyme Laboratory Report 41 
Respiratory System
Laboratory Exercise 42
Respiratory Organs Laboratory Report 42 
Laboratory Exercise 43
Breathing and Respiratory Volumes Laboratory Report 43 
Urinary System
Laboratory Exercise 44
Urinary Organs 
Laboratory Report 44 
Laboratory Exercise 45
Urinalysis 335
Laboratory Report 45 
Reproductive System
Laboratory Exercise 46
Male Reproductive System 
Laboratory Report 46 
Laboratory Exercise 47
Female Reproductive System 
Laboratory Report 47 
Laboratory Exercise 48
Genetics 
Laboratory Report 48