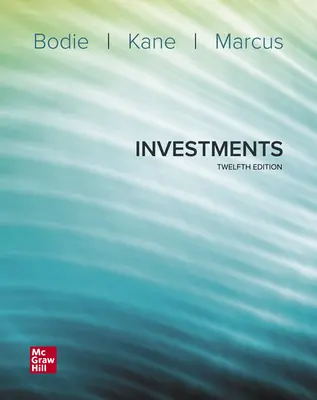 Investments
12th Edition
By Zvi Bodie and Alex Kane and Alan Marcus
ISBN10: 1260013839
ISBN13: 9781260013832
Copyright:
2021
Product Details

+
Investments sets the standard as a graduate (MBA) text intended primarily for courses in investment analysis.
The approach is consistent with that of the CFA Institute.
The text is organized around a unifying theme - security markets are nearly efficient, meaning that most securities are priced appropriately given their risk and return attributes.
Program Details
PART 1: Introduction
Ch. 1 The Investment Environment
Ch. 2 Asset Classes and Financial Instruments
Ch. 3 How Securities Are Traded
Ch. 4 Mutual Funds and Other Investment Companies

PART 2: Portfolio Theory and Practice
Ch. 5 Risk, Return, and the Historical Record
Ch. 6 Capital Allocation to Risky Assets
Ch. 7 Efficient Diversification
Ch. 8 Index Models

PART 3: Equilibrium in Capital Markets
Ch. 9 The Capital Asset Pricing Model
Ch. 10 Arbitrage Pricing Theory and Multifactor Models of Risk and Return
Ch. 11 The Efficient Market Hypothesis
Ch. 12 Behavioral Finance and Technical Analysis
Ch. 13 Empirical Evidence on Security Returns

PART 4: Fixed-Income Securities
Ch. 14 Bond Prices and Yields
Ch. 15 The Term Structure of Interest Rates
Ch. 16 Managing Bond Portfolios

PART 5: Security Analysis
Ch. 17 Macroeconomic and Industry Analysis
Ch. 18 Equity Valuation Models
Ch. 19 Financial Statement Analysis

PART 6: Options, Futures, and Other Derivatives
Ch. 20 Options Markets: Introduction
Ch. 21 Option Valuation
Ch. 22 Futures Markets
Ch. 23 Futures, Swaps, and Risk Management

PART 7: Applied Portfolio Management
Ch. 24 Portfolio Performance Evaluation
Ch. 25 International Diversification
Ch. 26 Hedge Funds
Ch. 27 The Theory of Active Portfolio Management
Ch. 28 Investment Policy and the Framework of the CFA Institute