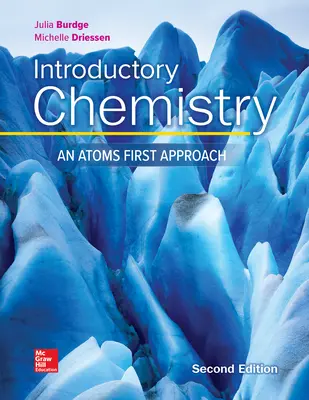 Introductory Chemistry: An Atoms First Approach
,
2nd Edition
ISBN10: 1260148912 | ISBN13: 9781260148916
Purchase Options:
* The estimated amount of time this product will be on the market is based on a number of factors, including faculty input to instructional design and the prior revision cycle and updates to academic research-which typically results in a revision cycle ranging from every two to four years for this product. Pricing subject to change at any time.
Instructor Details
From its very origin, Introductory Chemistry: An Atoms First Approach by Julia Burdge and Michelle Driessen has been developed and written using an atoms‐first approach specific to introductory chemistry. It is not a pared down version of a general chemistry text, but carefully crafted with the introductory‐chemistry student in mind.
The ordering of topics facilitates the conceptual development of chemistry for the novice, rather than the historical development that has been used traditionally. Its language and style are student‐friendly and conversational; and the importance and wonder of chemistry in everyday life are emphasized at every opportunity. Continuing in the Burdge tradition, this text employs an outstanding art program, a consistent problem-solving approach, interesting applications woven throughout the chapters, and a wide range of end-of-chapter problems.
Chapter 1 Atoms and Elements
1.1 The Study of Chemistry
1.2 Atoms First
1.3 Subatomic Particles and the Nuclear Model of the Atom
1.4 Elements and the Periodic Table
1.5 Organization of the Periodic Table
1.6 Isotopes
1.7 Atomic Mass

Chapter 2 Electrons and the Periodic Table
2.1 The Nature of Light
2.2 The Bohr Atom
2.3 Atomic Orbitals
2.4 Electron Configurations
2.5 Electron Configurations and the Periodic Table
2.6 Periodic Trends
2.7 Ions: The Loss and Gain of Electrons

Chapter 3 Compounds and Chemical Bonds
3.1 Matter: Classification and Properties
3.2 Ionic Bonding and Binary Ionic Compounds
3.3 Naming Ions and Binary Ionic Compounds
3.4 Covalent Bonding and Molecules
3.5 Naming Binary Molecular Compounds
3.6 Covalent Bonding in Ionic Species: Polyatomic Ions
3.7 Acids
3.8 Substances in Review

Chapter 4 How Chemists Use Numbers
4.1 Units of Measurement
4.2 Scientific Notation
4.3 Significant Figures
4.4 Unit Conversion
4.5 Success in Introductory Chemistry Class

Chapter 5 The Mole and Chemical Formulas
5.1 Counting Atoms by Weighing
5.2 Counting Molecules by Weighing
5.3 Mass Percent Composition
5.4 Using Mass Percent Composition to Determine Empirical Formula
5.5 Using Empirical Formula and Molar Mass to Determine Molecular Formula

Chapter 6 Molecular Shape
6.1 Drawing Simple Lewis Structures
6.2 Lewis Structures Continued
6.3 Resonance Structures
6.4 Molecular Shape
6.5 Electronegativity & Polarity
6.6 Intermolecular Forces

Chapter 7 Solids, Liquids, and Phase Changes
7.1 General Properties of the Condensed Phases
7.2 Types of Solids
7.3 Physical Properties of Solids
7.4 Physical Properties of Liquids
7.5 Energy and Physical Changes

Chapter 8 Gases
8.1 Properties of Gases
8.2 Pressure
8.3 The Gas Equations
8.4 The Gas Laws
8.5 Gas Mixtures

Chapter 9 Physical Properties of Solutions
9.1 General Properties of Solutions
9.2 Aqueous Solubility
9.3 Solution Concentration
9.4 Solution Composition
9.5 Solution Preparation
9.6 Colligative Properties

Chapter 10 Chemical Reactions and Chemical Equations
10.1 Recognizing Chemical Reactions
10.2 Representing Chemical Reactions with Chemical Equations
10.3 Balancing Chemical Equations
10.4 Types of Chemical Reactions
10.5 Chemical Reactions and Energy
10.6 Chemical Reactions in Review

Chapter 11 Using Balanced Chemical Equations
11.1 Mole to Mole Conversions
11.2 Mass to Mass Conversions
11.3 Limitations on Reaction Yield
11.4 Aqueous Reactions
11.5 Gases in Chemical Reactions
11.6 Chemical Reactions and Heat

Chapter 12 Acids and Bases
12.1 Properties of Acids and Bases
12.2 Definitions of Acids and Bases
12.3 Water as an Acid; Water as a Base
12.4 Strong Acids and Bases
12.5 pH and pOH Scales
12.6 Weak Acids and Bases
12.7 Acid-Base Titrations
12.8 Buffers

Chapter 13 Equilibrium
13.1 Reaction Rates
13.2 Chemical Equilibrium
13.3 Equilibrium Constants
13.4 Factors that Affect Equilibrium

Chapter 14 Organic Chemistry
14.1 Why Carbon is Different
14.2 Hydrocarbons
14.3 Isomers
14.4 Functional Groups
14.5 Alcohols and Ethers
14.6 Aldehydes & Ketones
14.7 Carboxylic Acids and Esters
14.8 Amines and Amides
14.9 Polymers

Chapter 15 Biochemistry
15.1 Biologically Important Molecules
15.2 Lipids
15.3 Proteins
15.4 Carbohydrates
15.5 Nucleic Acids

Chapter 16 Nuclear Chemistry
16.1 Radioactive Decay
16.2 Detection of Radiation and its Biological Effects
16.3 Dating using Radioactive Decay
16.4 Medical Applications of Radioactivity
16.5 Nuclear Fission and Nuclear Fusion

Chapter 17 Electrochemistry
17.1 Balancing Oxidation-Reduction Reactions using the Half-Reaction Method
17.2 Batteries
17.3 Corrosion
17.4 Electrolysis

---
Main Features
LMS Integration
Print/Loose-Leaf Book Add-On Availability
Presentation Slides & Instructor Resources
Question & Test Banks
Adaptive Assignments
Student Progress Reporting & Analytics
Essay Prompts
Polling
Prebuilt Courses
Interactive Exercises
eBook Access (ReadAnywhere App)
Remote Proctoring (Proctorio)
Subject-Specific Tools

Reduce course material costs for your students while still providing full access to everything they need to be successful. It isn't too good to be true - it's Inclusive Access.

Creating accessible products is a priority for McGraw Hill. We make accessibility and adhering to WCAG AA guidelines a part of our day-to-day development efforts and product roadmaps.
For more information, visit our accessibility page, or contact us at accessibility@mheducation.com