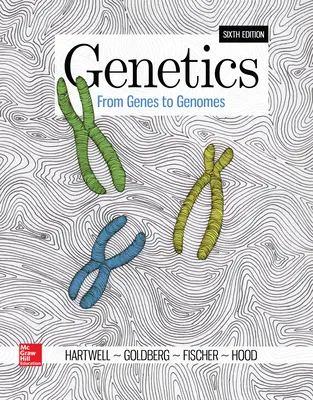 Genetics: From Genes to Genomes
6th Edition
By Leland Hartwell and Michael Goldberg and Janice Fischer and Leroy Hood
ISBN10: 1259700909
ISBN13: 9781259700903
Copyright:
2018
Program Details
1. Genetics: The Study of Biological Information2. Mendel's Principles of Heredity
3. Extensions to Mendel's Laws
4. The Chromosome Theory of Inheritance
5. Linkage, Recombination, and the Mapping of Genes on Chromosomes
6. DNA Structure, Replication, and Recombination
7. Anatomy and Function of a Gene: Dissection Through Mutation
8. Gene Expression: The Flow of Information from DNA to RNA to Protein
9. Digital Analysis of Genomes
10. Genome Annotation
11. Analyzing Genomic Variation
12. The Eukaryotic Chromosome
13.Chromosomal Rearrangements and Changes in Chromosome Number
14. Bacterial Genetics
15. Organellar Inheritance
16. Gene Regulation in Prokaryotes
17. Gene Regulation in Eukaryotes
18. Manipulating the Genomes of Eukaryotes
19. The Genetic Analysis of Development
20. The Genetics of Cancer
21. Variation and Selection in Populations
22. Genetics of Complex Traits

How to Access Instructor Tools for your Course
Your text has great instructor tools – like presentation slides, instructor manuals, test banks and more. Follow the steps below to access your instructor resources or watch the step-by-step video.
To get started, you'll need to visit connect.mheducation.com to sign in. (If you do not have an account, you'll need to request one from your MH rep. To find your rep – visit the Find Your Rep page).
Then, under "Find a Title," you'll search by title, author or subject.
Select your desired title and create a course. (Note – you do not have to create assignments, just a course instance)
Then go to your Connect course homepage.
In the top navigation, select library to access the instructor resources that accompany the title.